Hanoi Rocks: Two Steps from the Move
This fifth album by the glam rock/hair metal pioneers from Finland (and Leamington Spa) should have been the start of something beautiful, says Steve Sutherland
Let's say you are walking along Shaftesbury Avenue in London in the general direction of Cambridge Circus. It is the mid 1980s. Maybe you've been to the Shaftesbury Theatre just over the road to see a show. Or maybe you've just been for a dip in the Oasis swimming pool next door. Whatever, you've worked up a bit of a thirst so you duck through the door of the Oporto public house, just on the corner opposite St Mungo's home for the homeless, and take the couple of steps to the bar.
A Seat At The Table
As the genial landlord, Len, pulls you a pint, you notice, among all the usual pub brass, Arsenal paraphernalia and ornamental tat, a framed black-and-white portrait of a smiling young man with a black feathercut. He looks like a rock star, and he was. His name was Razzle, but we'll come to that in a moment. The reason his portrait is on the wall is because he was a regular at the table just under the window that, if you pull back the grubby lace curtains, looks out onto the street.
This is not just any old table. This is a famous table, known in some circles as The Rock 'N' Roll Table. That's because the offices of Melody Maker, a now-deceased weekly music paper, were just next door, and Carol Clerk, the paper's News Editor, a formidable young lady from Belfast with a prodigious ability to neck alcohol and swear like a trooper, sat here every day from noon until three and then from six until whenever she left, usually to a club or gig. Ms Clerk – or Wee Clerkie as she was known to her many friends – was an exceptional writer with a quick sense of humour and a kind-hearted attraction to punk rock waifs and strays.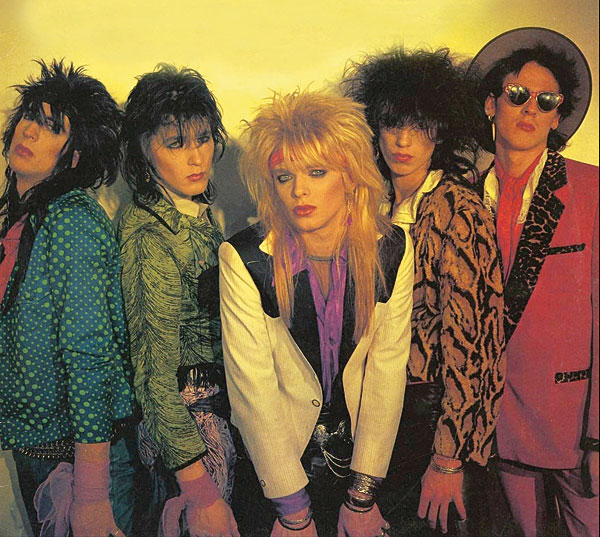 In fact, you could say she was the mother hen of the unfashionable and unlauded, always happy to buy a pint for an impoverished young stinker in stripy bondage trousers who most likely had missed the last bus to fame and fortune. Rarely a day went by without The R 'N' R Table hosting the likes of Wattie from The Exploited, Mensi from Angelic Upstarts or Max Splodge from Splodgenessabounds. And occasionally they were joined by punk rock royalty: Rat Scabies would pop in for a sharpener, and sometimes Joe Strummer too.
Two Steps Forward
Razzle was very often to be found in this Dickensian company, usually with the rest of his bandmates from the decidedly outré pretty boy Finnish hair metal band Hanoi Rocks. Razzle, who wasn't Finnish but was actually from Leamington Spa, was their drummer. The rest of the band were blond bombshell singer Michael Monroe, Keef Richards-alike guitarists Andy McCoy and Nasty Suicide, plus bassist Sam Yaffa, and their crack at the big time had come in 1984 when they'd been paired with Alice Cooper's go-to producer Bob Ezrin to record their fifth album, Two Steps From The Move. Ezrin had also worked with Kiss, Pink Floyd and Lou Reed among others, so the Rocks were in good hands.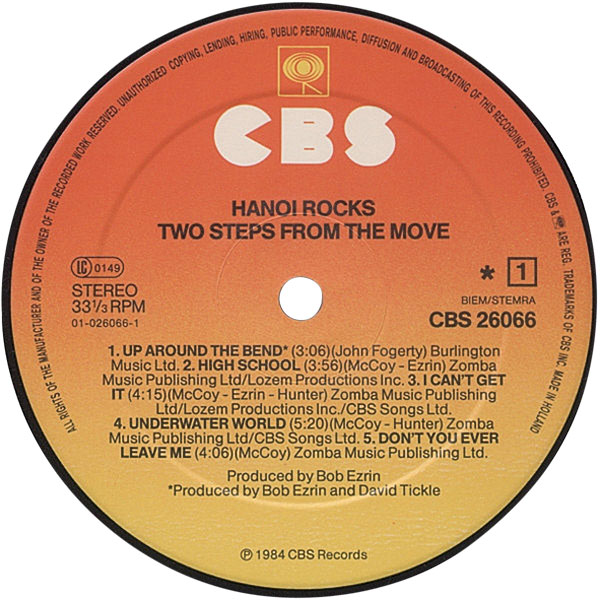 One of the first things the producer did was haul in old buddy Ian Hunter, from Mott The Hoople, to help fashion some anthems. Hunter, in turn, called up Jack Bruce of Cream fame and Bruce brought along his lyricist Pete Brown for the ride. If all this interference suggests to you that the general feeling was that the band had the lot apart from any really killer songs, you wouldn't be too wide of the mark. They had the glam looks, the rebel moves and all the rock tropes down pat, but what they lacked was a hit. What they built upon was their ability to sound pretty much just like Van Halen but without Eddie's squiggly guitar bits. Or, sometimes, The New York Dolls. Which was no bad thing but not exactly what you might call original.
Crossing The Pond
Two Steps... turned out decent enough, though, if a tad clichéd. There were the prerequisite lovelorn ballads in 'Don't You Ever Leave Me' and 'Boulevard Of Broken Dreams', and there were the heads-down-no-nonsense rockers – 'High School' and 'I Can't Get It'. Upon its release, the album found favour with the metal magazines who were able to overlook the truly dreadful mockney sexist nonsense of 'Boiler (Me Boiler 'N' Me)' and heartily recommend it, and though the indie swots over at the NME and Melody Maker stuck their noses up, sales were encouraging.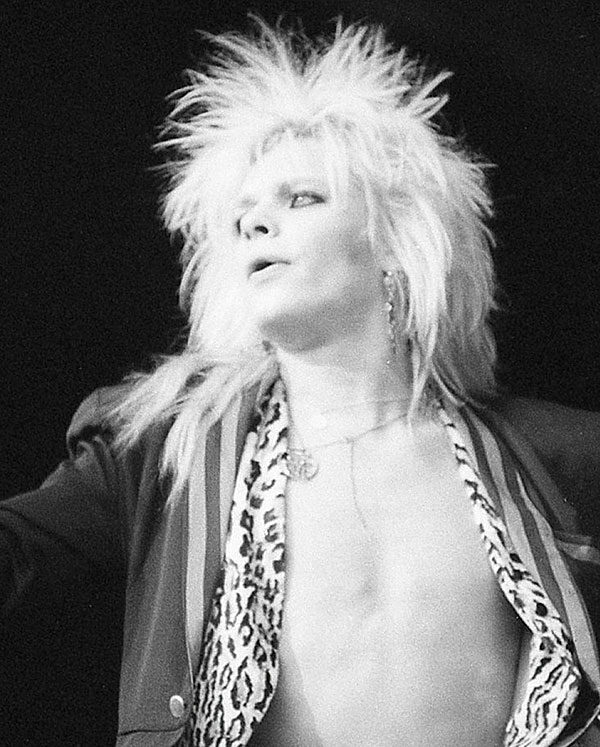 Next stop, Hanoi Rocks hit the United States for the first time on tour. All was going beautifully to plan until the 29th of November, when Michael Monroe fractured his ankle prancing about onstage in USA Sam's, a heaving gig in Syracuse, New York. The tour was put on hold and the band decided to hole up in Los Angeles while Monroe recuperated. Show dates were rearranged. LA had sold out in a matter of hours, eager ticket holders including a couple of ne'er-do-well wannabe rock stars named Slash and Duff McKagan...
Tragedy Strikes
On December the 8th, footloose and fancy free, the band headed to Vince Neil of Mötley Crüe's house in Redondo Beach for a party while Monroe sat it out healing in his hotel. Sometime in the evening the beer ran out, so Neil hopped into his Italian sports car to pick up fresh supplies. He was roaring drunk and so was Razzle, who volunteered to go with him. On the way back from the store, Neil piled his motor into another car and Razzle was instantly killed. He was 24 years and six days old.
Carol, for whom the word irrepressible was coined, was devastated. So was Len the landlord. So were we all, even the indie fans. And so Razzle's portrait was put on the wall as a reminder of the good times.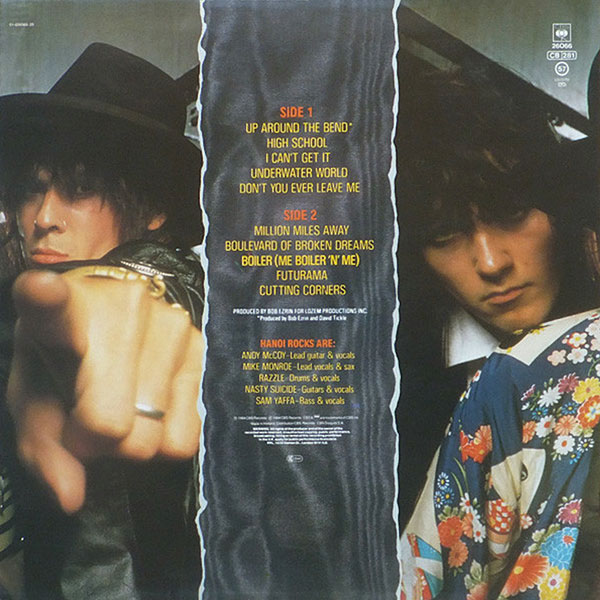 Hanoi Rocks tried to keep going but they fizzled out. Meanwhile, a mere year on from the tragedy, Guns N' Roses were on the way to becoming the biggest act in the world; the band Hanoi Rocks could have been. Who'd have known it? Wee Clerkie was right all along. Hair metal was what was happening, man.
After Melody Maker closed for business in 2000, she moved to Rochester with Nigel, her husband, a guy she'd first met in one of those bands she'd supported when no one else gave a damn. Pride of place in their new home, somehow liberated from the Oporto, was the Rock 'N' Roll Table.
Carol passed away in 2010, aged 55, from breast cancer. The Oporto pub is now a wine bar. I have no idea where the portrait of Razzle has gone.
Re-Release Verdict
Recorded in 1984 in studios on both sides of the Atlantic, and led off by a cover of Creedence Clearwater Revival's 'Up Around The Bend' after original label CBS requested a 'single', this fifth album from Hanoi Rocks has now been reissued on translucent red 180g vinyl by Music On Vinyl [MOVLP3098]. The release is limited to 2000 numbered copies and includes a lyric sheet insert, and marks the first UK vinyl outing for Two Steps From The Move since its '84 debut. HFN