Genesis: Foxtrot Alternate Format Discography
Alternate Format Discography
Original Vinyl LP
Foxtrot was released on Charisma Records in the UK in Oct '72 in a textured gatefold sleeve with the 'Mad Hatter' label – adapted by Paul Whitehead from John Tenniel's illustration for Alice's Adventures In Wonderland [CAS 1058]. Some early pressings came with the inner bag advertising other Charisma releases.
Early US pressings came out through Buddah Records although that was only apparent from reading the small print on the LP label. But when Foxtrot was re-pressed in 1972 for the US and Canadian market it was released on Atlantic [78 00391]. Most of the releases in European territories through the '70s were in gatefold sleeves on Charisma with the catalogue number 6369 302.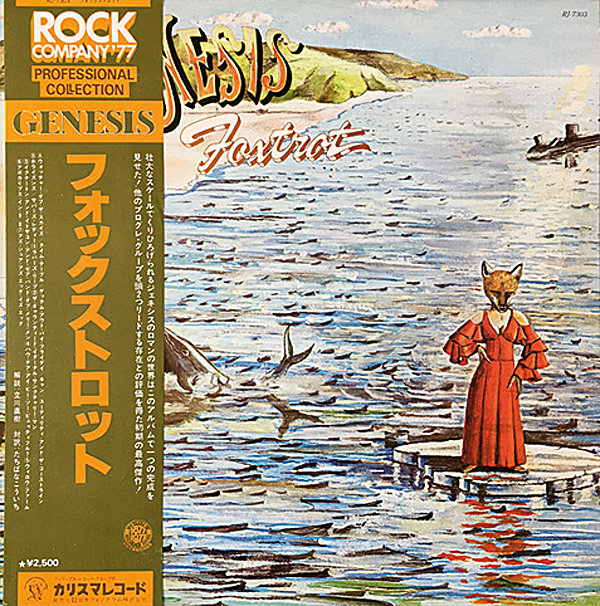 The Japanese version (1977) on Charisma, via the Nippon Phonogram Company [RJ-7303], had a single sleeve with lyrics translated into Japanese on the inner sleeve and a brown and orange obi-strip [see below].
In 1984, the UK LP reissue on Charisma had a different catalogue number [CHC 38] on the new light and dark blue LP label with a smaller Mad Hatter image. This was distributed by Virgin.
Another reissue that same year came out on Virgin/Charisma with the green Virgin Records label with a small Mad Hatter logo and the same catalogue number.
Cassette And 8-Track
The sole 8-track cartridge release of Foxtrot was in Canada on Buddah records in 1972 [CAS8-1058]. That year there were a number of cassette releases worldwide all on Charisma. The UK cover featured a close-up of the fox from Whitehead's painting with 'Genesis' in a different font from the LP [7208 553]. Most other releases displayed the front half of the LP cover painting, but the Netherlands Dolby cassette had a reproduction of the entire painting on the front cassette cover [7164 011].
Compact Disc
Foxtrot was released on CD in the UK and Europe on Virgin/Charisma in 1985, in a front cover with just the fox and whale detail from Paul Whitehead's painting [CASCD 1058]. The 1986 Japanese CD had the full LP cover painting folded over for the front insert of the CD case. There was a leaflet with titles and lyrics translated into Japanese and a gold Obi strip [32VD-1027]. The US CD, released in 1988, had the artwork similarly displayed [Atlantic 81848-2].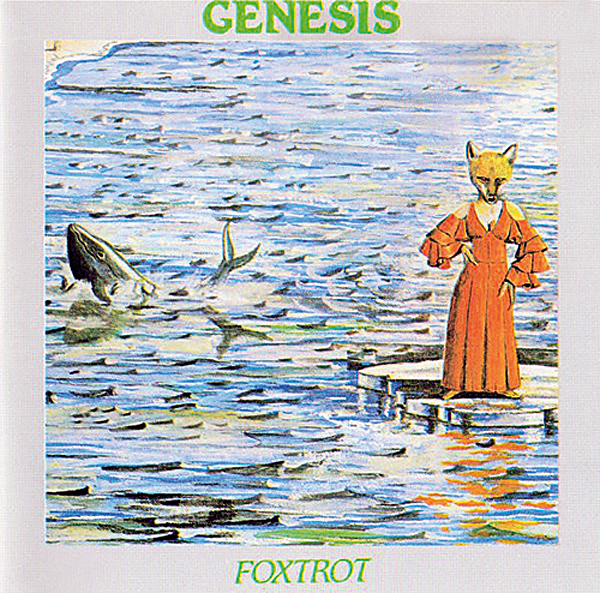 The LP front cover artwork was restored to the 1994 UK and Europe release, this time solely on Virgin [CASCDX 1058] on the Definitive Edition Remasters series. Remastered by Chris Blair, Geoff Callingham and Nick Davis at both Chiddingfold and London studios, it included an eight-page booklet.
Further remastering took place in 2007, on a two-disc set remixed by Nick Davis, and remastered at Metropolis studios in London by Tony Cousins. It comprised a stereo CD and DVD with the tracks also mixed for 5.1 surround sound. Extras on the DVD comprised an interview and two 1972 live performances – one from Brussels and another from Rome [Virgin 50999 519552 2 9].
An SACD hybrid version of this release was issued in Europe, also in 2007 [Charisma 50999 519522 2 9], the DVD now with 96kHz/24-bit DTS Surround Sound, while two years later a remastered single stereo CD, featuring Davis's 2007 mix, was issued in European territories, on Charisma/Virgin [50999 265700 2 0/GENCDY 3].
Last year saw the release of a Japanese CD from the original master tapes in the Hi-Res UHQCD format for use with MQA-enabled players while also being compatible with standard CD players [Virgin UICY-40192].
Audiophile LPs
Charisma Classic Records released the first US audiophile LP on heavy vinyl in 2001 [see record label, below], in a single sleeve [CAS 1058]. In 2008 Rhino put out a 180g version based on Nick Davis's remix. It had the Charisma 'Mad Hatter' label, with Rhino and Atlantic logos printed on it [R1 518005]. A 180g LP was also released that year in Europe with a gatefold sleeve [Charisma [5099943384617; GENPLY 3].
In 2014 Rhino/Atlantic/Charisma released a half-speed mastered version on 180g vinyl in the US and Canada [R1 516778]. But the most recent LP was one released in 2018, remastered by Miles Showell and based on the Nick Davis mix [Charisma/UMC 00602567489795].