Franco Serblin Accordo loudspeaker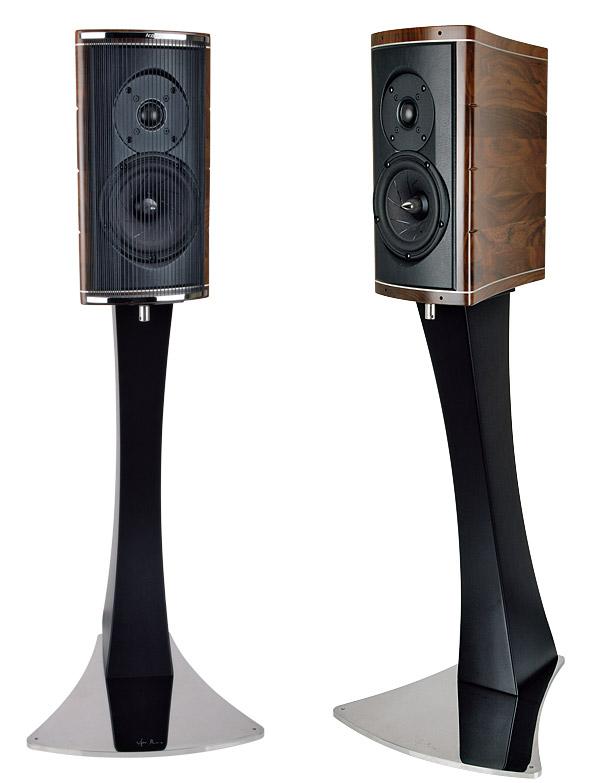 At long last, we get our hands on the iconic Franco Serblin Accordo. Does it redefine the small loudspeaker?
We may have waited over five years to review the Franco Serblin Accordo but, as I found within five seconds of switching them on, it was worth the hold-up. The Accordo is one of the late Franco Serblin's last designs, chronologically falling in between the Ktema and the Lignea, and its appeal to the archetypal British audiophile is blatantly overwhelming. With its predecessor and follow-up both floorstanders, the Accordo differs as a petite two-way standmount, complete with a 740mm angled pedestal. The Accordo is sold in mirror-imaged pairs, in walnut for £7500 with the integral stands, or in high-gloss grey for an additional £300.
Dreams Fulfilled
Carrying on the Serblin legacy after Franco's untimely passing in 2013 is his son-in-law, Massimiliano Favella. He explained that the Accordo was born of Franco's love for small speakers, 'for their discreet presence and for their suitability in less critical environments, for the "magic" which they often are able to recreate'. The Accordo was designed with its uniquely shaped cabinet and a stand encasing the crossover network as the ultimate solution to avoid transducer interference.
In keeping with Franco's strict criteria, Accordos are made from solid walnut. Because of this, 'All the processes to obtain one single cabinet require lot of time. The drying of the wood to get the right stability requires six to eight months at least. Everything is undertaken in Vicenza: the aluminium chroming treatment, the stainless steel spikes and bolts hand-brushed under strictly quality control, the sound checking – that's the reason we can only produce a few batches per year. I know Franco's name is famous and I want to keep the brand going, and to pay homage to his design philosophy'.
Favella's company continues to produce all three of the Franco Serblin speakers, but he also revealed 'During the last two years, I have been working on a fourth model that he left to me. It is taking time and care to achieve good sound and ideal aesthetics, but Franco taught me that if you have the passion, then dreams can come true'.
With the Accordo, you quickly see the cabinet's extreme asymmetry, and this angularity ensures that set-up is achingly critical. The only speakers I can think of with as strict a positioning regime are Wilson's, sited to the centimetre, and, unsurprisingly, most Sonus fabers – both Serblin era and post-Serblin.
As expected of Franco, the sculpted looks are augmented by build quality of the highest order and the arch-shaped enclosure is reinforced with a 'decoupling aluminium-magnesium component to obtain resonance control'. The appearance is enhanced by grilles made up of elastic strings, a concept directly descending from the original Sonus faber Guarneri, while the black columns sit on massive chrome bases to prevent them from tipping over. As I've just mentioned, these uprights also contain the crossover networks and multi-way binding posts near their base.
On the top of the stand is an aperture through which a pro-grade cinch connector emerges, mating with a female connector on the speaker's underside, while the top plate is drilled for two bolts that lock the speaker to the stand. Overall, it's a thing of beauty, so svelte that its overall height (1.1m) is countered by the sheer sleekness.
Inside the cabinet is a 29mm silk-dome tweeter designed by Sonus faber co-founder Ragnar Lian, and the result of an on-going project that ran for over 30 years. The 150mm 'sliced paper' cone mid-woofer is custom-made and optimised to control break-up. The crossover uses Serblin's minimalist approach, first experienced in his Sonus faber period – low-order, 'phase coherent', and voiced 'to achieve precise soundstaging, focus and depth of image'. As with everything about the Accordo, it uses premium parts.
Percussive Thrills
Desperate to hear the Accordos in my room, I wired them up to my Audio Research REF 6 preamp [HFN May 16] and REF 75SE power amp with Crystal Cable. I fed it with LP after LP via my SME 30/12, with London Gold cartridge via an EAT E-Glo phono stage. As much as I wish to portray the first salvo in a rush to play concomitant with a virgin male meeting his Mrs Robinson for the first time, it was far more measured than that. I followed the set-up guidance for toe-in, distances from walls, with or without a foam bung in the rear port. These speakers demand as much free space as you can give them. They sounded best with the drivers pointed to an apex of a triangle just in front of the seat, and with one's ears at tweeter height.