A Fine Line: The BB100 Also In HFN This Month In 1990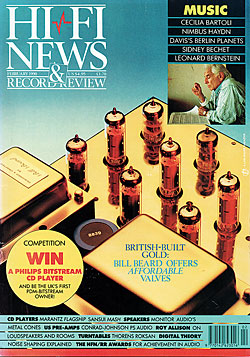 Also In HFN This Month In 1990
WHAT IS NOISE SHAPING?
Alan Ainslie explains the principle of noise shaping, and how it is fundamental to both PWM and PDM bitstream.
DIGITAL DISCOURSE
First of a new series in which Dr Malcolm Hawksford deals with the basics of digital audio.
MONITOR AUDIO STUDIO 10
Ken Kessler reviews the new 'all metal' quality compact speaker, in which Monitor Audio matches a metal-cone bass/mid to its metal-dome tweeter.
MASH HIT
Sansui's PD-X711 CD player offers a variant of Matsushita's MASH/PWM 'low-bit' D/A conversion. Paul Miller reports.
FINE AND DANDY?
Conrad-Johnson's PV10 and the PS Audio 4.6: two US-built preamps compete for honours in this review by Martin Colloms.
SIXTEEN-BIT SWANSONG?
Marantz CD94 II updates on the long-running '94 flagship player to provide a new reference. Test by Martin Colloms.
MAGNEPAN MG 1.4
Steve Harris reviews the latest two-way loudspeaker in the Magneplanar line.