Eugene Ormandy: Conductor
A child prodigy from Budapest, lured to the States with a false promise, he took over a top orchestra and stayed with it for 44 years. Christopher Breunig gives an outline
It's a nice story, but discredited, that the young Hungarian musician, Jenő Blau, changed his surname because he'd sailed to New York in 1921 on the SS Normandie. Ormandy himself told his Philadelphia lead violinist Anshel Brusilow that his French grandmother had changed her name from Goldberg to Or-mont, while other sources say that Ormandy was his second forename anyway.
With a university degree in philosophy, he'd come to the States with the promise of a concert tour as a violinist. As a four-year-old the young Jenő was sent to Budapest's music academy, and – a pupil of Jenő Hubay – won a master's degree ten years later (1913). He had been playing in public at the age of seven.
As the concert tour fell through, Ormandy was lucky in getting work playing in New York's Capitol Theatre accompanying silent films, a former academy student there introducing him to its conductor, Erno Rapee. Within days he became concert-master and from 1923-9 he made shellac recordings as a violinist – but he was also conducting the Theatre orchestra. His debut in that role came in 1924.
When the powerful concert agent Arthur Judson heard Ormandy accompanying a dance recital with Isodora Duncan he was immediately impressed and began helping the young émigré, and in 1931 with Toscanini falling sick, Ormandy was invited to conduct the Philadelphia Orchestra for performances over two weeks. Against well-meaning advice he accepted the challenge, and it was 'the turning point' in his career.
His success there led to joining the Minneapolis SO that year for a five-year tenure, and in 1935 they set down Mahler's 'Resurrection' Symphony for RCA Victor, its first electrical recording, and well received. A year earlier they made several Percy Grainger 78s – the composer had become an American citizen in 1918 and his music was popular there. The 'Londonderry Air', from 1915, you can find online (though not an Ormandy recording).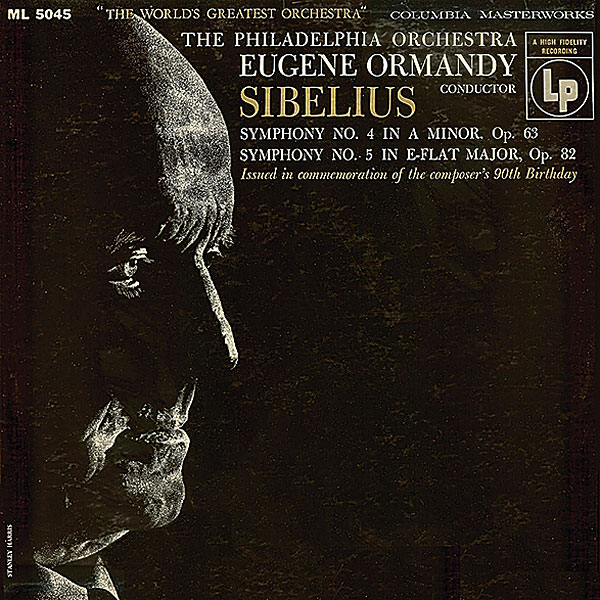 Sibelius was the composer dearest to Ormandy's heart. In 1932 he conducted his Symphony No 1 for the first time and it was recorded with the Minneapolis SO, again for RCA Victor, in January 1935 – you can listen to it on the Internet.
Balcony Welcome
My introduction to Ormandy's records came with the admirable Philips coupling of Symphonies Nos 4 and 5, recorded in Nov/Dec '54 [ABL 3084; see American Columbia sleeve left]. Again, Shellackophile lets you listen online or download a FLAC file. Ormandy took all of his (then) Philadelphia players to Finland in 1955, where Sibelius greeted them from his Ainola (home) balcony.
His various Sibelius discs omit two of the symphonies: 'The Third and Sixth remain enigmas as far as I am concerned,' he said.
In 1936 Ormandy was appointed associate conductor of the Philadelphia Orchestra, taking over completely from Leopold Stokowski as music director two years later. Ormandy would remain with them until 1980, recording music by Bartók, Hindemith and Sibelius for EMI, and Saint-Saens' Symphony No 3 for Telarc in his two final years. In March 1985 he died from pneumonia after a period of cardiac illness.
Bartók's Concerto for Orchestra was the last piece he conducted (from memory), in January 1984 at Carnegie Hall. His last recording of this came as a 1979 'Red Seal' digital LP [RCA RL14321] with an insert explaining all this miraculous new technology! (In fact it all sounds rather facelessly efficient and a year or so earlier Ormandy had written complaining of 'the old horse having to keep on plugging', goaded by industry managers.)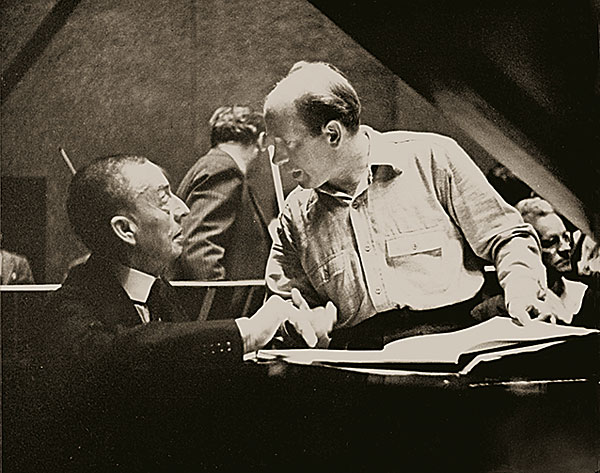 Back in 1929 Stokowski had started recording the Rachmaninov Piano Concertos with the composer as soloist, and for Nos 1, 3 and 4 Ormandy took over [Naxos 8110602 and 8110601]. He also premiered the three Symphonic Dances at Philadelphia in 1941 but only made his acclaimed recording as late as 1960 [Sony; FLAC download].
To see Eugene Ormandy in his prime there's a Movietone film of a 1949 rehearsal of Brahms's Symphony No 2 in Birmingham Town Hall, jumping back and forth in the editing and with a crumbling sound-track, but at least giving some idea of the conductor (batonless) creating 'the Philadelphia Sound'.
Is there a single record that stands out from that large Philadelphia discography? I'd say the coupling of Shostakovich's youthful Symphony No 1 and the first Cello Concerto with Mstislav Rostropovich. It has been variously reissued and is in the set detailed in the Essential Recordings boxout.
Ormandy gave the US premiere of the composer's last Symphony, No 15, and quickly made the first Western LP, in 1972. The snag was that this quadraphonic/compatible LP [ARD1-0014] was on a very thin pressing, but Dutton now has it as a 2-SACD release [2CDLX7370] with a fine account of Symphony No 5 and Kodály's Háry János Suite. In his sleeve essay Ormandy wondered if the Wagner quotations in No 15 were 'a gesture of reconciliation'.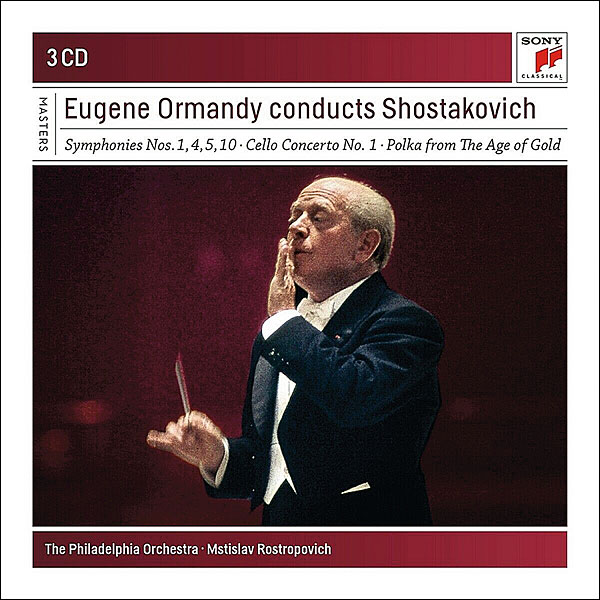 Ormandy was equally impressive in Prokofiev and he made the world premiere recordings of Alexander Nevsky (1945) and Symphonies Nos 6 and 7. I particularly enjoy the way in which he constantly reminds us of Romeo and Juliet in the finale of
No 5 – his earlier 1957 stereo version – and the mechanistic ending comes off very well [Sony G0100009346935, download only]. The conductor also made the premiere recording (Nov '65) of musicologist Deryck Cooke's completion of Mahler's Symphony No 10 – currently not available.
Coming Third
Columbia Records producer Thomas Frost found Ormandy 'The easiest conductor I've ever worked with – he has less of an ego problem than any of them…'. But is there an elephant in the room? One put-down was that any Ormandy record would be a 'third choice' and reviewers have often looked in vain for deeper insights. The old UK EMG Monthly Letter review magazine rarely had a good word to say about him. But when you listen, you have to admire the superb ensemble he secured in Philadelphia and the depth of tone this 105-person orchestra produced (its woodwind voices were less attractive!).
Yes, he was at best in colourful music, but beside the standard classical repertoire he made recordings of Nielsen, Barber, Copland, Harris, Piston, Schuman, Ives, Delius, Holst (the inevitable Planets Suite), Stravinsky and Britten. Yet he had an assistant simplify the time-signatures for Stravinsky's Rite of Spring and the composer told Brusilow that he deplored that.