ELAC Miracord 70 turntable Page 2
It turns out that the deck locks onto rhythms like a terrier, and does such a good job of following them that they seem to be skipping along even more enthusiastically than when heard played on some rival designs. What also struck me out of the gate was the Miracord 70's bass performance. I initially wondered if it might have been a little lightweight at the very bottom end, the deck not digging quite as deeply as I would have liked.
But a quick blast of Jazzanova's 'Takes You Back (Unexpected Dub)' from the album In Between [JCR; JCR025-1] confirmed that my concerns were misplaced here too. This track has some low bass notes that are capable of shifting furniture and the Miracord 70 powered them out without breaking a sweat.
The Bass-ics
In short, the deck has a very clean, detailed and extended low end, but is also tight and focused with no overhang, wallow or bloat. As a result, it can appear to sound a little 'thin' at times, but when a proper bassnote comes along, it becomes clear that it's actually missing nothing and not adding anything either. In fact, for a £1000 deck, it offers an incredibly accomplished performance when it comes to digging out those bass notes.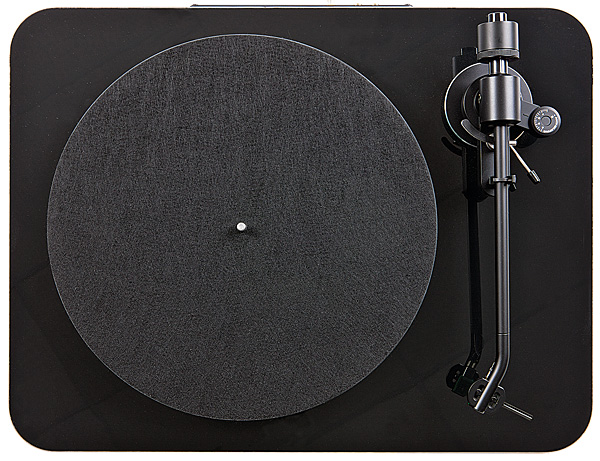 Fortunately, the rest of the frequency range was more than up to the high standards set by the low-end. Across the midband, the Miracord 70 was both fluid and detailed even if it did err to the slightly brighter end of the tonal palette on occasion. In its supplied configuration it can lack a little warmth and even very occasionally stray into upper midband hardness, but experimentation revealed that this is a characteristic of the tonearm and cartridge combination.
The AT-95E cartridge belies its budget origins a little here, for even though it is good in most areas, a change to the smoother-sounding Goldring 2500 worked wonders for the midband without impacting either atmosphere or detail. Michael Hedges' guitar work on Aerial Boundaries [Windham Hill Records; 371 032-1] was expansive and located beautifully centre stage, each pluck perfectly outlined.
Sharp And Crisp
All things considered, the supplied Audio-Technica MM makes a fine partner for the Miracord 70. It might sound a little hard or even splashy on occasions but ELAC's latest deck can also surprise with its couthness and apparent sophistication. Cymbal strikes, meanwhile, are sharp and crisp yet blessed with a purity that makes them sound truly lifelike.
The other thing that is very obvious from listening to the package as a whole is the fine sense of precision within the soundstage – usually the preserve of more costly designs. The Miracord 70 set up a very solid and well-defined image between the loudspeakers that extended nicely behind the speaker plane as well. So performers enjoyed plenty of space, which ensured they could be located easily in the mix, however busy it became.
The turntable's £1000 price tag is a competitive one, though this is a tough area of the market and the deck is up against stalwarts from plenty of well-established names. Michell Engineering's 'entry-level' TecnoDec [HFN Nov '03] comes in at around this price point, fitted with an OEM Rega tonearm, while Rega itself has a big-hitter in the form of the Planar 6 with Neo power supply. Then there's Pro-Ject, which offers its 2 Xperience SB, RPM 5 Carbon and The Classic models, all of which come complete with cartridges.
Even ELAC's old adversary, Perpetuum Ebner, has a stake in the game with the £950 PE-800 package. All are worthy adversaries, but the sheer poise of the Miracord 70 makes it an alluring prospect. It's a well-engineered and beautifully made turntable and the inclusion of a good-quality cartridge is a big plus. What's more, the deck is capable of revealing the benefits of a cartridge upgrade, if desired. As plug-and-play combinations go, this is one of the best I've encountered
Hi-Fi News Verdict
This is a superb-sounding, ready to play turntable package that is sure to cause a stir at its price point. Its excellent build and finish is complemented by a sophisticated bass performance – the tried-and-tested cartridge making a fine match for the in-house designed tonearm. Those looking out for a one-stop entry into the world of high-quality vinyl replay should certainly seek out ELAC's Miracord 70.