ELAC Miracord 70 turntable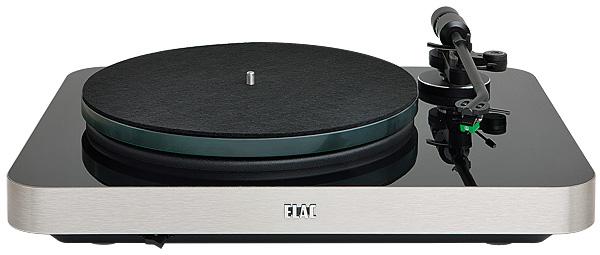 After returning to making turntables two years ago, the company is now back with a more affordable package that includes a pre-fitted arm and cartridge, all ready to go
Vinyl's renaissance has resulted in some thought-provoking developments, particularly when it comes to turntable manufacturers. Naturally, well-established brands such as Rega and Pro-Ject have seen their output rise dramatically and, unsurprisingly, more than a few new names have appeared on the scene. What is fascinating, however, is to see manufacturers that made turntables in the past return to their vinyl roots once more.
The first two names that spring to my mind in this respect are Perpetuum Ebner [HFN Sep '17] and ELAC, so maybe it's a German thing! Regardless, ELAC's new Miracord 70 has an illustrious line of forebears, as it is rumoured that ELAC, along with Perpetuum Ebner and Dual, accounted for 90% of the world's supply of turntables in the mid 1950s. Consequently, the Miracord 70 has a lot to live up to.
Hi-Fi Bargain
ELAC actually re-started its turntable production two years ago with the Miracord 90 [HFN Jul '17], which it named in honour of the company's 90th anniversary. As Nils Ehrnsberger, ELAC's turntable project manager, explained: 'The company's engineers had stayed in contact with Wilfrid Werner (ELAC's turntable mechanical designer) after his retirement and when our management suggested launching a new turntable we immediately thought of him. He started drawing what he called "his ultimate turntable". The EISA Award-winning Miracord 90 was the result.'
Naturally, the company hasn't managed to reverse the ageing process here. Rather, the Miracord 70 turntable celebrates a different anniversary, this time the deck marking 70 years since the first ELAC turntable, the PW1 autochanger, rolled off the production line. One similarity with the 90 is that the Miracord 70 comes as a complete package including arm and cartridge. This time around, the cartridge chosen is the evergreen Audio-Technica AT-95E, which I still maintain to be one of hi-fi's great bargains. This MM design is pre-fitted into the tonearm, meaning set-up is merely a matter of fitting belt and platter, balancing the arm, setting the tracking weight to 1.8-2g and tweaking the anti-skate. Then you're good to go.
The Miracord 70 is built around a solid MDF base with a high-gloss black finish and metallic trim that imparts a stylish appearance. The sub-platter rotates on a ceramic ball and has a hardened steel bearing shaft, spinning between two sintered bronze radial bearings. Sitting on its upper surface are four rubber bumpers that support the main platter when in place. Said platter weighs in at 2.6kg and is a solid piece of glass, coated on its underside with a black ceramic paint and topped with a felt mat.

Nils Ehrnsberger outlined the technology shared between the two turntables. 'The Miracord 90 uses a hardened steel axle on a ruby ball in sintered bronze bearings. We found that this combination works very well and adapted it for the Miracord 70, adjusting for the different dimensions and the lighter weight of the platter. We have a similar bushing, but we use silicon nitride instead of ruby and a different type of sub-platter. Ultimately, while the '90 inspired the '70, and the two packages are similar on paper, the only identical part that you will find in both turntables is the brass thrust plate.'
The sub-platter, meanwhile, is belt driven by a high-quality synchronous AC motor made by Premotec, which is topped with a twin-stepped pulley to provide 33.3 and 45rpm. The on/off switch is tucked discreetly under the front of the plinth, but – disappointingly – speed change is effected by physically moving the belt, which still seems somewhat draconian on a turntable released in 2018, especially given its four-figure price tag.
Shot In The Arm
An important feature of the Miracord 70 is the in-house designed tonearm. This is J-shaped and has a lovely retro appearance. Fortunately, its engineering is bang up to date, being based around a carefully selected mixture of aluminium and steel materials, said by the company to optimise its resonant behaviour [see PM's Lab Report]. The arm also features multiple electrical grounding points to help combat unwanted noise and hum.
As mentioned, an Audio-Technica AT-95E cartridge is fitted as standard, but the arm seems good enough to warrant an even better pick-up should the upgrade urge strike. I tried it with both Goldring's 2500 moving-magnet [HFN Mar '11] and Audio-Technica's AT-F5 moving-coil designs and the arm performed very well indeed with each, ensuring that its beauty is definitely more than just skin deep.
There's no lid supplied with the Miracord 70, but it has both mounting points and screws fitted at the rear of the plinth ready to accept one. The instruction manual talks of an upcoming accessory section on the ELAC website from which a suitable cover can be ordered, which is a good thing – gloss black plinths and dust do not mix! Also to be found at the rear of the plinth are output phono sockets and a grounding terminal. The deck is provided with a good-quality interconnect lead, which was used throughout the review.
Rhythm King
It's worth taking care over the placement of the Miracord 70 as the deck does not have adjustable feet. When properly positioned, though, it gives a remarkably good account of itself, even if it had me a little fooled initially. My first test track was Mark Ronson's 'Bang Bang Bang' from his third studio album Record Collection [RCA 88697736331] and I had a slight concern that the deck might be running fast. However, a stroboscope disc and precision LED light source quickly confirmed that it was actually spinning at the right speed.