EAT Jo No8 Cartridge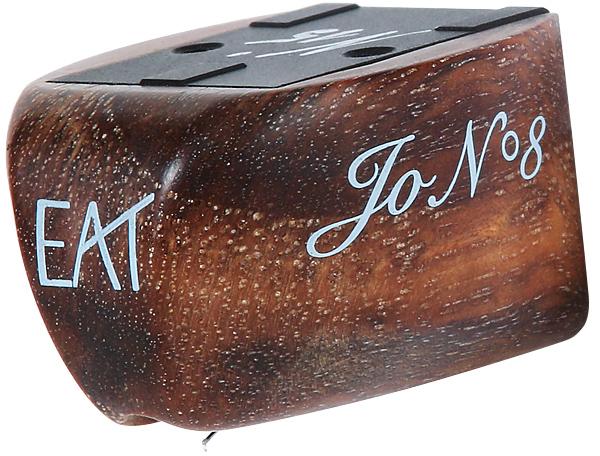 After wowing the audio community with the Jo No5 moving-coil cartridge, EAT has unleashed the second in the family – the Jo No8. And it's an even bigger knock-out
Having previously dipped its toe in the water with the Yosegi moving-coil cartridge [HFN Mar '12] – effectively a rebodied-in-wood Japanese design – EAT stunned us last year with the Jo No5 [HFN Dec '18], selling at a sane £799. There's no shortage of amazing moving-coil cartridges on the market, but this was blatantly head-and-shoulders above the pack. It heralded a new range of MCs to complement EAT's expanding catalogue of turntables, arms, phono stages and its recently-unveiled integrated amplifier.
Company boss Jozefina Lichtenegger opted for EAT's second model, the Jo No8, to come in at a much dearer £2290. Her choice for the leap upward in pricing was based on customer demand. The lower segment of the price range for EAT's seven turntables, three tonearms and three phono stages is already addressed by the No5, so the No8 targets a substantially dearer market position.
Good Egg
When we spoke about this, she did hint that there could be models to fill in the gap between the No5 and No8 in the future, and I suspect there may even be cartridges above the No8 in the pipeline. When you consider that the company's top turntable, arm and phono stage will set you back more than £15,000, there's clearly some 'headroom' above the No8.
Jozefina did, however, face a challenge, simply because the No5 is so good. The second of the egg-shaped cartridges would have to feature superior parts, while the testing and selection regimes are even more critical. Although the cartridges are as universal as any, the No8 is evidently optimised for EAT's new flagship F-Note tonearm, together with the company's recommended Graham and Ortofon tonearms.
That said, I did my utmost to test the No8 with equipment that closely matches the design and testing regime that defined its sound at the factory. I used the Graham Phantom tonearm, which the company often fits to its upper-range turntables such as the Forte, on the TechDAS Air Force III Premium [HFN Jun '19]. As the cartridge is massive, at 25.1mm at its widest point, 28.3mm deep and 19.2mm tall, I can imagine there may be arms with fixed headshells and no slots for fore-and-aft movement that might prove a tight fit.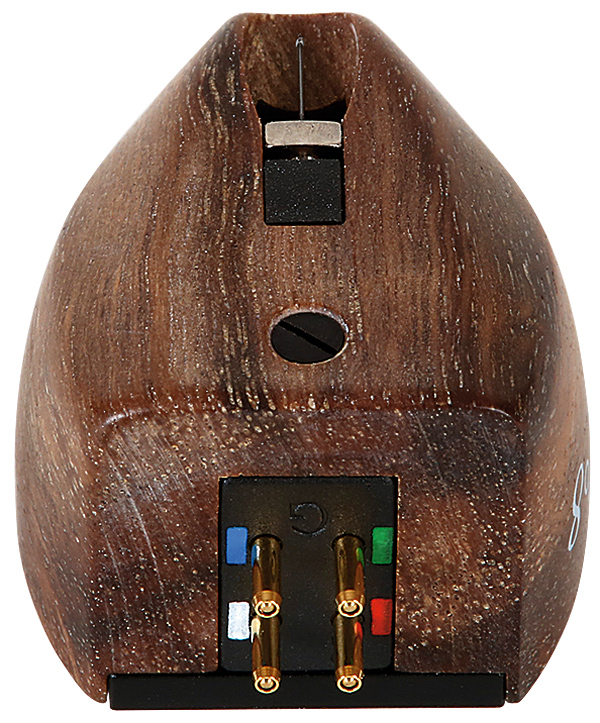 Because the wooden shell encloses an aluminium core, those with a screw-tightening fetish will be happy to note that this cartridge can be fixed without the worry of, say, Denon 103s or other designs with 'soft' bodies, which can be damaged by too much force. Well-spaced, colour-coded pins (Koetsu: please take note!) also aid installation. And, while the curvy, bulging body of this cartridge is not as helpful as the parallel sides of blocky shapes for alignment, the prow of the No8 is flattened and thus easy enough to use as a guide if viewed from overhead.
One aspect of cartridge set-up which many of you might deal with in near-religious terms, but which I find about as worthy of ignoring as wine-to-food pairing (yes, I drink red with everything), is impedance setting. I used this with EAT's flagship E-Glo phono stage, and I long ago gave up slavishly following instruction manuals, preferring instead to set the loading by ear. This is especially enjoyable with phono stages like the E-Glo that offer continuously variable rotary settings or even a surfeit of fixed values, which enable you to find the best balance between gain and sound quality.
As it turned out, the recommended load of '>15ohm' was merely a starting point and I settled on 80ohm most of the time, occasionally adjusting the EAT E-Glo to 150ohm or even a shade more. The listening sessions also benefited from the flexibility afforded by the bargain-priced Pro-Ject Tube Box DS2 phono amp for just this reason. Yes, you really should set the values according to what you hear rather than what you read. And while the Tube Box DS2 doesn't quite expose all that the No8 can deliver via the E-Glo, it still impresses.
Worth The Weight
The tracking force will horrify those weaned on Shure V15s, as the optimum setting for this cartridge is a porky 2.3g, which is but a scant 0.1g less than that recommended for the No5. It didn't take long to discover that the No8 was less critical about this than the No5, and no mistracking was experienced even at 2g. Again, one's ears should be the final arbiter, and I did my listening at 2.15g.
Completing the review system were the Audio Research REF 6/REF 75SE pre/power amp combination [HFN May '16], Wilson Audio Sasha DAW speakers [HFN Mar '19] and Transparent cables throughout. As for reference cartridges, these included a Koetsu Urushi, TechDAS TDC01 Ti [HFN Sep '14] and DS Audio Master 1 [HFN Dec '17].
Crisp 'N' Dry
Let's put it this way: I've never seen any visitors to my listening room react so favourably, so quickly to a cartridge – even more so than when they heard the No5. I had a No5 in use when the No8 arrived, so all was conveniently primed for the comparisons. In a way, this plays into EAT's master plan because the creation of an upgrade path seems preordained. Although the No5 remains my sub-£1000 fave, maintaining its peerless value, the No8 ups the ante by a huge amount.