EAT E-Glo i Integrated Tube Amp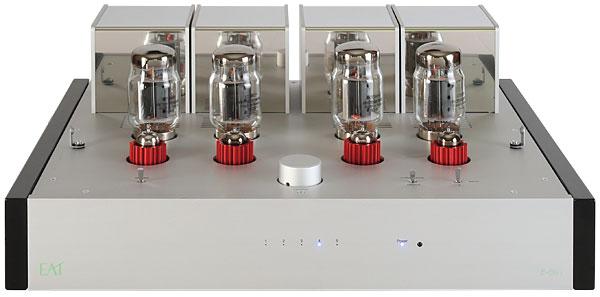 The extension of EAT's E-Glo range of valve phono stages into something bigger was inevitable, but not hurried – enter EAT's first integrated all-tube amplifier, the E-Glo i
Regular readers will already know that I use two of EAT's cartridges [HFN Dec '18 and '19], two of its phono stages [HFN Mar '17 and Feb '19] and a B-Sharp turntable [HFN Jul '20]. The E-Glo i is thus among family members and there's every chance I was going to be predisposed…
At £9498, it's not cheap for an all-valve integrated rated at only 35W in ultralinear mode or 18W in triode, but the perceived value is self-evident, ameliorating the issue of watts-vs-worth. Recalling £100k 20W single-ended triode amps puts it into perspective. For £1000 more, you can fit a quartet of EAT-made KT88s in place of the already very fine Electro-Harmonix tubes in our review sample.
Exudes Luxury
Care needs to be taken with the very sharp edges of the valve cover, particularly when lifting its 26kg bulk out of the packaging, but this is otherwise a beautifully made product. Owners of EAT phono stages will recognise the matte silver finish and contrasting glossy piano-black or Makassar wooden end-cheeks. This amplifier looks expensive rather than industrial – a good thing if hi-fi brands are to attract sane people to high-end audio.
Note that EAT started out not with turntables but with tube manufacturing. 'The E-Glo i is a recognition of the company's roots,' she says, 'everything that we do is about a love for tubes and for analogue, so the E-Glo i is a natural progression.'
And what a debut amp it is! A true heavyweight occupying 435x170x485mm (whd), the E-Glo i is substantial as well as handsome, which will please tyre kickers. With or without the (arguably perilous) valve cover, the unit exudes luxury, which will please aesthetes, while the tactile elements please another of one's senses: EAT always fits positive, click-y toggle switches and smooth rotary controls.
But back to that cage. Unlike valve covers which snap into place, the E-Glo i's is held in position by four Torx screws and the necessary screwdriver is supplied. I am torn between the look of the amp with or sans cover, because EAT has housed the transformers in luxurious chrome boxes. Hiding them seems a pity.
Even the remote handset is jewel-like, with ten flush buttons for power-on, level up/down, mute and access to five line inputs. That only accounts for nine; the tenth, unlabelled button might cover a future function. I'd like to see this mystery button select ultralinear and triode modes, handy for A/B'ing the two if the unit is some distance from the listener. Attention to detail involves the small valves being fitted with EAT 'Cool Dampers' – heatsinks and vibration control in one solution.
Hand-Numbered
These dampers are worth around £20 apiece and were finished in red, which provide eye-catching accents if you opt for the al fresco, no-cage look. They are also offered in natural metal or dark metallic grey should you find red just too garish.
Hand-numbered on their bases, the valves sit in cut-outs in the packaging's foam top layer, with the remote and a spare battery. Two manuals are included for set-up and operation, along with the Torx driver, gloves and a mains cable. The amp is protected by a velvet pouch, a touch common to £1500-a-bottle cognac. Set-up is intuitive for seasoned audiophiles, and only the valve positions need checking. Remove the cover, fit the four KT88s and the 12AX7 and 12AT7 triodes according to the set-up guide, replace the lid and make your connections. EAT even supplies spare Torx screws should you lose any.

At the back are five pairs of RCA phono connectors, two sets of multi-way speaker binding posts with both 4ohm and 8ohm values, a mains socket and the on/off rocker working in conjunction with a standby toggle on the front of the amp and the power button on the remote. At the front, blue LEDs show the selected source. To their right, next to the remote sensor, an LED shows power-on, flickering during the 40-second muted warm-up period.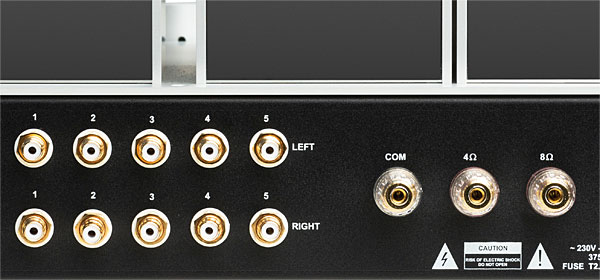 On top are the operating controls, power-on at the left, then the motorised rotary volume control and the triode/ultralinear selector. The E-Glo i mutes when you change this setting to avoid pops or level changes and, lastly, there's the source selection toggle, scrolling up or down.
All In The Family
Unusually, and as described in my opening paragraph, the E-Glo i afforded a chance to listen to what is nearly a one-make system, bar cables and speakers. I also used other-make sources, including two open-reel decks and two CD/SACD players, but much time was spent with EAT's B-Sharp turntable and tonearm, Jo No5 cartridge and E-Glo Petit phono stage.