Duke Ellington: Anatomy Of A Murder
The band leader was an unusual but inspired choice for the soundtrack of Otto Preminger's courtroom drama, says Steve Sutherland, as he considers the 180g reissue
Whether life was imitating art or vice versa is a moot point, but whichever way you look at it Joseph Nye Welch was one extraordinary geezer. A partner in a Boston law firm called Hale and Dorr, on the 9th of June 1954 he found himself in court challenging Senator McCarthy to provide 'before sundown' the list of 130 Communists posing a so-called subversive threat in defence plants across the US.
Indecent Exposure
McCarthy's response? That if Welch was so concerned about persons aiding the Communist Party, he should check on a man in his own law office named Fred Fisher, who had once belonged to the National Lawyers Guild, an organisation accused of being 'the legal mouthpiece of the Communist Party'.
Welch's now famous retort – 'Have you no sense of decency, sir?' – resulted in applause from the galleries, but further to that, the hearings were being screened on TV and his performance is said to have irrevocably turned the tide of public and press opinion against Senator McCarthy.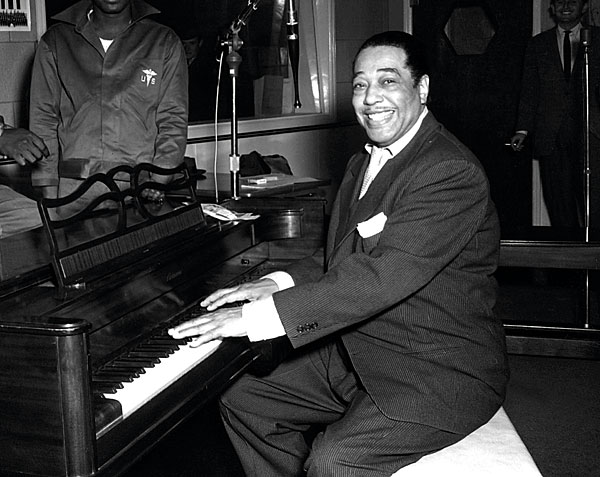 Good man. But why are we mentioning all this? Because Joseph Nye Welch wasn't only an accomplished lawyer. He was quite the actor too, and played the part of Judge Weaver alongside more famous thespian luminaries – such as James Stewart, Lee Remick, Ben Gazzara and George C Scott – in Anatomy Of A Murder, the 1959 courtroom crime film whose soundtrack – now on 180g vinyl – we're celebrating.
Directed by Otto Preminger and described as 'probably the finest pure trial movie ever made', this Oscar-nominated star-studded drama was based on real life events. In July 1952, war veteran Coleman A Peterson shot dead a Big Bay, Michigan bar owner called Maurice Chenoweth, thinking that Chenoweth had raped his wife. John D Voelker was engaged as his attorney and he invoked a very rare version of insanity defence called 'irresistible impulse', which had not been used in Michigan courts since 1886. The jury reached their verdict after four hours: not guilty by reason of insanity. Voelker's only payment was the murder weapon. Voelker, who was also a novelist and fly fisherman, went on to write a book about it under his pen name Robert Traver, and this became the basis for Anatomy Of A Murder.
Among the film's cast was big band jazz supremo Duke Ellington, who was commissioned to write the score – the first time an African-American had done so for a major studio. When asked why he chose Ellington to soundtrack his movie, Preminger replied he felt the great band leader would 'produce a freshness which an experienced film composer might no longer possess'.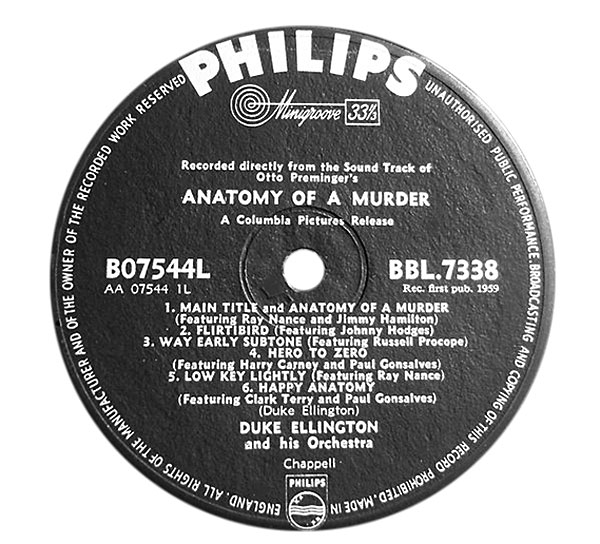 The director's faith was rewarded. As the AllMusic website so aptly puts it: 'Ellington was a natural choice to convey the rich and varied emotional moods of this drama. Tension and release, danger and safety, movement and stillness, darkness and light; the textural palette that was Ellington's signature was always compellingly cinematic'.
Mood Music
Anatomy Of A Murder's soundtrack begins with 'The Main Theme'. A fantastic cubist bluesy piece, it's the perfect accompaniment to the title credits, a miasma of disembodied limbs created by the maestro of movie intros, Saul Bass (also known for his work on Psycho, Goodfellas and North By Northwest, to name a few).
Ellington was 60 years young when he took on the score, with literally thousands of concerts and 35 years of records on multiple labels behind him. 'Anatomy Of A Murder is music made when Duke and the band were very mature', wrote renowned trumpeter Wynton Marsalis in his essay for the 1999 soundtrack reissue. 'They made music to represent an adults-only movie… There are very advanced harmonic conceptions present. Duke refined his harmonic language to a very high point'.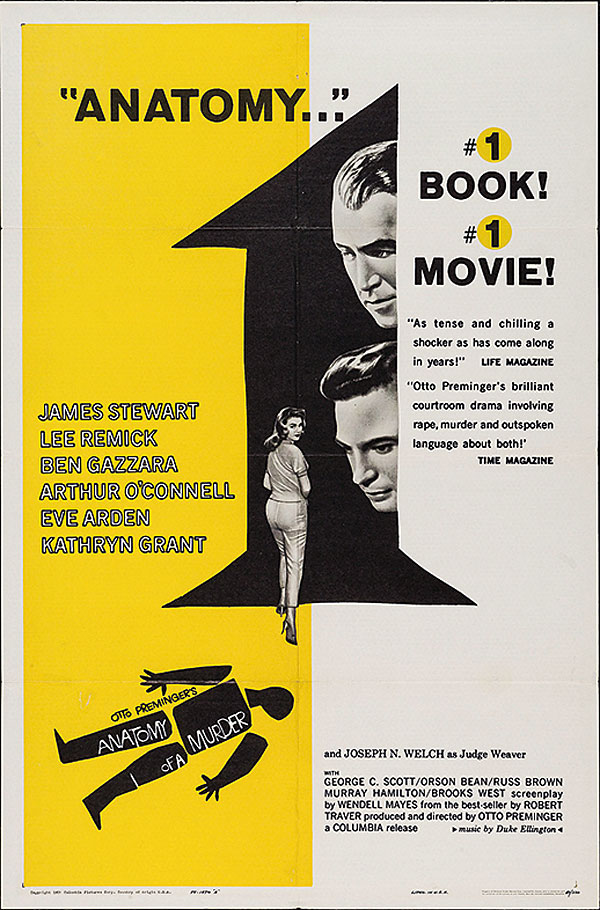 And rather than just using music to create a general jazzy atmosphere, Ellington and his longtime co-writer Billy Strayhorn composed pieces to complement both the moods and motives of the film's principal characters. For instance, the slow, sultry 'Flirtibird' is fashioned to represent Lee Remick's hip-swinging femme fatale via Johnny Hodges' sinuous alto saxophone solo. 'Lee was the picture', said Ellington.
'I mean it was a thing with her eyes and she absolutely appeared to be, you know, sort of flirting all the time.'
Get Shorty
For Eve Arden's no-nonsense secretary Maida Rutledge there's 'Happy Anatomy', a clarinet theme that's similar to 'Flirtibird' but more laidback. It's played by Ellington in the movie in his role as Pie Eye, the leader of a roadhouse band who is joined at the piano by James Stewart's jazz-loving lawyer. 'Upper and Outest', meanwhile, features two magnificent trumpet solos from Ellington band members, the first played by Shorty Baker, and the second a stratospheric Cat Anderson showcase that takes the number out on high notes very few others could even imagine achieving.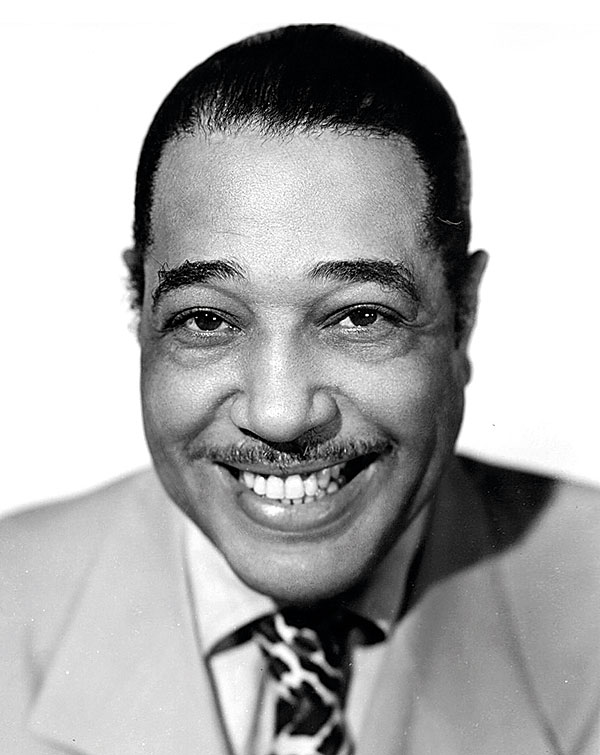 Here's Marsalis again with an expert summing up: 'The performance of the entire [soundtrack] must be acknowledged. Just the precision of the ensemble playing is unbelievable. The mutes for the trumpets: how did the whole section close and open their mutes at the same time like that? They play with stunning intonation.'
Code Breaker
Nowadays the movie is regarded as one of the first out of Hollywood – along with Billy Wilder's Some Like It Hot and Alfred Hitchcock's Psycho – to challenge the Hays Code of censorship guidelines, which had been adopted by the Motion Picture Association of America in 1930, and would remain in force until 1968.
Elders in several American cities were alarmed by the language used in Wendell Mayes' screenplay – not to mention the seductive jazz score, the likes of which they'd never heard in a cinema before. Women's underwear as key trial evidence, plus the use of words such as 'contraceptive' and 'climax', sent Chicago's mayor, the infamous Richard J Daley, into quite a flap, and he banned the film from showing in the Windy City. This knee-jerk censorship was swiftly overturned in an Illinois court, however, where it was determined that the clinical language during the trial was realistic and appropriate within the drama's context.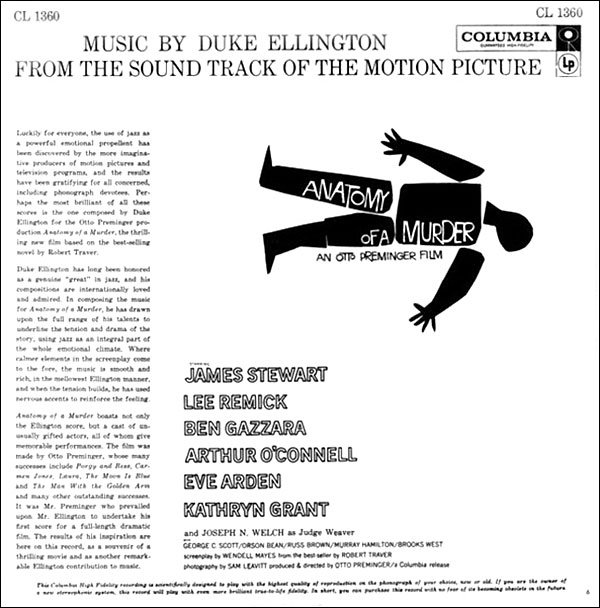 Duke Ellington's score won three Grammy Awards in 1959, for Best Performance By A Dance Band, Best Musical Composition First Recorded And Released in 1959 and the biggie, Best Soundtrack Album. Not surprising, as it's a bona fide masterpiece. Cinematic music would never be the same again.
Re-Release Verdict
Anatomy Of A Murder's soundtrack was recorded by Ellington and his orchestra at Hollywood's Radio Recorders studio and first released on vinyl in 1959, in both mono and stereo, by Columbia [CL 1360/CS 8166]. This recent 180g black vinyl reissue from Music On Vinyl [MOVLP681] retains the same running order of the 13 superb-sounding compositions, ignoring some of the 'bonus tracks' added to Columbia's 2009 CD [88697569672] and Doxy's 2012 LP [DOY666]. HFN