D'Agostino Progression Integrated Integrated Amplifier

By extreme high-end standards, it's almost an 'entry level' product – so is Dan D'Agostino's Progression Integrated amplifier the perfect introduction to the brand?
After nearly four decades' worth of using Dan D'Agostino's designs, from Krells in the 1980s through to his more recent, eponymous models (I use a Momentum Stereo as my solid-state reference and love it to bits), I thought I knew what to expect. Silly me: surprise No 1 provided by the D'Agostino Progression Integrated was that I could lift it without any assistance. Surprise No 2 was a price under £20k.
To the Progression Integrated's £18,500 – for either the silver finish seen here or the black anodised alternative – one can add a digital board at £5500 and an MC phono board for £2250. Even with both, this is still a long way from the £54k for the Momentum Integrated [HFN Dec '14]. By these elevated norms, then, the Progression Integrated's cost is hardly a shocker.
Sitting Pretty
Like all of its siblings, the Progression Integrated is impressive to behold, with a finish to match the costlier models, but the Progression range is less in-your-face. Indeed, it may be the prettiest, most discreet control product yet from D'Agostino, because it's clean, if not quite minimalist – something power amp stylists have over preamp and integrated amp designers, who must accommodate buttons, knobs and switches.
I'd say it looks 'purposeful', but that implies the brutality of function over form. In the Progression Integrated, the fascia's design balances both, with looks and ergonomics in perfect equilibrium. Restrained or not, this amp will impress your hi-fi-lovin' buddies, especially when lit up, glowing with blues, greens and reds.
By retaining certain signature details which adorn nearly all D'Agostino models, there will be no mistaking it for any other maker's wares. Despite such familial touches, it has a freshness which distinguishes it from the instantly-recognisable Momentum models. There are, for example, no massive, solid-copper, girder-like heatsinks to add a sense of both purpose and bling, but you do get the Breguet timepiece-inspired meters on the right-hand section of the front panel. These serve multiple roles, indicating signal level, volume and balance settings.
Still with the genetic markers, the centre of the fascia is dominated by a massive rotary volume control; its copper trim one of the few concessions to visual adornment. A freely-rotating attenuator, it offers stepwise increments but does not shoot up or down in level if spun too quickly.
Further delighting the senses, the bank of buttons delivers a tactile thrill, accompanied by a colour-coded light show to indicate which source is selected, mute engaged, standby and other functions.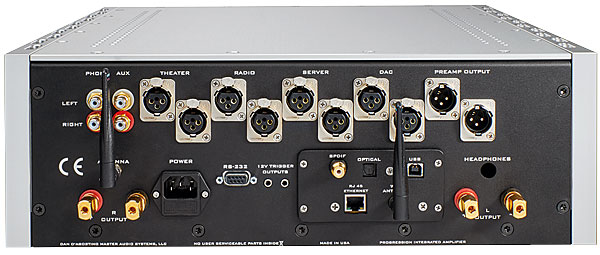 Well Balanced
Hard-core audiophiles less concerned with styling, however, will be more impressed by the back panel. Dan D makes no bones about preferring balanced operation, so the inputs marked 'theater', 'radio', 'server' and 'DAC', as well as the preamp output, are all on balanced XLR sockets.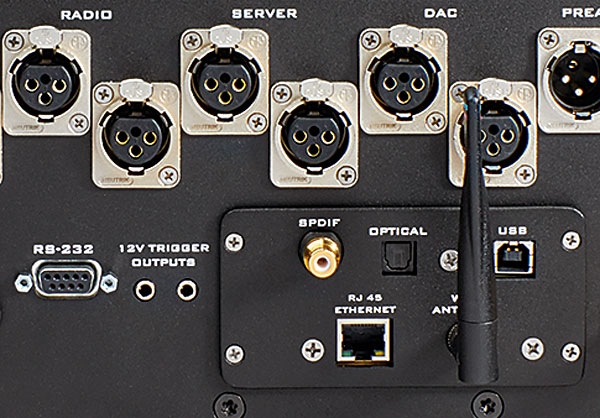 When fitted, the phono board takes over one of the unit's two sets of single-ended RCA-type sockets, the other remaining line level-only for non-balanced, legacy sources. I fed the phono stage with the output of the AVID Reference Ruby and TechDAS TDC01 Ti [HFN Sep '14] moving-coil cartridges. Note that the switches for changing the phono board settings are to be found inside the amp, which necessitates removing no fewer than 19 screws...
Also on the back panel are the headphone socket, multi-way speaker terminals, RS-232 control port, 12V triggers and IEC mains inlet while the forthcoming DAC module adds digital coaxial, optical, Ethernet, Wi-Fi antenna and USB-B connections. (The option included here was pre-production and not tested.)