Celestion 3000 Also This Month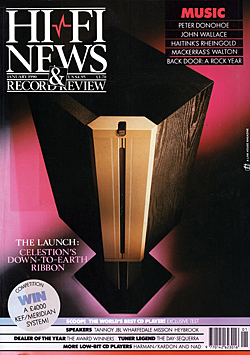 Also in HFN this month in 1990
STATE-OF-THE-ART PREAMP
Ben Duncan describes LPM, the precision disc input module.

FIRST WITH PDM: MERIDIAN 208
This Philips-based 'PDM Bit Stream' design may be the world's best CD player. Feature review by Martin Colloms.

PWM PLAYERS
The new HK HD7500 and HD7600 'PWM bitstream' players make excellent use of Technics' MASH technology, as Paul Miller reports.

KNOCKED FOR SIX
Half-a-dozen budget speakers reviewed by Martin Colloms: the Celestion 3, Heybrook 0.7, JBL TLX12, Mission 761, Tannoy E11 Eclipse and Wharfedale 505.II.

NAD'S HIGH-TECH HYBRIDS
How NAD has brought 'low-bit' technology to affordable CD players. Paul Miller reviews the NAD 5320 and 5325 models.

RADIO GA-GA
New Day Sequerra tuner offers high-end reception with a classic pedigree, says Ken Kessler.

POT POURRI
The Rotel RP855 record player, Technics SL-XP2 personal CD player, ARC's SP14 preamp and Sage Audio's Digitrap CD filter.