Castle Windsor Duke Loudspeaker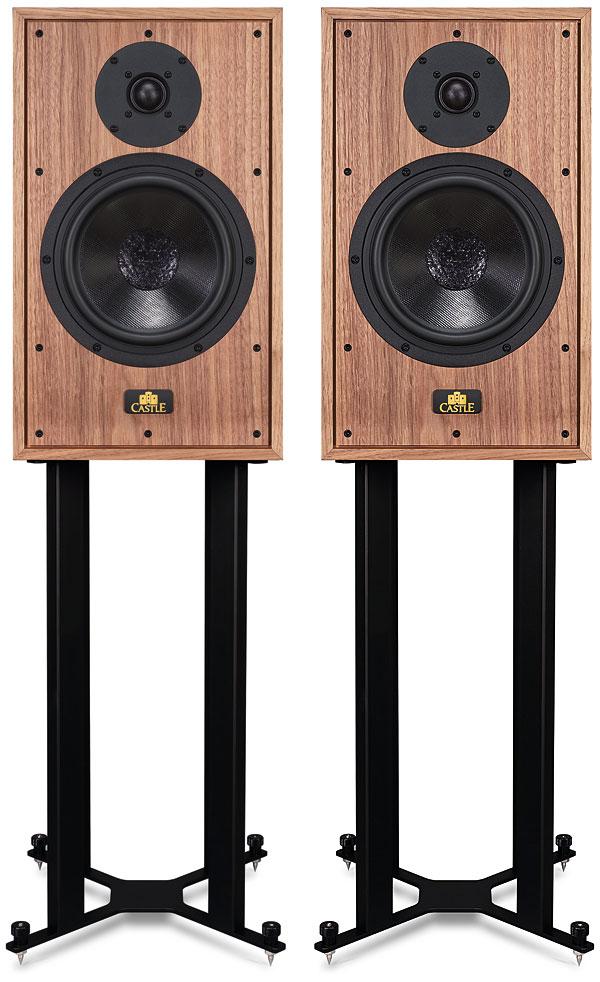 No citadel in the sky, these latest Castle speakers are firmly grounded in great sound courtesy of the FinkTeam
What do you get if you take a venerable British loudspeaker marque, mix with the (from 2007) owners' fabrication facility in China, stir in a highly respected German loudspeaker designer and top the whole creation with British assembly? In this case, it's the Castle Windsor Duke loudspeaker, an elegant £4500 standmount design that's the fruit of a truly worldwide network.
Along with their smaller £3850 Windsor Earl brothers, the Dukes are the latest Castle products from the IAG stable. However, while IAG's Director of Acoustic Design, Peter Comeau, has been overseeing new creations for Wharfedale, plus the new Mission 770 [HFN Jun '22] and 700 models, the 'Castle project' was outsourced to none other than Essen-based loudspeaker guru Karl-Heinz Fink.
Gun For Hire
Alongside his own FinkTeam [HFN Feb '21] and EPOS [HFN Jul '23] loudspeakers, Karl-Heinz has an enviable track record with third-party designs for many loudspeaker manufacturers including ALR Jordan, Q Acoustics [HFN Apr '22], Mordaunt Short, Naim and Tannoy. He has also worked before with IAG (on the Wharfedale Diamond 12 series), and there are apparently further collaborations planned.
Karl-Heinz even has past form with Castle Acoustics; for the first incarnation of the company he worked his magic on the Compact series and the highly successful Richmond 3i. But for the new models, he has stated he had no desire to pick anything from the old Castle back catalogue and bring it up to date. Rather, his intention was to create a new speaker that 'followed the routes of classic British designs but without cloning any particular model. Straightforward engineering was the idea, with well-balanced sound quality, but using modern technology in drivers and cabinets'. When you hear it put like that, it sounds so easy...
As a result, the Windsor Duke is an ostensibly simple two-way design featuring a 200mm bass/mid driver and 28mm tweeter in a ported, 26 litre cabinet. The Windsor Earl takes a similar form but uses a slightly smaller 165mm bass/mid driver in a more compact 15.8 litre cabinet. Said cabinet is a braced, dual-layer MDF laminate, with the two layers separated by thin, flexible glue, chosen to damp resonances in the midrange region. On the outside, the enclosures are finished in a sustainably sourced real walnut veneer or a somewhat darker, red-hued mahogany veneer. Each pair has a matched wood grain, and is hand-finished, sealed and waxed over a period of several days.
A Tale Of Two Drivers
The main drive unit is based around a polypropylene cone. However, rather than simply using a pressure-formed polymer cone, the polypropylene is cut into thin strips which are woven back together and bonded to create a new sheet. This material is then used to form the cone which, thanks to the variable stiffness of the woven construction, offers far better control over resonances. A low-hysteresis rubber surround joins the cone to a metal chassis, firmly bolted through a chamfered recess in the wooden baffle.The driver's voice coil is wound onto a glass-fibre former and the motor unit includes an aluminium compensation ring that reduces the reactive impedance, and distortion, at higher frequencies.
The Windsor Dukes' tweeter is also a customised unit. The soft 28mm polyester dome is attached to a voice coil of the same diameter, feeding into a standard ferrite magnet and pole piece with a copper cap. And the tweeter follows Fink's trend for not using ferrofluid damping/heat control in the voice-coil gap, pushing the resonance frequency down to a relatively low 800Hz.
The crossover is a fourth-order Linkwitz-Riley type set at a moderate 2.1kHz and featuring air-cored inductors. While it is more common to use iron-cored inductors in the bass arm of the crossover for their reduced copper turns, the slightly higher resistance of these air-cored types is allowed for in the design of the bass/mid driver. The result, according to Castle, is 'a flat response with an easy load for amplifiers and low distortion', claims that are largely backed up by PM's independent measurements.
Fit and finish of the loudspeakers is immaculate, and they are glorious pieces of furniture in their own right. Magnetically attached grilles are supplied but they are best left in the box, for reasons I'll return to. Dedicated open-frame metal stands are available for an additional £500 but these were not supplied for review, so the Dukes were auditioned atop mass-loaded Atacama SL-600 stands, and connected to my regular Yamaha C/M-5000 pre/power amplifiers [HFN Aug '20].
Sheer Scale
While the Windsor Dukes are certainly no 'bookshelf' standmounts, I was still unprepared for just how big they would sound. Partnered with a hefty amp, the sheer scale of their output is little short of astonishing – they really do sound far, far bigger than they look. I must confess to having wondered why anyone would buy standmounts (and a stand), when floorstanders that occupy a similar footprint are still an option. The Windsor Dukes have made me re-think that opinion.