B&W 805 D4 Loudspeaker Page 2
Setup on the FS-805 stands, with ports unplugged and 50cm from the rear wall, the 805 D4s revealed themselves to be fairly easy going. They didn't seem particularly power hungry, and it didn't take me long as regards positioning (with speakers toed-in) to arrive at a focused, true-sounding image.
Controlled Energy
A standmount speaker it may be, but the 805 D4 still has a big-boned sound. There's a rich bottom end that gives definition to basslines, drums and brass without such elements feeling thick or indistinct, and this sense of clarity continues through the midrange and into its extended high frequencies. It's an open, articulate performer, but also warm and inviting and full of controlled energy. In fact, I found it tricky to fault apart from a voicing that doesn't hold back in its treble attack, which I expect some might find a little too revealing. Accept this, and the fact it can't compete with a three-way floorstander in terms of ultimate bass depth and soundstage scale, and you've a speaker with the talent to match its lush looks.
The way the 805 D4 handled different instrumental textures and tonalities, and evoked the different ambience of recordings, was particularly noteworthy. Take, for example, two tracks with markedly different productions: Buddy Guy's 'Damn Right, I've Got The Blues' [eponymous; Silvertone Records 82876 68345 2] and Adele's recent 'My Little Love' [30; Columbia/Sony Music 19439937972]. The former is a studio recording, but it sounds live and large as Guy's amp fizzes in the intro and his Fender then wails with a crisp, pronounced tone that here arrives completely unfettered.
The Adele track, on the other hand, features instruments that have been filtered through a digital, gloopy lens to give her vocal even more of a forward presence. With both pieces I felt totally immersed in the performance, one from afar, the other up close and personal.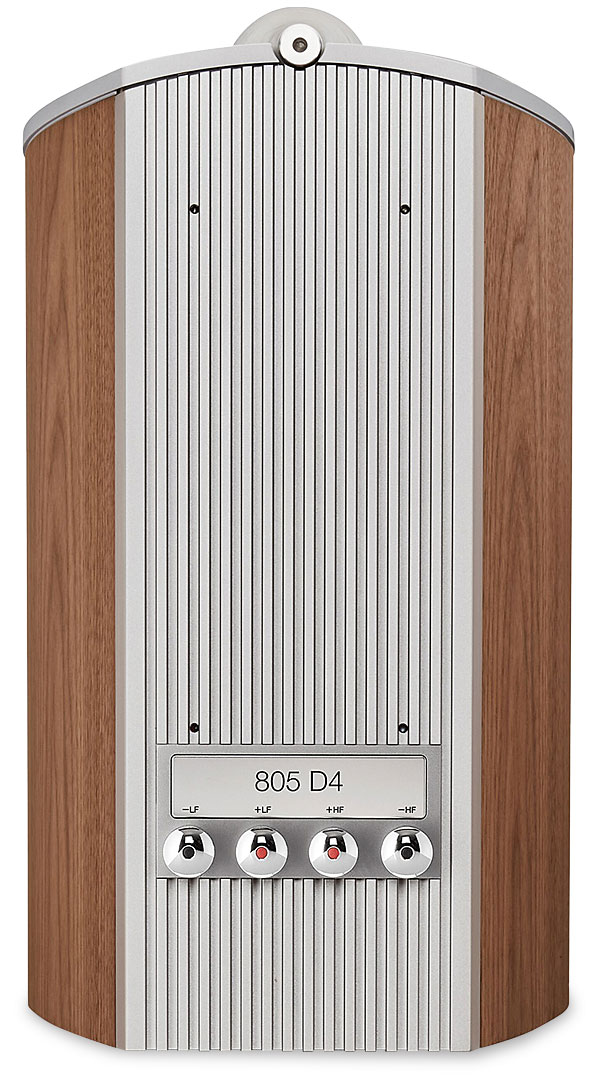 Some of the unevenness suggested in PM's Lab Report is partially 'ironed out' by listening at distance and slightly off-axis but the presence-forward balance is still revealed in the lively, welcoming feel to this speaker, where music-making is never a passive experience. Whatever the genre it typically came up trumps, from the foot-tapping funk of Sly And The Family Stone's 'Everyday People' [Greatest Hits; Epic 82876759102] to the mellow, sedate sounds of Massive Attack's Blue Lines album [Wild Bunch Records; 96kHz/24-bit].
Drum-driven, up-tempo rock was approached with a sense of fun, the 805 D4s churning through power chords and percussion with gusto but showing a clean pair of heels to lesser speakers by not skipping those finest details. So, with the Norse myth-inspired prog rock of Skálmöld's 'Kvaðning' [Baldur; Tutl HJF211], it brought a delicacy to the oboe part, a thunderous weight to the tom-tom heavy drums, and a syrupy feel to the guitar melody that signals the beginning of the track's frantic coda. The following riot of keyboards, triple guitar parts and Arctic wind samples sounded a bit messy, but that's baked into the mix. The 805 D4 isn't one to be forgiving of humdrum production...
Sondheim & Spielberg
When a track calls for a soundstage of real height, width and depth the speakers do reveal their dimensional shortcomings. 'America', played by the New York Philharmonic for Steven Spielberg's West Side Story remake […Original Motion Picture Soundtrack; Hollywood Records 00050087497224], benefited from a cohesive stereo spread that could accurately place the multiple vocal and instrumental parts upon the stage. But while the ebb and flow of the orchestra was sumptuous, and the full choral effect startling, I wouldn't have minded more room-filling scale. Most of the time, however, I didn't consider the 805 D4's physical size at all, such is their invisibility.
As I was auditioning these over the Xmas period, my festive playlist made an appearance, and it was with the simplistic arrangements of some Elvis, Sinatra and Perry Como classics that I found even more proof – not that any were needed – that the 805 D4 is something special. Ol' Blue Eyes' 1957 cover of 'Have Yourself A Merry Little Christmas' [The Christmas Album; EMI 508 5032] captured the singer's sonorous, whisky-glass-in-hand vocal delivery, turning him into almost a three-dimensional figure in my listening room. Later on, Presley opined 'I'll have a blue Christmas without you'. I was certainly sad to see these speakers depart!
Hi-Fi News Verdict
The baby model of B&W's 800 Series D4 range needn't feel overshadowed by its bigger, costlier siblings. Everything you'd expect of a range-topping speaker is here: glorious build quality, lush design and a sound performance that puts the price tag to the back of your mind. Usual caveats about scale and heft apply, but otherwise this is a triumphant new addition to the B&W stable. Budget for the stands too…