B&W 805 D4 Loudspeaker
The 'baby' of B&W's latest 800 series may be a compact standmount but it packs a good deal of the D4 DNA into its 'reverse wrap' enclosure. There's a walnut finish too...
There are standmount speakers, and then there is Bowers & Wilkins' 805 D4. Priced £6250, blessed with a suite of proprietary cabinet and driver technologies, and finished in a gorgeous blend of aluminium, leather and wood veneer or gloss paint, it's very much a premium proposition. Indeed, the idea here is that buyers either outpriced or out-sized by the floorstanding speakers in B&W's latest 800 Diamond range can still enjoy more than a taste of the hi-fi high-life.
Arriving in late 2021, this D4 generation of the company's long-running flagship series – a range that traces its lineage back to 1979 and the first 801 loudspeaker – comprises seven models headed up by the £30,000 801 HFN Nov '21]. All the speakers share new technologies, although this two-way naturally misses out on some of the tricks of the three-way towers, including the Turbine Head of the 801, 802 and 803, and B&W's new 'Biomimetic Suspension' of its midrange drivers.
Continuum Continuity
We've seen versions of the 805 D4's Diamond Dome tweeter and Continuum Cone bass/mid before, so in this sense there's little change in approach over the predecessor D3 model [HFN May '18]. But, as expected, upgrades have been made as part of the D4 series' claim of 'continuous improvement of every component'.
The top-mounted tweeter housing, a tapered tube of milled aluminium, has grown longer, the neodymium magnet assembly has less bulk, and the voice coil has gained more vent holes in and behind the former. The result, says B&W, is a high-frequency driver able to play lower, with a 'more free and open sound'.
The housing is also now double-decoupled from the cabinet below, and sits on an aluminium (rather than wood) top plate. The 165mm Continuum Cone bass/mid, meanwhile, may look identical to its forerunner but also benefits from upgrades to its voice-coil and former.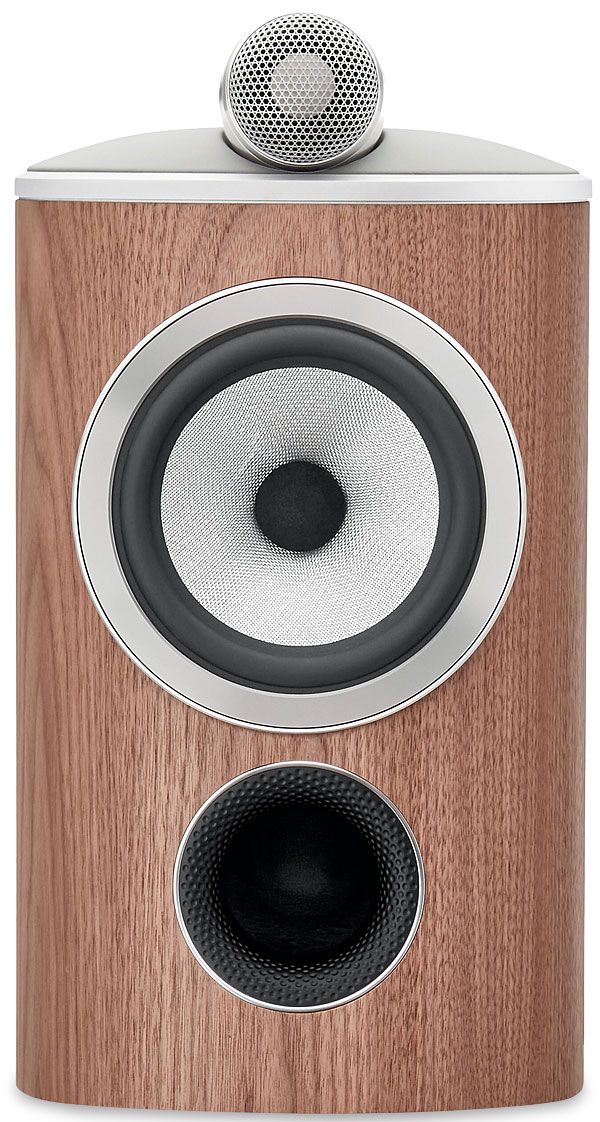 Go With The Flow
This driver crosses over at 3.5kHz and is tuned by a circular 'Flowport' for a claimed low-end reach of 42Hz before roll-off. Although not rear-facing, B&W still recommends reducing the effect of this port via supplied two-piece foam plugs if the speaker is shelf-mounted and therefore close to a rear wall. Ideally, the speakers should have at least 50cm clearance from side and rear surfaces, something easily managed when they are placed atop B&W's FS-805 D4 stands.
B&W talks of 'an all-new industrial design' for the 800 series D4 family, which includes the aforementioned aluminium top plate. But while the 805 D4's mix of materials and tweeter-on-top make it a somewhat unusual-looking speaker, it's a head-turner nevertheless. Put these in a room and they'll get plenty of admirers.
New for the D4 series is the adoption of B&W's 'reverse-wrap' cabinet design on this standmount model, so it apes the curves-in-all-the-right-places look that its full-size stablemates have flaunted since 2015. With front and sides now one continuous piece of pressed, layered beech, connecting to an aluminium 'spine' at the back that also provides heatsinking for B&W's custom crossover network, the speaker appears slimmer than the D3, despite actually being roughly the same width. Inside, an aluminium plate behind the baffle joins an improved version of the company's interlocking 'matrix' bracing in pursuit of improved cabinet rigidity.
Finish options are the same Gloss Black, White, Satin Rosenut and new Satin Walnut (pictured) debuted in the 801 D4. Your choice affects the colour of the tweeter housing, the speaker grille and the leather insert on the top plate – Gloss Black and Satin Rosenut models get a darker design.
Toward the bottom of the ribbed aluminium rear panel are connections that give priority to bi-wired systems. In place of pre-fitted metal jumpers between the dual sets of terminals (confusingly arranged negative, positive, positive, negative), the 805 D4 is supplied with spade-ended link wires, which I used during my testing.