Bricasti M20/M25 Pre/Power Amplifier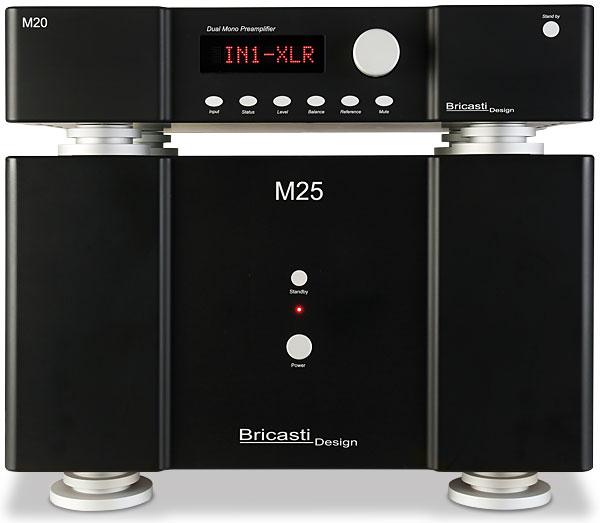 With a rich heritage in the pro audio field, US brand Bricasti is paying closer attention to the high-end consumer market with this new, dual-mono pre/power combination
Few products passing through the HFN review process elicit quite as much discussion as has this Bricasti pairing – or at least one half of it. Our initial listening results were slightly puzzling, with a sound clearly doing many things right when interposed between editor PM's dCS Vivaldi One/Melco front-end [HFN Feb '18] and Bowers & Wilkins 800 D3 speakers [HFN Oct '16], and yet our musical souls were not entirely stirred. Was this an example of unpredictable system matching? Some judicious high-end separates swapping revealed the £19,500 M25 power amp was certainly able to deliver the goods in no uncertain fashion. But did the £13,500 M20 preamp sound just a little too smooth?
Some serious head-scratching from both myself and editor PM ensued, particularly after the lab assessment of the Bricasti duo revealed the M20 preamp to have vanishingly low distortion and a frequency response as flat as a pancake (in the very good pancake sense). Curiouser and curiouser, as Alice once said, and so down the rabbit hole we plunged to indulge in over two months of dedicated listening sessions.
Studio Audience
But I'm getting ahead of myself: what is Bricasti, and what is this pre/power combination all about? Well, the company is based in Shirley, Massachusetts, some 40 miles outside Boston and has a background in professional equipment, most notably with its digital reverb units used by leading artists in top studios.
For a long time it was just about a one-product company – not such a bad thing when the single unit is as acclaimed as Bricasti's M7. It only branched out into the home-use hi-fi market getting on for a decade ago, later expanding to a complete range, currently running to more than a dozen consumer products ranging from DACs [HFN Jun '11 and Oct '16] and amps to a network player [HFN Jun '20], in addition to a generous fistful of pro-use digital devices and amplification.
The new M20 is its sole all-analogue preamplifier – there's also the M12 'Source Controller' which acts as a digital in/analogue out preamp for multiple digital devices, and a trio of preamps. You can have the M20 in the solid, no-nonsense black-anodised aluminium finish, with clear-anodised aluminium silver controls seen here or, at extra cost, in 'Platinum finish', replacing the black and silver with chrome and brass respectively. I think I'll forgo the bling, thanks, not least because in best basic black both the preamp and the big M25 power amp will have matching looks.
A true dual-mono design, the M20 has just three inputs – two sets of balanced XLRs, and one of single-ended RCAs, with duplicated XLR and RCA outputs to feed power amplification.
Balance Of Power
A little care is needed when hooking up your system as the rear panel is mirror-imaged around the mains input and power switch, with the various left channel inputs and outputs on one side and the right channel sockets 'reflected' on the other side. Similarly, the compact IR remote takes a little familiarisation – the 'Filter' button is in fact a stepwise balance control for the preamp.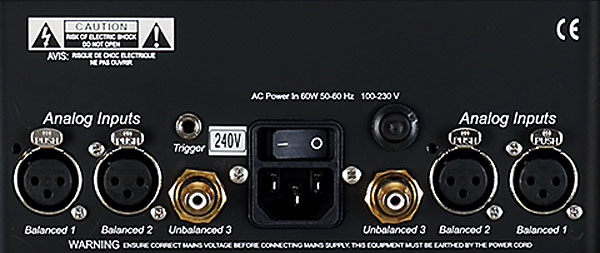 Furthermore, while there's just the one rotary on the front of the preamp, this is an encoder and not just a volume control. Its function is determined by a row of buttons below the red dot-matrix display panel, so it's slightly too easy to find yourself changing input or balance rather than adjusting the output level.
Within the preamp, that dual-mono layout is clear, with separate ceramic circuit boards, multiple linear PSUs, a Class A output buffer and a fifth board that looks after all the control functions. The construction here is all-discrete, as you would expect at this level, with the volume control implemented using a resistor ladder boasting a near-perfect channel balance.
There's also programmable input offset, along with the option of setting and storing a 'reference' level, which would be handy if the M20 was used with an AV processor, and the choice to rename the inputs from a selection of descriptive labels – DAC, CD, etc – preset in the preamp's menu. Other options allow the display brightness to be adjusted and the temperature of the circuitry to be monitored.
Trim Control
The M25 power amp, another dual-mono design, is both deeper and bulkier but also rests its substantial 45kg frame on the same Stillpoints feet as the M20 preamp. It fits in the range between the M15 stereo amp and the M28 monoblocks with which it shares many circuit features right back to its brace of transformers. Rated at 150W/8ohm, 300W/4ohm and 600W/2ohm, it has little to show for all its power beyond solid build and simple connectivity that includes RCA and balanced XLR inputs, 'winged' terminals for one pair of loudspeakers, 12V trigger sockets and an RS232 connection that is currently only used for diagnostics.