Boulder 508 Phono Stage


The inaugural product in Colorado-based Boulder's 500 series is this MM/MC phono preamp – fully balanced throughout, including the connection to your turntable
Modern phono stages seem to fall into one of two camps – those with multiple inputs, multiple gain options and a seemingly endless permutation of impedance and capacitance settings [see EAT E-Glo S, HFN Mar '17], and those, like the Boulder 508, that seek to minimise switching and variable gain in favour of one, potentially simpler, signal path.
That's the pitch at least, and Boulder has gone one step further by implementing an entirely balanced circuit configuration from input through to output. This adds to circuit complexity, potentially doubling the number of active devices, but dangles the very attractive carrot of reduced noise – the issue of hum and noise pick-up being very real for many fans of the black stuff.
The first phono stage in what has been described as Boulder's 'affordable' 500 series, the 508 still comes complete with a substantial £6150 ticket. For that you get what is arguably the most ruggedly constructed hi-fi component on the planet with its power supply and main circuit board cocooned inside a solid slab of aluminium alloy.
Compact Power
As one would expect from a company renowned for the exemplary build of its products, the quality of the machining of the internal casework is a joy to behold. The PSU is fed from a fully encapsulated AC/DC switchmode module from the Taiwanese electronics manufacturer Delta Electronics which, according to the application note, has a switching frequency of 100kHz.
This is not an uncommon approach. Being fully contained and pre-approved, this power module simplifies the internal layout of the component in which it is to be used, makes compliance testing easier, and also ensures compatibility with worldwide supply voltages without the unit needing to be adjusted.
The 508 phono stage is built on a single PCB populated entirely with surface-mount components on its underside, plus a handful of electrolytic capacitors and connectors on the upper side. Again, these are all high-quality items chosen on grounds of performance. Construction quality of the whole unit is superb and more than does justice to the magnificent-looking casework.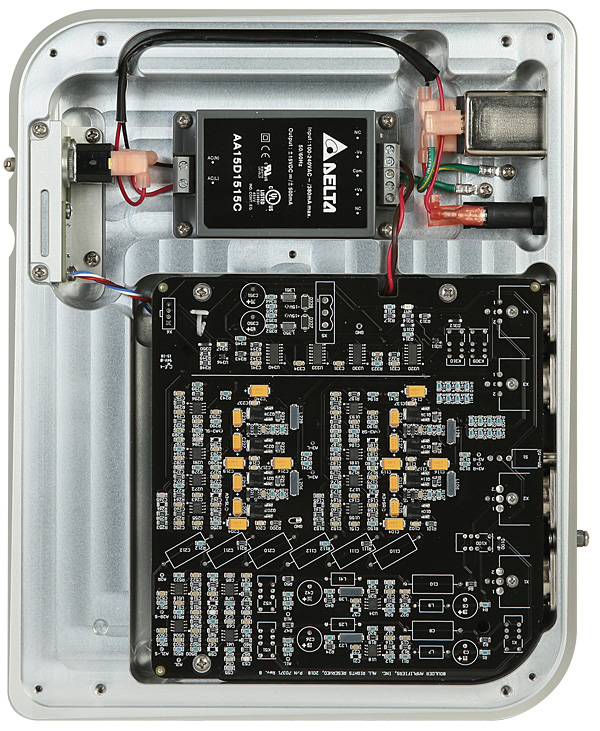 As mentioned, the Boulder 508 is pretty minimalist in terms of features. Then again, as my regular phono stage is an MC-only design sporting nothing more than two pairs of sockets, a power switch and an LED, I found it feature-packed! The fascia sports power and muting switches while to the rear can be found a balanced input and stereo output on XLRs along with an IEC mains input and a fuse. Finally, a tiny switch beside the input sockets is used to select either MM or MC operation.
Target Audience
The simplicity of the Boulder 508 does raise one or two questions about its target audience. There is every chance that a vinyl enthusiast considering investing this kind of money in a phono stage will have more than one tonearm and cartridge in use, or even multiple turntables. Consequently, offering more than one input and the ability to switch between them is not an unreasonable request at this price.
Then again, the company does offer its magnificent 2108 phono stage with three inputs and every configuration you could wish for – even if it does come at a price that would buy you no fewer than six 508s, plus a big pile of LPs to play through them! Put this way, the elegant simplicity of the 508 seems rather appealing.
Boulder has played safe with the configuration here and the 508 should work well with a wide variety of cartridges. The MM section offers standard 47kohm loading and a stated gain of 44dB, though editor PM measured this as 39dB giving a nominal input sensitivity of 11.2mV. This is a little on the low side for most MMs, which are closer to 3-6mV in output, and suggests a little extra volume from the partnering preamp will be required. The MC stage, on the other hand, comes in with a sensitivity of just over 0.5mV, which is pretty much spot-on for the majority of cartridges. Paired with a loading value of 100ohm, the 508 should squeeze out the last drop of performance from most designs it is likely to be partnered with. That said, owners of certain Ortofon SPU models and designs such as Audio Note's Io might want to explore alternatives with higher gain.
Due to the balanced-only connections, Boulder supplies XLR-to-phono adapters for those whose systems are not suitably equipped. The instruction manual gives further information on connectivity, but one note of caution here. In the section that explains how to connect unbalanced inputs, it warns against connecting pin 1 of the input sockets to pin 2 or 3, but then appears to illustrate this very 'banned' connection in the 'Proper Wiring Diagrams' on the next page. My recommendation would be to stick with the adapters...
In The Spotlight
I used the supplied input adapters to connect the 508 to my Michell Gyro SE turntable with SME 309 arm, and fed the output directly into the balanced input of Bang & Olufsen's active Beolab 90 speakers [HFN Dec '16]. Cartridges used included the Ortofon 2M Black MM [HFN Mar '11], plus Ortofon MC Jubilee and Clearaudio MC Essence [HFN Aug '17] MCs.