The Big Mac Is Back Also in HFN this month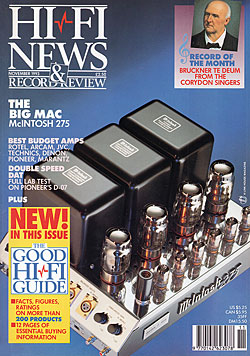 Also in HFN this month in 1993
PIONEER'S DOUBLE-SPEED DAT
With its 96kHz sampling rate, Pioneer's D-07 wide bandwidth DAT recorder shows that the analogue diehards may have had a point after all.
POWER STRUGGLE
Eight affordable amplifiers are put through their paces: Arcam Alpha 5, Denon PMA-350 II, JVC AX-A662, Marantz PM-44SE, NAD 304, Rotel RA-935BX, Pioneer A400 and Technics SU-A600.
WADIA 7 AND 9
Does this cost-no-object transport and DAC have a shot at being the world's best?
TEAC 700 SERIES
We examine the technology behind the D700/P700 transport/DAC combination.
HOME SERVICE
Three tuners, all offering the benefits of RDS: the Denon TU-S80RD, Kenwood KT-3050L and Sony ST-505ES.
TDL STUDIO 1M
Does this large transmission line loudspeaker live up to its 'monitor' designation?
ORELLE ORATOR
We hear a small two-way speaker from an enterprising British electronics firm.