Bel Canto e.One Stream Network Bridge/DAC Page 2
The rest of the device is as simple as you like. There are no front-panel controls, and aside from the 'Program' button, nothing more than a power switch at the rear. Connect it to your network then your DAC, or an amp's analogue inputs, leave it to power up and you're done. On first boot, our review sample required a firmware update. Fortunately this was accomplished quickly via the Seek app, after which the Stream rebooted and was ready to go.
The external simplicity is echoed within, with quite a bit of fresh air surrounding the single main circuitboard, and the two subsidiary boards mounted on it, containing the DLNA/UPnP receiver module and the DAC feeding the analogue outputs.
Whole Truth
It's usual in reviews of digital in/out network bridge devices to comment on the difficulty of describing the sound they deliver, as the DAC to which they're connected typically has a much greater influence on the presentation. That's very much the case here, with the e.One Stream having no discernible effect on the sound, for good or bad, when used as a purely digital bridge. I had to hand for comparison the excellent little Pro-Ject Stream Box S2 Ultra [HFN Oct '18], the winner of a 2018-19 EISA Award, and packing its own digital 'detoxer', and flicking between this and the Bel Canto showed the two were very much on a par.
However, with the choice of analogue or digital outputs here, and the possibility that some users may buy this unit to connect straight into an amp or preamp without a DAC in between, the innate sound quality of the Stream when used via its analogue outputs becomes much more relevant. And the good news is that, far from being an afterthought in an otherwise all-digital device, the analogue output here is very good indeed. I tried the Stream connected into the digital inputs of a Naim NDS, a device with which I am very familiar, and in analogue guise straight into my usual Naim NAC52/52PS preamp, feeding a NAP250 into Neat Iota Xplorer speakers [HFN Jul '18]. In these configurations I used it both as a UPnP renderer and as a Roon endpoint, and in all iterations the compact black box gave a very good account of itself.
The analogue outputs offer a fine combination of respectable treble and midrange detail and bass drive, all integrated into an attractive, musical whole. Sufficiently impressive, in fact, that they turn expectations on their head – you might put the Stream directly into your system as a very good network player, with a view to later upgrading it with a high-end DAC.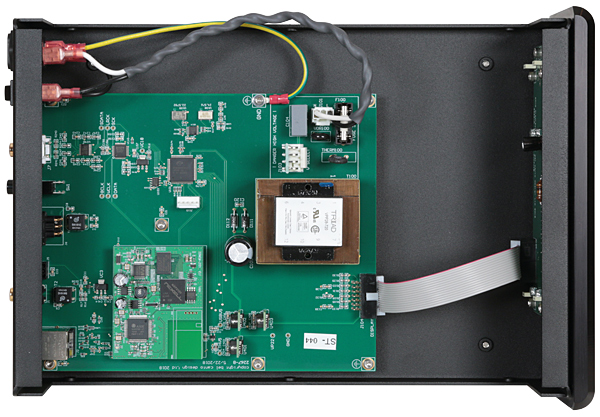 Play a selection of music through the e.One Stream's analogue outputs, and it's hard not to enjoy what it does. With the Christian Balvig 6-tet's atmospheric Music For Humans set [Amp Music AT022; 88.2kHz/24-bit], the bass of Jens Mikkel Madsen is delivered with suitable sonority, but also with taut definition, while the drums of Siv Øyunn Kjenstad have good weight and punch. All the while, the subtlest touch of stick on skin or cymbal is rendered clearly, so while the soundstage image is slightly less focused than with a top-end network player, there's a fine 'presence' and the sense of musicians playing off each other left entirely intact.
Tempting Upgrade
Switch to some mainstream rock or pop, and the e.One Stream is also persuasive, if more light on its feet than truly room-shaking. The Page/Jones/Bonham powerhouse on the Rock And Roll Highway compilation [Sazanshi Entertainment QACL-30013] loses some of its swagger and brute force – and that's without the almost comical effect of the resolutely two-channel recording and the less than spectacular vocals!
Other players make more of the impact of, say, the opening of 'Wailing Sounds', whereas here it sounds sprightly enough, but just a little shy in the slam department. And there's some confusion when the mixes get busy. At the same time, the treble end of the spectrum also plays things just a tiny bit safe, with the result that big atmospheric recordings can sound rather drier than I would prefer.
Whether with the rich cathedral acoustic of a recent 2L choral recording, the Nidarosdomens jentekor/Trondheim Solistene Lux set [in DSD64 from 2L-150-SABD], which sounds just a little anonymous, or the crisply recorded violin and piano on Rachel Barton Pine's Blues Dialogues [Cedille CDR 90000 182; 96kHz/24-bit], there's just a sense that the last vestige of space and ambience has gone MIA.
That said, the e.One Stream has a great deal to commend it. Its sonic balance when used via the analogue outputs means it will slot easily into many a system, while it also has that ability to be used as a purely digital component into a high-quality DAC at a later date, thus offering a tempting upgrade path.
Hi-Fi News Verdict
The e.One Stream may seem a simple device, and for the DIY-inclined there are less expensive ways of delivering a similar service, all the way down to a Raspberry Pi or Tinkerboard running Roon. However, add the elegance of the Qobuz and Tidal integration, the excellent Seek app and its analogue/digital flexibility, and the price starts to look more sensible – at least by high-end audio standards.