Audio Analogue AAdac USB DAC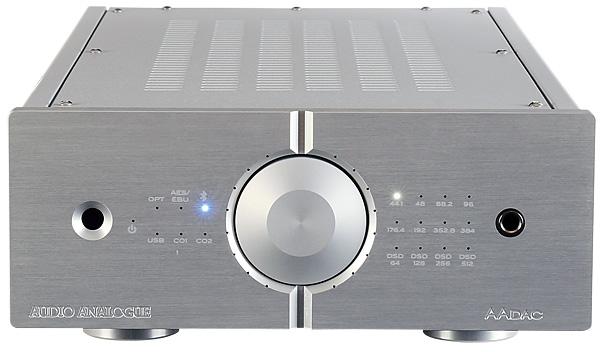 Part of the Italian company's stripped-down AA line, which is all about simplicity of design, this compact DAC offers more features than initially meet the eye
Italian manufacturer Audio Analogue's 'PureAA' line was spun out of the 20th anniversary models the company launched back in 2016. The range now runs to three models, of which the AAdac is the latest arrival, bringing digital capability to a range that was otherwise purely 'analogue'. Like the other PureAA models and Anniversary amplifiers, the AAdac is a co-operation between Audio Analogue and stablemate AirTech, and is very much Realizzato è Costruito in Italia. There's certainly none of that offshoring the entry-level line here.
Selling for £3299, it's compact but chunky, being a long way from some other bijou products with its thick aluminium fascia in black or silver, 'split' by a styling line across which sits the single main control, straddled by banks of indicator LEDs. It needs all those indicators, for in the absence of a conventional display panel – in Audio Analogue world you'll only find that on its CD players – those LEDs, in concert with the metal-clad remote handset and that single control (which isn't quite as simple as it looks), allow you to select the various functions and keep an eye on what the AAdac is doing. And it does quite a lot, despite its diminutive 'half-width but deep' dimensions...
Real World Appeal
You may get a hint that the AAdac goes beyond the purist, no-frills idea when you open the box to discover a little rubber stub antenna packed alongside it. Yes, this may be a DAC built for performance, from its choice of seven digital filter settings and unbalanced and XLR analogue outputs, but it still aims for some real world appeal, in the form of Bluetooth with aptX.
Unless you're part of the 'work of the devil, wouldn't have one in the home' brigade when it comes to smartphones and tablet devices, you might still find it handy to stream some music or even the ball-by-ball cricket commentary from BBC Sounds or other app to the hi-fi system. Count me in on that one. While I'd never turn to my iPhone as a source of high-quality music, which may in itself reveal entrenched views on my part, the sheer convenience of being able to 'flick' the news or whatever over to your hi-fi system shouldn't be dismissed out of hand.
So, the Audio Analogue AAdac has Bluetooth – if you need to, get over it, because beyond that it can also handle almost every hi-res music format you can throw at it. It'll also drive your headphones via its dedicated output amplifier, and even act as a digital-input-only preamp straight into a suitable power amp or even a pair of active speakers (with the ring of LEDs around the central control then changing to indicate volume level). Audio Analogue refers to this choice as 'direct' or 'volume regulated' mode.
In fact the only thing missing is network playback capability, either from local storage or online music services, via the ubiquitous app control. I can see why it's not there, as it really isn't the Audio Analogue way and, of course, you can do much of this using a computer connected to the DAC's USB-B input.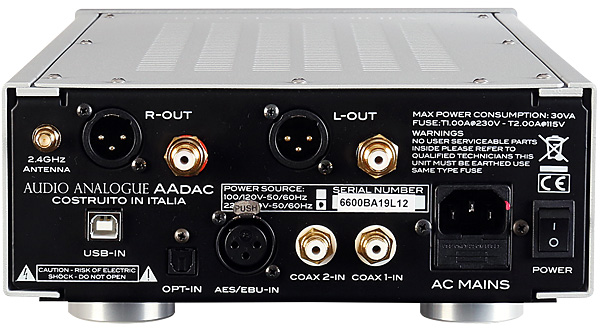 Sabre Inside
However, I made that reference to ubiquity quite deliberately, as it seems just about every DAC passing through HFN of late has offered some degree of network connectivity, and at first glance I do wonder whether the company hasn't missed a trick here, especially given the price-tag. After all, such an implementation wouldn't even need a dreaded display panel for there are plenty of network-connected DACs that present a blank face to the world, designed to be used purely under app control.
Anyway, in the immortal phrase, the Audio Analogue AAdac is what it is, and via its USB-B input it can accept files at up to DSD512, and in PCM up to 384kHz. In other words, all anyone could really want – at least until the supply of DSD1024 files increases beyond just the current smattering of audiophile releases.
Receiving the USB data is an input card from fellow Italians Amanero Technologies, which requires drivers to be downloaded for Windows 7/8/10, although no such drivers are needed for computers running Mac OSX 10.6 and above. Downstream of that USB receiver, and also fed by coaxial S/PDIF, Toslink optical and AES/EBU XLR digital inputs, the conversion section is based on the tried-and-tested ESS Sabre ES9038 DAC, with its choice of switchable digital filters.