Audio Analogue AAdac USB DAC Page 2
The digital stage and its following, fully discrete, analogue output section both operate in balanced guise for improved noise rejection. Individual boards are used for each stage, and the power supplies for digital and analogue sections are also separated. While this DAC may present a compact face to the world, that 22cm-width well-proportioned with the 10cm height of the unit, it's still very deep at 39cm front to back. Nevertheless, it uses all that internal space to arrange the layout and signal flow for performance. And while changing settings may not be as intuitive as it would be with a graphical display, there's no denying that this is a very flexible digital-to-analogue converter. In fact you can even go into the menus and dim down those LEDs, which is no bad thing given that the lightshow is somewhat bright in its default setting. 'Full on' really means full-on here!
Outright Analogue
Aside from the need to install drivers if using a Windows computer into the USB-B port – I had no such problems using my Mac mini and the Intel NUC on which Roon ROC runs in my system – the AAdac is pretty much plug and play. I also used it with various digital sources including my Naim ND 555/555PS DR [HFN Apr '19] used as a transport, while the output was fed into a range of integrated amps and power amps using the integral volume control, as well as into a selection of headphones.

While it may seem a cheap trick to read too much into the second word of the brand name here, it's hard not to conclude, even on a very brief listen, that what this DAC delivers is a very 'analogue' sound – and a very pleasing one at that. In other words, there's none of that slightly mechanical presentation some (incorrectly) describe as 'digital', whichever of the digital filters one chooses to use.
Yes, they do make a difference to the sound, but as ever the changes are very minimal, and entirely recording-dependent and, in my experience, far from reliably repeatable. Yes, I get that the DAC chip used provides these choices, so why shouldn't the manufacturer of a product provide access to them? Well, there's a fairly good reason, in that the temptation exists to try the various settings with each and every track played – yes, track, not album – and that way madness lies…
Better by far to have a play with the filters, settle on one you feel gives you the sound you want, and then smack your hand firmly every time you're tempted to change them again. Actually, it's even better for the manufacturer to do the thinking for you, and choose and set its preferred filter – I've tried many a DAC on which this has been done, and never missed the possibility of poking under the digital bonnet.
Thrill Ride
That's especially my feeling when a product is so obviously well-sorted as is the case here. The time I spent with the AAdac coincided with the release of Channel Classics' fabulous Budapest Festival Orchestra/Ivan Fischer recording of Mahler's Das Lied Von Der Erde [CCS SA 40020; DXD], and playing this from my Roon Core into the AAdac created a sound of wonderful subtlety and presence, allied to enormous dynamic ability to turn on the thrills. Odd though it may seem to describe anything other than amplification as 'powerful', that's just what the AAdac is, not least due to its richly-detailed, organic sound, and its refusal to show even a hint of compression or thickening when things get really busy.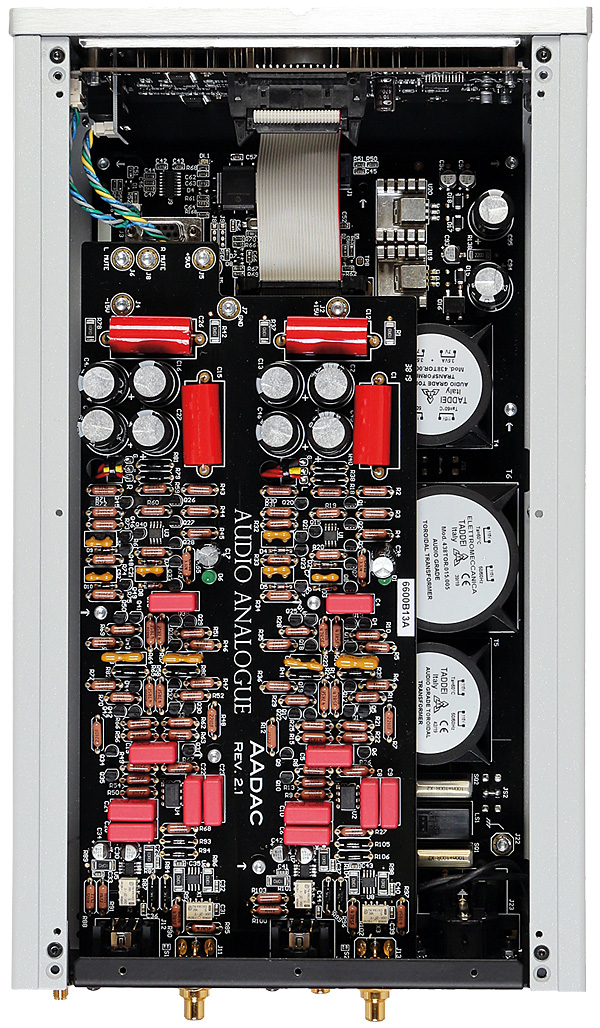 Delicate Touch
This ability to maintain detail and a highly persuasive three-dimensional sonic picture is apparent when 'The Soul Singer', the title track from The Waterboys' latest album, Good Luck, Seeker [Cooking Vinyl COOKCD768; 44.1kHz/24-bit], explodes from the loudspeakers.What's more, the AAdac holds it all together with the complexities of 'My Wanderings In The Weary Land', with its driving beat, dense mix and spoken narration, like so much of the album making the most of the possibilities of stereo soundstaging and effects. Eclectic, and packed with storytelling, this recording will stretch any system, but the AAdac handles it with ease.
Calm things down – just a little! – with the close-miked vocals of Rufus Wainright on his powerful 'Early Morning Madness' [Unfollow The Rules; BMG 538512612] and you can revel in the slightly woozy sound, delivered by the AAdac impeccably as the track gradually descends into chaos and – well – madness. It's affecting, exciting, and magnificent, and sees the power available here deployed to great effect, as it does with the stripped-down drum and vocal opening to 'Trouble In Paradise', before the track opens up into a what is a great, lush number.
The secret of this DAC is its combination of detail and definition while delivering music on an entirely human scale, as is entirely apparent with Francesco Piemontesi's second volume of Mozart piano concertos with the Scottish Chamber Orchestra [Linn CKD622; 192kHz/24-bit]. The orchestra opening to No19 is sprightly and gloriously captured in the Usher Hall acoustic, and then Piemontesi's piano enters with an almost luminous tonality, albeit with each note crisply defined and a wonderful delicacy of touch.
The AAdac just loves this music, conveying it with spirit and real vivacity, maintaining excellent clarity while also revealing the entirely unforced balance of the recording. This really is the closest thing to having the best seat in the house.
Hi-Fi News Verdict
Despite its atypical dimensions and complex 'set-up menu', the AAdac scores where it counts: on its build and performance. There's nothing quirky or 'tailored' about its sound – though you can play with those digital filters – but rather a balance that provides excellent insight into both playing and recording, delivered with real delicacy, finesse and power, for an unconstrained and entirely involving presentation.