Antipodes Audio EX Music Server/DAC

This 'music server' is rather more than it might initially appear, and you can apparently use it alone, or with another music server model, the CX. So what's that all about?
One soon comes to realise that, in the new world of computer-based music playback, nothing is quite what it seems. What's more, the terminology used to describe the products designed to make it possible seems almost wilfully imprecise.
New Zealand-based Antipodes Audio doesn't help too much, for its £4080 EX, available in silver or black, may say 'Music Server' on the front, but in fact it's rather more than that. It combines the functions of storage, serving, rendering and digital-to-analogue conversion all in one box.
The upshot is that this means you could use it as a purely Ethernet source to feed an external player/renderer or as a client for an external network store. Or you might use it as an all-in-one digital transport to feed a USB DAC with files at up to 768kHz/32-bit and DSD512, depending on the DAC's own capabilities, or even as a complete player, with analogue output straight into an amp or preamp.
Custom Build
If all that doesn't have you going all spinny-headed, you can also use the EX together with the company's £5720 CX, which by the way also says it's a 'Music Server', creating a £9655 combination Antipodes says is 'jaw-droppingly superior' to any product it has previously offered. This set-up takes advantage of the fact that each unit can be customised by the activation of a variety of onboard apps.
In the CX/EX combination, the former only runs the server app, allowing the EX to function just as a renderer/client – and with a direct Ethernet between the two, rather as is the case when a Melco server is used to supply music to network player, a high degree of isolation from interference is claimed. There are also the benefits of each unit being optimised for its task.
The idea is that you can buy one unit or the other, and then build to the full CX/EX system, which Antipodes says will give better results than, say, using one of the two connected via USB to an external DAC. And as each unit is built into half-width (24cm wide) casework, the two could be used side by side, or indeed stacked.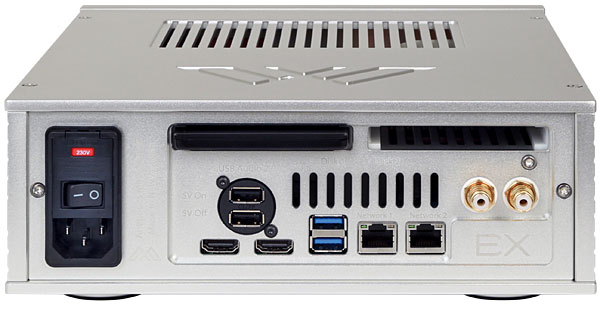 While the two Antipodes units are fairly similar, there are differences. The CX has a more powerful processor run at a low clock-rate to reduce noise, and enhanced 'heat pipe' cooling, meaning that it's optimised for use as a Roon Core with all its DSP and transcoding capability, including taking PCM files all the way up to DSD512.
The EX we have here, meanwhile, has that built-in digital-to-analogue conversion able to handle files up to 192kHz/24-bit as well as DSD using the DoP protocol. It transcodes other formats down to suit the onboard conversion, opening up another 'get you started' option before you consider adding a USB DAC, using the CX as a lower-powered network music server, or going the whole CX/EX route.
Slot Machine
Both models offer a choice of onboard storage capacities – users can install SSDs up to a total of 8TB, with Antipodes recommending Samsung EVOs for the task. These drives just push into slots found at the rear of the unit, and are then set up using a routine in the web-based interface for the EX, which is also used to determine which apps are run to provide the server functions.
Files can be added to the installed discs using drag and drop from a computer on the same network, or you can plug a CD drive into one of the multiple USB ports on the rear of the EX. I used the same inexpensive Samsung drive I have connected to my computer for the odd CD rip, but Antipodes will also sell you a high-precision drive, the £850 P1. It's isolated inside a solid block of aluminium and works with the ripping software built into the EX to allow auto-ripping. Simply insert a disc and it's read, ripped, stored and then finally ejected.
In essence, the EX – the company's most affordable model – is the earlier DX shrunk down to half-width, with the main specification change being in the area of the power supplies. The EX replaces the DX's dual ODAPS1 linear supplies with a single ODAPS2, which the manufacturer says gives it improved performance as a renderer at the expense of some server capability – not that I noticed any problems in this respect with the EX used in dual-function mode.
However, what did irritate me a bit is that Antipodes follows the current trend of only providing the operating manual for the EX in online form. Yes, I guess it's tree-friendly, but there were times – both when setting the unit up for PM's lab work and during the installation for testing – that I would have killed for a nice reassuring booklet in my hand.