Yamaha NS-1000M loudspeaker Page 2
It's important to remember that the NS-1000M was launched at a time when many hi-fi loudspeakers – even quite respectable ones – had a limited power handling of 30W or less. With this in mind, Yamaha's 100W rating was spectacular. Despite its sealed-box design, it was also very sensitive for its day, Yamaha quoting 90dB/1W/1m. By way of context, popular mainstream hi-fi speakers of that time, such as the Wharfedale Denton, couldn't do better than 85dB. The quoted frequency response was 40Hz to 20kHz (–3dB), which also seemed highly impressive at the time too.
David Listens
The NS-1000M is something of a 'Marmite' design. It's not an uncomfortable sound, but it's quite stark compared with other, lower energy loudspeakers. Some compare it to turning up the brightness on a TV set, but in truth it's more like upping the contrast. Put this speaker on the end of a silky Quad II tube power amplifier, for example, and it will sound soft, louche and warm. Downwind of a high power solid-state power amp, such as a Constellation Taurus [HFN Dec '17], and it's a different story, the presentation being forensically detailed and ultra explicit, with a brilliance of tone. In other words, the NS-1000M reflects faithfully what is higher up in the system chain. It's very transparent, in a manner you normally expect from a top electrostatic or ribbon design.
Two other things are immediately obvious: speed and power. There's something uncanny in the way the NS-1000M captures the leading edges of notes, and how cleanly they decay. Most loudspeakers – even high quality modern ones – can slur and blur the sound somewhat. Cue up the title track on Sugar Minot's Hard Time Pressure [17 North Parade VPCD4172] and the speaker sets up a fast groove that has your feet tapping wildly. Indeed, there's a very live, 'PA' feel to the presentation – yet the NS-1000M is far more couth and refined than this. It gets its speed from the lightness of the drivers and the quietness of the cabinet, rather than simply from appearing tonally bright and forward. The result is a super-snappy sound that's hard to walk away from.
Allied to this is a sense of power and punch. The NS-1000M is genuinely able to handle a lot of watts, and becomes louder in a linear fashion – which is to say it doesn't suddenly start shouting and shrieking when you push up the volume dramatically. It's clean, has the ability to handle dynamics properly and hangs on with amazing grace.
Feed it some complex rock music, such as the Genesis track 'The Lamb Lies Down On Broadway' from the album of the same name [Virgin CGSCDX 1] and the NS-1000M remains wonderfully composed as it digs right down into the mix, keeping everything tight and well ordered as the song becomes ever more complicated. This is one of the best speakers around on which to enjoy Phil Collins' crashing drums, the cymbals sounding beautifully metallic and possessing a lovely sheen.
Meanwhile, the bass is pacey, propulsive and tuneful, low notes starting and stopping at the same time as those further up the frequency spectrum. This speaker always offers a seat-of-the-pants listening experience, and is all the better for it.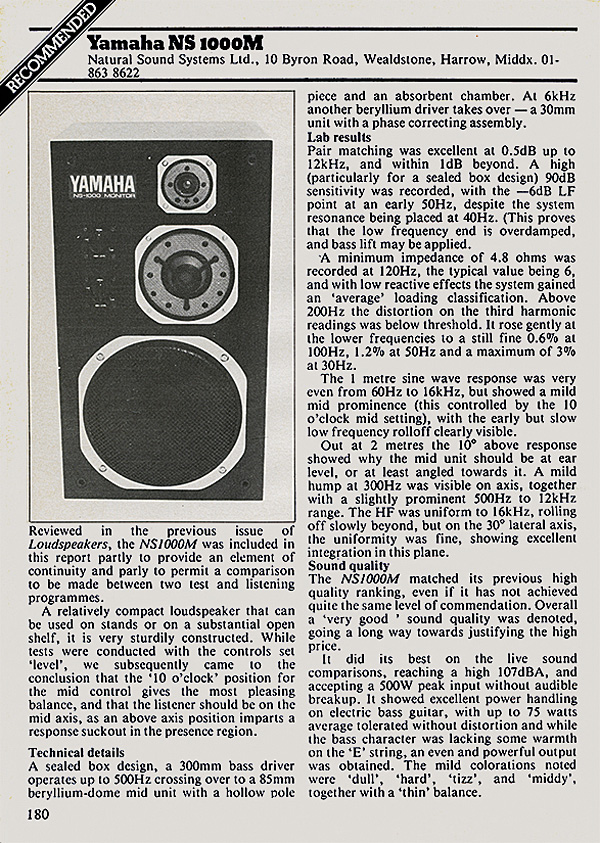 Muscle Music
The Yamaha NS-1000M is not perfect, of course – no speaker is. It has been criticised for its imaging, because in smallish rooms at lowish listening levels, the music doesn't 'fall out' of the speaker in the way it would when heard through a Tannoy dual concentric design or Quad electrostatic. Yet when you are able to achieve medium to high volume levels, in a larger room and with a muscular power amplifier, this speaker actually images extremely well. Cue up Kate Bush's 'Running Up That Hill' [from Hounds of Love; EMI CDP 7 46164] and you're transported into a wondrous world of vast washes of immersive synthesisers. You can hear deep into the mix, and Kate's voice hangs ethereally in between the loudspeakers – sounding as cold as ice, and no less clear.
You really do need some power to achieve this effect, but as you're pushed further into the recorded acoustic, things truly begin to snap into focus. Indeed, properly positioned in a largish room, depth perspective is startlingly good.
Buying Secondhand
Yamaha discontinued the NS-1000M in 1997, when it sold for £4000 per pair in the UK, the company intimating that it was now 'too expensive to make'. Since then it has languished in the 'where are they now?' file. While there's a strong secondhand market for the NS-1000, most UK audio aficionados remain more interested in high-end British and American fare than the NS-1000M, making it a bargain.
Hi-Fi News Verdict
The Yamaha NS-1000M isn't everyone's cup of green tea, but those who appreciate its unique character adore it. Its transparency makes it superb across a wide range of material, though those wishing to relax at the end of the day should look elsewhere. It's a visceral-sounding speaker that gets the adrenaline flowing, whatever music you play. In the great pantheon of classic loudspeakers, it is special.