Yamaha GT-5000 Turntable Page 2
The GT-5000 is one of those turntables that ever so gently works its way under your skin until you realise you have become utterly bewitched. This is no bang-and-thump merchant but, then again, neither was its illustrious predecessor. Initially I even wondered if the deck was a little lightweight-sounding, which is ironic given its impressive girth and heft. However, when a full-bodied bass note comes along, the GT-5000 certainly lets you know, and without a second's hesitation.
One word of warning, though. The GT-5000 seemed sensitive to both dust and groove imperfections. Pops and clicks on older records that I would normally hear as a distant background effect were more prominent. I can only attribute this to the arm configuration here, as the same cartridge used in my regular SME 309 tonearm has much less of a problem in this regard. If you're planning on buying this deck then I suggest you make sure your record collection is well buffed, or budget for a record cleaning machine as well.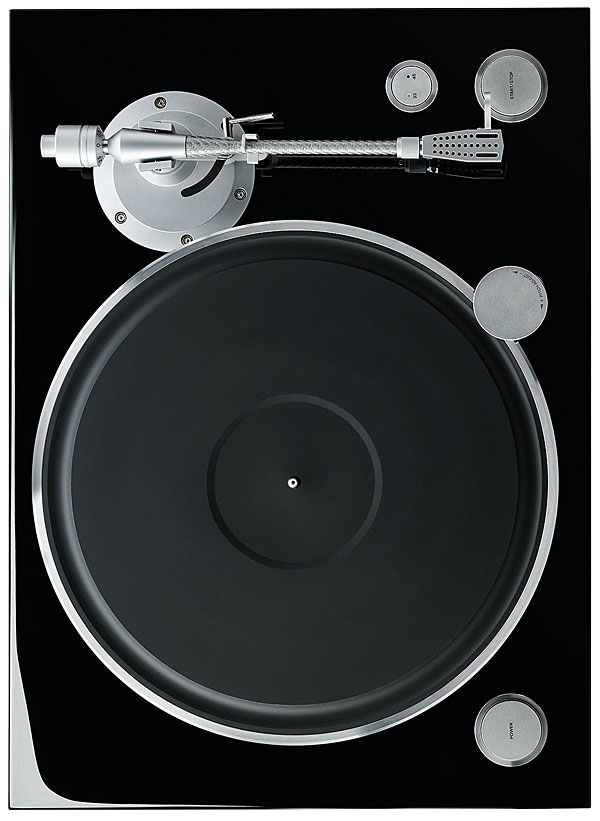 Perfect Match
Having reviewed the C-5000 and M-5000 and been present at part of the evaluation of the NS-5000s, I couldn't help being impressed by the way in which Yamaha has voiced the GT-5000 to match its partners perfectly. The top-end is nothing short of sublime, boasting a clarity, purity and precision that is eye-opening at times. Cymbals are crystal clear, without a trace of splash, while hi-hats, such as those on the title track from The Eagles' Long Run LP [Asylum K52181] sounded utterly glorious. The GT-5000 brought them neatly forward within the soundstage and allowed them to propel the track along like few other turntables I can think of at the price.
The same was true at the end of Side 1 of The Eagles' album and the track 'King Of Hollywood'. While the entire song was expertly reproduced, again it was impossible not to be entranced by the sheer solidity of the percussion parts.
Deliciously Vivid
This purity of upper midband and treble worked a similar magic on vocalists. The GT-5000 had an unerring knack of pulling the main performers forward of my loudspeakers in a manner that was effortless. Playing Jennifer Warnes' Famous Blue Raincoat LP [Impex Records IMP6021], she appeared to be standing in front of my equipment rack, singing the words 'There ain't no cure for love' directly at me, all the time her vocal underpinned by a rock solid bass line and deliciously vivid percussion.
And when it came to imaging, the unusual alignment of the stylus with respect to the groove caused absolutely no issues, the GT-5000 able to recreate images both wide and deep. In fact the way it highlighted the production of Jessie Ware on 'If You're Never Gonna Move' from her Devotion LP [Cherrytree/Interscope Records B0018230-01] was an absolute riot.
Here Ware's vocal is multi-tracked during the choruses so that she becomes her own backing singers. The GT-5000 snapped between her lone voice in the verses and these multiples with unerring precision while revealing the various textures captured in the different vocal takes.
At the bottom end, the GT-5000 pulls off the trick of being both deep and detailed. When a more subtle bass line is present, the deck locks onto it with ease, meaning tracks are driven along with each note expertly marshalled. Switching to 45rpm and dropping ABBA's 'Lay All Your Love On Me' 12in single onto the platter [Epic EPC A 13-1456] showcased this quality, the GT-5000 lapping up the beat.
The Avid Volvere SP turntable that we reviewed recently [HFN Sep '20], and which was still in residence, did offer an ever so slightly tighter grip in comparison, but the GT-5000 had the edge when it came to ultimate bass detail and slam. Indeed, the sheer impact of the first drum strike made me jump in my seat.
Finally, I also tried out both platter mats provided and found myself preferring the extra midband richness and top end smoothness provided by the rubber version. This was opposed to the slightly more exuberant nature of the felt alternative. Still, the option to be able to experiment is a nice touch.
Hi-Fi News Verdict
As suggested, the GT-5000 is indeed 'Gigantic' and boy is it 'Tremendous'. Not only a perfectly matched source for Yamaha's 5000 series but it's a superb turntable/arm combination in its own right. A delight to behold and operate, the deck's sonic performance is as glossy as its finish, and right up there with the best... even with that straight arm that bucks conventional wisdom!