Wilson Audio Sasha V Loudspeaker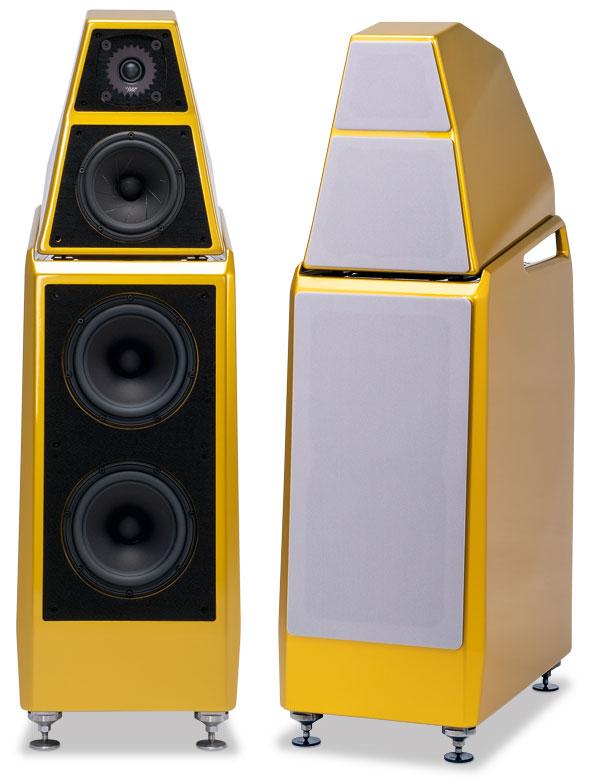 With technology drawn from its flagship Chronosonic XVX, and already implemented in the Alexx V and Alexia V, the Sasha V is now the most affordable of this new series
Those of an historical bent will know that Wilson Audio's Sasha V isn't merely the fourth-generation Sasha, nor is it simply 'Sasha DAW 2.0'. This two-box floorstander is to the original WATT Puppy [HFN Nov '90] what the current Porsche 911 is to the 911 of 1964: a carefully-developed, decades-long evolution of a brilliant initial concept.
Founder David A Wilson's design was certainly not the first to place woofers in one enclosure with the tweeter and/or midrange in a module perched on top. But it has refined that layout, not least by ensuring that the tiltable top module could be positioned precisely for perfect time alignment. What started out as the Wilson Audio Tiny Tot (WATT) prototype of 1985, and which was swiftly joined by decade's end by the much-needed Puppy woofer enclosure, has matured into a £53,998-per-pair high-end speaker of manageable size and luxurious finish.
Colour Coordination
The Sasha V sits in between the Yvette [HFN Feb '17] and Alexia V [HFN Jan '23] in a seven-model range of floorstanders. It is situated three from the bottom, and it is also the least expensive Wilson speaker with an adjustable mid/treble section. By contrast, its smaller siblings, the SabrinaX [HFN Dec '20] and Yvette, are housed in single-piece enclosures.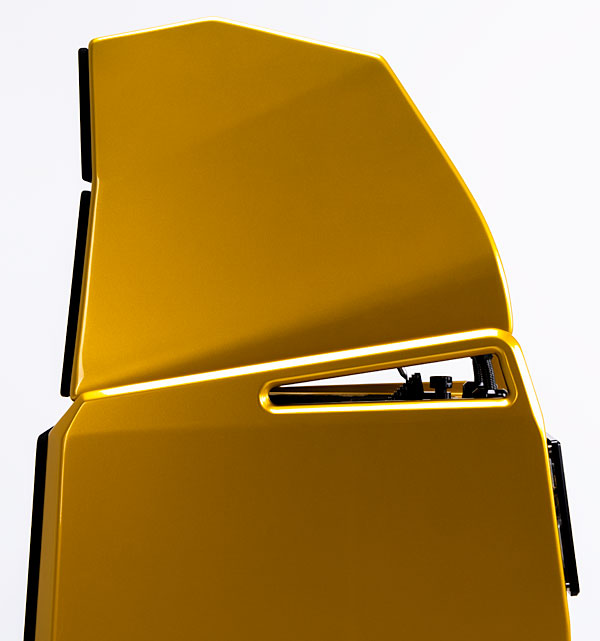 Leaving the issue of new models replacing old, owners of the Sasha DAW [HFN Mar '19] – which remains a phenomenal speaker by any measure – who wish to upgrade should be aware that Wilson (like Transparent Audio, McIntosh and some others) has a 'buy-back' scheme to encourage trade-ins and can thus also offer certified, pre-owned products. Expect to see a few pairs of Sasha DAWs appearing on the market at truly tempting prices...
Wilson has never ignored the need for domestic harmony and the Sasha V is therefore offered in three levels of paint finish, the standard range of four colours including the dark Galaxy Gray, the lighter GT Silver, a taupe-y hue called Quartz and Carbon if basic black is preferred.
Depending on how house-proud the customer, Wilson then presents what are effectively unlimited choices, from its own in-house, automobile-standard paint department. For a 5% premium, 12 additional 'Upgrade' colours are available including the vivid Fly Yellow, Classic Orange and Pur Sang Rouge. Ten colours form the Premium Pearl range for 10% extra cost – the Blue Orchid Pearl is gorgeous – while custom colours can be negotiated, including the bespoke 'True Gold', seen here, which uses real gold flakes.
Wilson Audio has grown this aesthetic flexibility since the first WATT prototype appeared in base paint and then with wooden side panels. The look has been refined over the decades, accompanied by a litany of confusing names because the Puppy had to catch up with the WATT. The pair were finally grouped as an entity to form the 'WATT Puppy System 5' [HFN Jan '95], so we might well regard 2023's Sasha V as – drum roll – the WATT Puppy System 12.
Loudspeaker Legacy
In practice, the 'WATT Puppy' naming ended with System 8, when the next incarnation, Sasha W/P (W/P standing for, you guessed it, 'WATT Puppy'), replaced it. The Sasha W/P was followed by the Sasha Series 2 [HFN Jun '14], then the Sasha DAW. By my maths, this made them respectively Systems 9, 10 and 11 in the old naming system. In each case, the name changes signified important model refinements, whether of the drive units, enclosure materials, revised hardware, crossover modifications or other improvements, all of which apply to the move from DAW to V.
Learning Curve
Knowledge gained in the development of the Chronosonic XVX, Alexx V [HFN Jan '22] and Alexia V has been used to refine the performance of the Sasha which – admittedly – is and has been of the highest calibre for a small monitor astride a woofer module since 1985.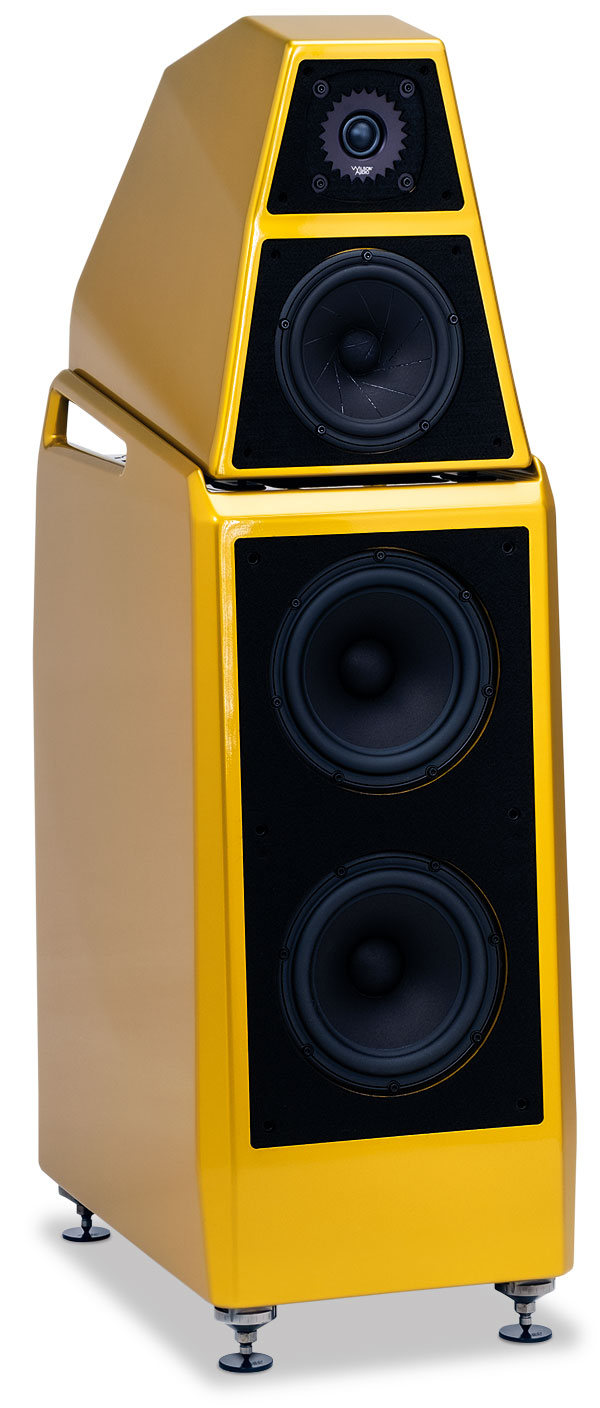 Also key to the Wilson way has been the development of custom materials over the years. Wilson employs a mix in its cabinet construction, with X-Material and V-Material used as they best suit the enclosure. Both are resin-based composites with density, stiffness and self-damping properties adjusted for application. According to Wilson, 'X-material is a denser, harder, and more monotonic material, which is ideal for structural stability, for woofer and tweeter coupling, and internal bracing. Alternatively, V-Material offers better internal damping and was formulated to be nested into X-Material.'
This, of course, is a critical concern when dealing with speakers made up of two or more modules. V-Material, for example, was first employed in the Chronosonic XVX's gantry. That speaker, too, was the first beneficiary of Wilson Audio's purchase of RelCap although it's the Sasha V that serves as the debut platform for the newly-developed copper version of the AudioCapX-WA capacitor in the tweeter crossover.
From the Alexx V, the Sasha V gained the Convergent Synergy Carbon (CSC) tweeter as well as the stainless-steel-and-V-Material 'Acoustic Diode' spike system, which provides superior anchoring of the speaker. (The latter, by the way, can be purchased by owners of non-Wilson Audio loudspeakers, with adapters for this purpose.)
V For 'Vanish'
How much of experiencing the immediacy of the gains was due to my years with the Sasha DAW and how much to their inherent brilliance is not something I can quantify. PM – the least likely person to be impressed by anything other than, say, a nuclear strike – didn't even wait to tell me I was in for a treat. Like me, he was seduced by what may be the best 'disappearing act' of any loudspeaker – south of the Alexx V –which isn't either a minuscule near-point source like an LS3/5A, or a super-transparent dipole such as an electrostatic. The dCS Vivaldi One APEX source and Constellation Centaur II Stereo [HFN Feb '23] power amplifier also played their role, for sure!