Weiss DAC501 USB/network DAC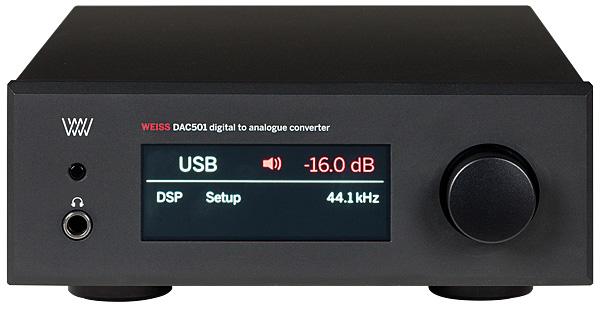 Packing a high quality DAC and streamer into a half-size box, this new digital converter also features powerful user-configurable DSP. It's a potent combination…
With this new DAC, for the first time in my design career, I have the chance to make an impression that has people saying "wow"', Daniel Weiss told HFN. 'Designed by our team here, it is different – but not radically so – to our earlier products.' He's being a little modest because the new Weiss DAC501 is more than a little diverting in any number of different ways…
Like its bigger brother, the DAC502, which is essentially the same product in a full-width box and with an additional headphone socket, this little Swiss digital converter/headphone amp and streamer includes several unusual features. The £7200 DAC501 offers both technical innovation, more of which later, and includes a range of DSP modes outside the realm of typical consumer converters. Indeed, referring to the latter, Daniel says that this is not 'a fit and forget product'. In practice the emphasis is on the user constantly interacting with it, to get the most out of its diverse feature set.
Stylish Treat
In this regard the success of the DAC501's ergonomics will be largely down to the expectations and experience of the user. For my part, I found the combination of touch-sensitive colour LC panel and physical control knob, for navigation, didn't quite gel. Normally, I'd expect one or the other, but not so here – and the result is a control system that lacks both the tactile feel of machined metal buttons and easy navigability of full touchscreen interfaces like that of a smartphone.
In every other respect, this is a splendid piece of work. It's a beautifully made item, with expertly machined steel casework fronted by a 10mm aluminium fascia plate. Our review sample was finished in an immaculate satin black, and really looked the part. I particularly like the DAC501's small form factor, belying the wide range of facilities on offer.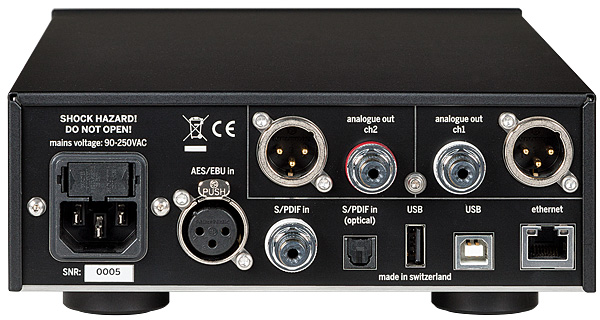 As well as its ingenious signal processing options [see sidebar] the unit has five digital inputs, including AES/EBU (XLR), S/PDIF (coax and optical), USB and an Ethernet port for its DLNA-compatible streaming. Single-ended and balanced line outputs may be configured for different maximum output levels, and there's a separate headphone amp too.
The fascia is dominated by the aforementioned power/volume knob – which is actually a rotary encoder under software control – and the display. The IR handset is a classy piece of work, albeit not as fancy, and certainly not as bulky, as the sort of thing you might see from some high-end rivals.
During first-time use, and for ongoing maintenance, connecting the DAC501 to your router via Ethernet allows you to check for any firmware updates via the web browser. This also gives lots of configuration options including volume and balance control, input selection, output type and DSP algorithms. It's a very handy tool! Overall, I found the DAC501 relatively easy to use, but it only really comes into its own when worked via the web browser.
Stylish Treat
Under the bonnet, and within a screening can, a pair of 32-bit ESS Sabre ES9018K2M DAC chips are under the watchful gaze of a SHARC DSP running Weiss's own digital filter and other user-configurable algorithms. The streaming platform of choice is GStreamer, which supports LPCM from 44.1kHz to 384kHz, plus DSD64 and DSD128. Future formats will be supported by software updates as and when they developed and released by Weiss. Indeed, Daniel Weiss says he is working on Roon compatibility, although MQA decoding is unlikely at the moment.
A high precision, low jitter clock governs the DAC section, and interestingly this is fixed at a frequency that's not a multiple of either 44.1kHz or 48kHz, according to Daniel Weiss. Input signals are all upconverted to 195kHz (rather than the typical 192kHz), and the DSP algorithms also run at that frequency 'for optimal signal quality', he says. 'This scheme also helps significantly in reducing any jitter related effects.' [Editor PM discussed this technique in HFN Jan 16, and see also the Lab Report].
Listen In The Raw
Let's first deal with the DSP options before launching into the real 'sound' of the DAC501, because to my ears, they are not entirely convincing. The 'Creative Equaliser' most impressed me, offering highly targeted tone control. I could see this being used to good effect in systems requiring some 'tweaking' beyond the trial-and-error of new cables, for example.