Volumio Rivo Network Audio Streamer

Italian brand Volumio is responsible not just for a series of network-attached digital players, but also an open-source OS and bespoke app. The Rivo (stream) is its 'bridge'
Launched in 2022, the Rivo is the middle model in a trio of new streaming devices from Florence-based Volumio, and this digital-only streamer, together with the second-generation Primo streaming DAC and the Integro networked amplifier, concludes an unlikely journey for the Italian start-up.
Typically, most hi-fi brands are hardware specialists at heart, forced to embrace (or rather, struggle with) software development, but Volumio's trajectory was launched from the other direction.
First, in 2013, came an open-source media player, which became the successful Volumio software, then OEM development for other brands including Pro-Ject, miniDSP and Kii Audio. Its own hardware arrived much later, in the form of the Primo streamer, an EISA Award winner in 2020 celebrated for its blend of functionality and affordability. And now Volumio, led by founder Michelangelo Guarise, is taking an ambitious next step with the Rivo, sold online to UK consumers for €989, including delivery and import duties.
Port Numbers
To start, it's perhaps a surprise that Volumio has decided to offer a pure digital transport next to the do-it-all Primo (€799), which has a built-in DAC plus some digital outputs. This gives the slightly more expensive Rivo a tighter focus, while at the same time its extensive array of digital outputs makes it considerably more flexible. For example, as it's designed to drive a standalone DAC or the D/A stage of an integrated amp, the Rivo sports a dedicated USB audio output, allowing for playback of hi-res material up to 768kHz/32-bit and DSD256. Alternatively, pairing the device with a DAC is possible through S/PDIF or AES/EBU, though this is limited to 192kHz/24-bit.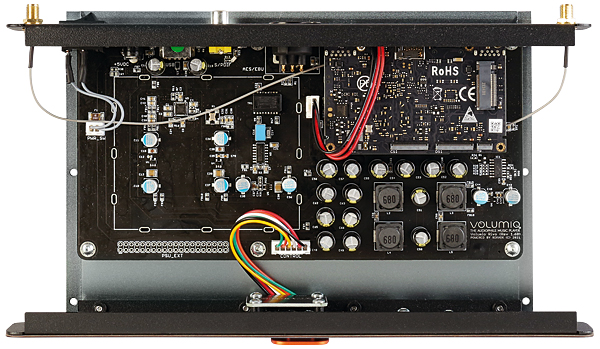 Another surprise is the HDMI port. This is not there as a digital audio input/output, but purely to (optionally) display the Rivo's user interface on a flatscreen TV. Do that and connect a wireless keyboard to one of the device's USB ports (via a dongle), and you can find music and control the Rivo without needing your smartphone or tablet to hand. This is just one example of the extra little features which point to the community Volumio has sprung from. Using the video output did seem to make the unit run a bit slower, however.
There are in fact three other USB ports, in addition to the USB DAC output, on the Rivo's rear, one being USB-C. These are unfiltered and arguably less well suited for DAC duty and so are primarily intended for connecting USB storage for non-networked file playback. Accessing locally-stored files is also possible through the unit's microSD card slot on the rear.
Whereas Volumio's first Primo was basically a black box, there's more going on with this new generation of hardware. The distinctive flat aluminium chassis of the Rivo is shared with its two siblings, although each product possesses a unique faceplate. In the case of the Rivo, the very specific use case is reflected in a minimalist fascia with just a single large power button in the middle. The build quality and aesthetic is fine, but this is a device you could happily hide behind your main system or in a cupboard. There's no remote handset supplied, as all controls and information are found in the Volumio app or on a web interface.
Soft Sell
As Volumio's software is used by multiple manufacturers, including both Pro-Ject and iFi Audio, the interface and logic will be very familiar to many. But the Rivo has a trick up its sleeve in that buyers get the Premium iteration of this software (usually a paid upgrade) for free. This adds a raft of interesting and useful extras, including multiroom functionality, cloud-based backup, CD ripping/playback via an attached drive, and a more comprehensive interface. Next to playing your own files, it also integrates Internet radio, plus the Qobuz, Tidal and Highresaudio services, in addition to other streaming options such as AirPlay, Roon and uPnP.