Unison Research Unico Due Integrated Amp/DAC Page 2
That means it can be used to crash out music at party levels should you really want, but it's likely to shy away from the task and opt for a bit more decorum should you get carried away. And that's appropriate, given that you might be forgiven, once you have realised that this plain-looking amp is a bit special under the lid, for thinking that its sound might be somewhat characterful, too. You'd not be wrong: it has a balance on the lush and generous side of neutral, allied to plenty of clout when the music demands.
But before you get to that, some familiarisation is required – not just with the front panel controls but also with the remote control. For example, even if you've set up the AV bypass it's possible to disable it almost unwittingly through a sequence of control operations, so quite apart from having to remember that 'push' means 'AV bypass', it's also possible to find that when you push 'push', nothing happens, and you have to go back and set things up again. I can't help thinking that a simple fixed-gain input, either provided as a separate connection or fixed using a rear-panel switch, would be more useful than a tape loop in this day and age.
I also got lost a couple of times by accidentally enabling the 'monitor' function, or selecting mute when I wanted to adjust the balance. These things would happen less if one were to live with the amp for an extended period, but there are times when idiosyncratic can become just plain annoying, and leave you thinking 'Why on earth did they do it like that?'.
Effortless Listen
However, the sound of the Due needs rather less graft. Whether with the digital input from a computer, via the analogue ins or even playing vinyl, this amplifier has a distinct sonic signature of richness and ease, making it an entirely effortless listen. Indeed, the personality of the amp overrides any differences in sound between the various inputs, rather as might be suggested by the manufacturer's comments about the power amp section being designed to 'let through' all the character of the valve preamp stage.
As it says on the front of the Due, this is a 'Tube Sound' amp, and whether that's a good thing or a bad will depend on your point of view and sonic preferences. If you want an amplifier that's snarling, abrasive and all about attack, this might not be the one for you. For example, it's better suited to the acoustic versions of Bruce Springsteen's canon on his …On Broadway live set [Columbia 19075904362] than it is with the more thundersome originals given the full E Street Band treatment.
That said, it does sound rather fine with these new versions which sound warm, intimate and mature, helped substantially by the rich low-end of the amp, and its smooth, sweet treble. In similar fashion, the Due is also well suited to the AOR of Fleetwood Mac on the band's recent 50 Years: Don't Stop retrospective [Warner Bros 081227923648].
It's not that the Due smooths over details – instead it delivers a richly-nuanced sound, underpinned by that characteristic warmth. Nonetheless, it just lacks the kind of attack the band tries to muster on the likes of 'Tango In The Night' or, inevitably, 'The Chain'.
Cut 'N' Thrust
That will suit many listeners just fine, and the Unison Research sound is never likely to aggravate speakers with forthright tweeters, that and the power on offer here making it an extremely simple amp to partner. But perhaps this isn't one for the all-out rockers.
However, hear it doing what it does well, for example with the retro swing combination of part-time jazzer Jeff Goldblum – yes, that Jeff Goldblum – and his all-star Mildred Snitzer Orchestra on their The Capitol Studios Sessions set [Decca 6792593, 44.1kHz/24-bit], and it's hard not to like the big, gutsy sound on offer. This is high-quality musicianship from the likes of Till Brönner, Imelda May and Sarah Silverman, all presented with a real sense of performance, and the Due does an excellent job of conjuring up the sense of a very real event.
What's more, its combination of refined detail and weight makes it well-suited to the needs of the classical listener, too. Its sweet treble isn't achieved at the expense of ambience or the sense of a live performance, that innate richness meaning there's plenty of body to larger-scale – well, massive – musical forces such as the LSO in the Beethoven Mass in C under Sir Colin Davis [in DSD64 from LSO Live LSO0594]. Meanwhile, its nimbleness means its just as adept with the cut and thrust of chamber music, with each performer in a trio or quartet finely delineated.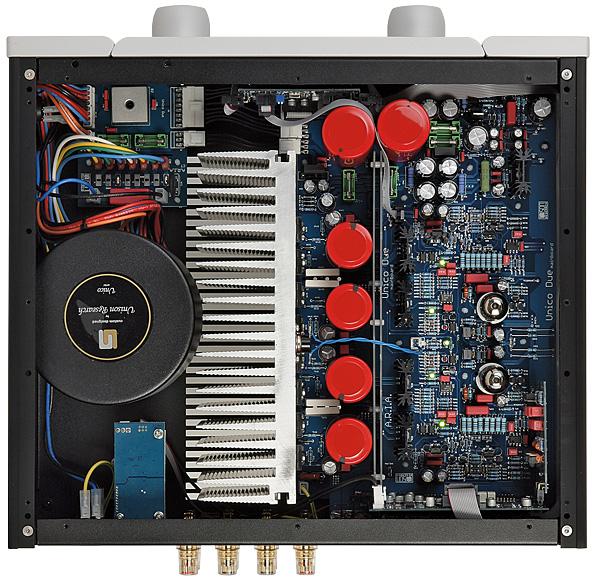 That's what gives this slightly unusual amplifier its appeal: the fact that it's a valve-based design offering 21st century convenience. One might say this is valves for those for whom the whole idea is a bit scary, but that would be selling short what is a highly appealing integrated amp.
Hi-Fi News Verdict
The Due is a fine example of what Unison Research's Unico range does best – delivering the perceived benefits of valve amplification without any of the fiddle of speaker-matching, tube biasing and experimenting with various 'bottles'. Instead you get a simple to use amplifier with a mixture of input capabilities (and only slightly quirky user interface) allied to a sound many will find extremely attractive.