Triangle Antal 40th Anniversary Loudspeaker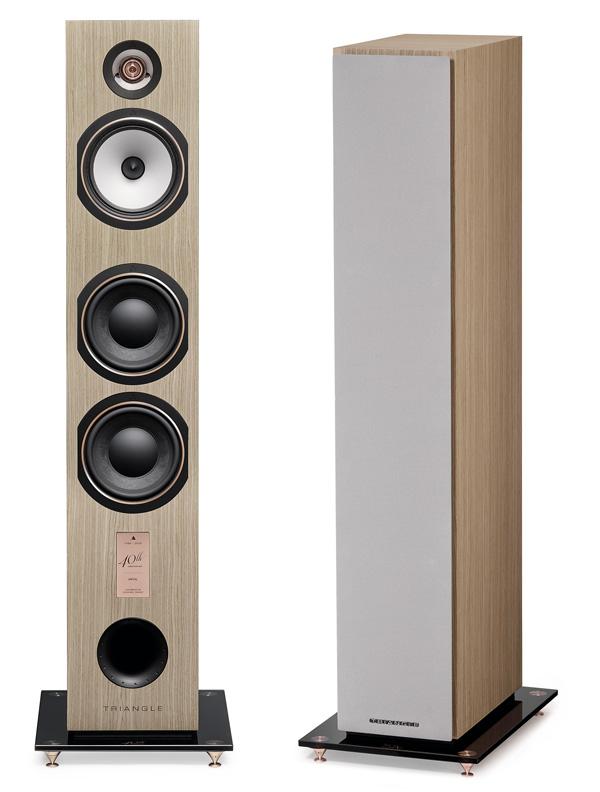 French brand celebrates its Ruby Anniversary with a rose-gold tinted treble and two fabulous cabinet finishes
There's a definite feeling you're getting your money's worth when you encounter Triangle's Antal 40th Anniversary loudspeaker. This French floorstander, reasonably tall at 113cm and surprisingly deep at 35cm, arrives in an oversized box and, once excavated, greets you with 40th Anniversary branding on the front baffle and its quartet of drivers with eye-catching rose-gold anodised aluminium trims. I wouldn't say it looks a million dollars – there are too many right angles for that – but it certainly looks like it should cost more than the £3000 ticket (less still via some online retailers).
Of the colour options, the Blonde Sycamore of our sample has an on-trend natural matt finish. For something a little more ostentatious, opt for the glossier Santos Rosewood. Triangle has released this special edition version of the Antal – a longstanding model in its range, first produced in the mid-1990s – to mark 40 years (well, 41) since the company was established. It has doubled down on the idea, too, also launching an anniversary edition of its Comète standmount (£1500).
Ch-Ch-Ch-Ch-Changes
You might have expected the company to celebrate this milestone with a re-engineering of its flagship Magellan or premium Signature Series, but both the Antal and Comète are from its close-to-entry-level Esprit Ez range – only the Borea series sits below in Triangle's conventional loudspeaker stable. The standard Antal Ez, which is now in its seventh generation, remains on sale at £1899.
Beyond the Antal 40th Anniversary's 'signature' rose-gold embellishments, which you'll also spot on the speaker's logo plate and bi-wire connections, it doesn't look that different from its Ez sibling. Cabinet dimensions are close to identical and it's again supplied with a full-length magnetic grille, rectangular glass plinth, and rubber and metal spike options. Yet there's more here than a slight cosmetic tweak with very real changes to the enclosure interior, drivers and crossover.
So, the horn-loaded compression tweeter now uses a magnesium dome, rather than the titanium of the Antal Ez. Triangle has also coated the horn in anthracite chrome and reworked the phase plug in a bid to improve dispersion, while upgrading the rear chamber and magnet.

Below this HF unit are a 135mm midrange and two 135mm bass drivers. The former features a new 'cellulose pulp membrane' cone with bullet-shaped phase plug, while the latter, which are made from a pulp/carbon fibre/flax composite and backed by a 120mm ferrite magnet, are a development of the woofers on Triangle's Australe Ez floorstander.
Chamber Practice
On to the cabinet. This employs internally reinforced HDF panels up to 23mm thick, as found on Triangle's Magellan and Signature Series models. The bass drivers, which are reflex-loaded via a wide, circular, front-firing port, are given their own separate chamber. Proprietary DVAS (Driver Vibration Absorption System) technology, where a high-density foam gasket couples the rear of the motor assembly to horizontal bracing, is claimed to further reduce both driver and cabinet resonances.
Getting these 26kg towers in place is only mildly arduous, but note that even with those front-firing ports the recommended rear-wall clearance is still 40cm, and 50cm from the side. Factor in the cabinet depth and you end up with a pair of fairly imposing floorstanders placed a good distance into the room. Don't consider these if you're looking for a discreet installation!
Bang On The Money
The size of these well-priced cabinets is reflected in the size of the soundstage they create. There's an impressive feeling of height and depth to the Antal 40th Anniversary's delivery and, even better, imaging and integration is excellent. Set up around 2m apart the two enclosures become a single sonic entity, the space between them filled with nuanced, musical details.