Thorens TD 202 Turntable Package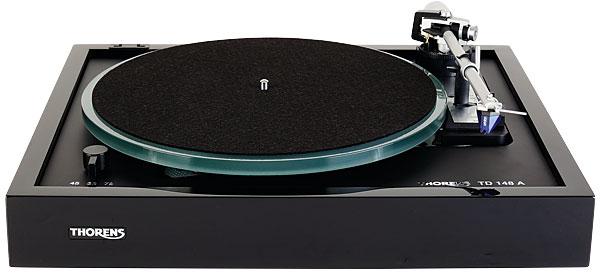 Budget-conscious vinyl fans wishing to digitise their prized record collections will want to sample this sleek, affordable turntable solution from an illustrious German brand
Like any company that can trace its lineage over one-and-a-quarter centuries, German turntable brand Thorens has had its share of high and, well, not-so-high points. Now under the ownership of ex-ELAC MD Gunter Kürten, the last three years has seen a revolution in the brand's ambitions, with a burgeoning product range to match.
Its catalogue spans everything from a high-end retro-styled rework of the classic TD 124 [HFN Jul '21] – now direct-driven, by the way – to basic entry level fare designed to appeal to vinyl newbies. The £599 TD 202 you see here is very much of the latter persuasion – a spec'd up TD 201 which is Thorens' foil for a Rega Planar 1. In other words, it's a 'proper' hi-fi design and a step-up from the plastic fashion-inspired spinners of this world, a sort of 'My First Real Turntable' for young and the old alike.
It's an entirely inclusive solution too, the TD 202 sporting an internal phono stage (taking the feed from a bundled Audio-Technica AT-95E to line level), plus a built-in analogue-to-digital converter and USB-B output, letting you record your vinyl onto a computer – providing you have the correct software, of course.
Your Flexible Friend
I'm tempted to think of the TD 202 as a transcription turntable that's shrunk in the wash. It's nowhere near the iconic TD 124 in terms of build, sound or price – but it still has basic audiophile leanings. Aside from bumping up the price a bit, there's nothing bad about having this extra functionality. Some will regard it as handy – especially if you're not a fan of streaming and/or haven't got the money to rent music you've already bought and paid for on vinyl.
Like me, you may have 'sunk' the cost of most of your music collection a generation ago, or even further back. Having digitised copies of your prized LPs makes them listenable everywhere via smartphone or other such digital portable. The question then is, how good is the TD 202 at addressing the needs of both digital and traditional analogue enthusiasts?
Building Blocks
First, let's start with a look at the deck itself. It's a non-suspended, belt driven manual design, with a fashionable gloss black finish that's rather reminiscent of Sansui's long-lost early '80s SR-222 Mk5 – vinyl geeks will know what I mean. Its two speeds are switchable by flicking the left hand control, while the one on the right hand is a simple on/off. Motor speed control is electronic, and surprisingly capable, and a small 12V external mains adapter comes bundled with the deck.
The aluminium platter is light, but not as bell-like as you might expect thanks largely to the fairly thick and supportive rubber mat. The plinth, meanwhile, is no heavyweight but is decent enough considering the price and comes in a choice of black high gloss and 'walnut' high gloss finishes. Total weight is just 3.9kg, and the footprint a compact 420x355mm (wxd) while supplied dustcover is acrylic, which is unusual for a budget deck, many of which use a lightweight plastic. Either way, the TD 202, like most budget decks, sounds better without it...
The partnering Thorens TP 71 tonearm is finished in black, and has a straight armtube offset at the end where the headshell is attached by a locking collet. The deck comes pre-fitted with the Audio-Technica AT-95E moving-magnet, which is an excellent entry-level choice, and just about right for the quality level this turntable offers. It's a crisp, clean and smooth-sounding cartridge with a decent elliptical stylus that won't recut your records as you play them. Tracking force is set at A-T's recommended 2g, and there's also a bias adjuster plus a cueing lever, making it ideal for beginners.
The general quality of the tonearm is reasonable despite some apparent play in the bearings felt when hand cueing. The internal arm wiring feeds the inbuilt RIAA phono preamp and ADC for the USB output so, should you ever wish to change the AT-95E pick-up, you should go for another MM that offers pretty close to its 3.5mV quoted output.
Light Fantastic
As Thorens is generous enough to include this phono preamp, I was compelled to give it a spin. Driving the line input of Exposure's very fine 3510 integrated [HFN Nov '21], the deck's balance was tonally rather thinner than I'd heard via the AT-95E's 'raw' output into a likely companion phono stage [a tried-and-tested Arcam rPhono in this instance – HFN Jul '17]. 'Rhythm Is A Mystery' by K-Klass [Universal; Deconstruction 12R6302] had lots of oomph and push, even if the phono amp tended to exaggerate the AT-95E cartridge's slightly upper mid-forward balance. So it's not the most refined thing I've ever heard, but I suspect it's designed less for critical listening and more as an 'enabler' that lets music fans hook the turntable into budget systems or active speakers that don't have a phono input.