T+a Pa 3000 Hv (£9900)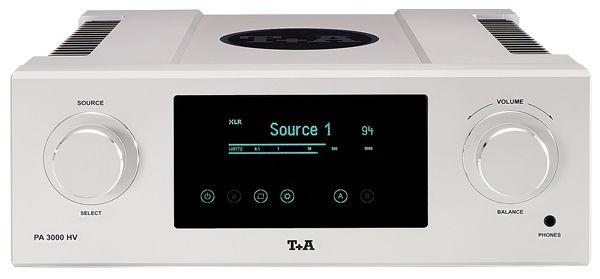 This amplifier powerhouse with sympathetic partnering system components will thrill and captivate
Germany's T+A has spent the last couple of years developing a completely new range of all-solid-state electronics: its 'HV Series'.
Built into an all-aluminium case, the PA 3000 HV amplifier's individual sub-assemblies are screened in separate chambers. An upper compartment houses the preamplifier and voltage amplifier stages, while the electronic control processor and circuitry for driving the display screen – fed by a separate power supply arrangement – sits in a recess machined out of the 40mm-thick aluminium front panel. A 10mm-thick dividing wall shields the top section from the left/right current amplifier stages and the unit's massive power supply is in a lower compartment.
The PA 3000 HV's topology is based on a cascode differential amplifier and is entirely discrete, with galvanic isolation between the voltage and current amplifier stages. All stages are driven at an unusually high voltage – hence 'HV'.
Switching functions are carried out by sealed gold-contact relays integrated within the circuits to keep wiring to a minimum and signal paths as short as possible. The electronic volume control employs discrete resistors and
gold-contact relays to provide gain adjustment in 1dB increments.
At the rear there are six line inputs, numbers 1-4 being switchable between single-ended (RCA) and balanced (XLR) operation. The two sets of rhodium-plated speaker terminals can be configured for bi-wiring or for driving a second pair of speakers – this is done via the amplifier's setup menu. All key functions can be controlled via the chunky aluminium handset supplied.
Fearful power
The company may claim the feedback-less Class A design of its amplifier achieves tonal characteristics similar to those produced by valves, but it doesn't deliver anything like what most audiophiles would describe as a traditional 'tubey' sound. The PA 3000 HV is a subjectively fast and vivid-sounding amplifier that dispenses tight, punchy and fearfully powerful bass.
The source used first was T+A's DAC 8 [HFN Oct '12]. Playing a selection of familiar test pieces swiftly revealed the T+A amplifier's incredible resolution and subjectively grippy bass control. With tracks from The Sheffield Jazz Experience compilation album, for example, such as Dave Grusin's 'Captain Bacardi' and 'Things Change' by David Benoit with horn player Jerry Hey, we thought the sound could appear as rather stark and matter-of-fact.
There was nothing in the way of 'electronic haze', while the amplifier's subjectively black background allowed the image to extend way back from the plane of the loudspeakers. Yet despite all this, the amplifier's absence of 'character' could make the music seem somewhat sterile.
However, when partnered with T+A's matching MP 3000 HV media player the PA 3000 HV amp sounded noticeably more colourful and full-bodied through the midrange. Pair the two HV components and the result is utterly stupendous: startling dynamics, holographic imaging and stunning transparency, with a fabulous ability to separate instruments and paint a three-dimensional picture of a recording venue.
In the first part of Stravinsky's Rite of Spring on Telarc (Cleveland Orch/Maazel), woodwinds and strings were beautifully separated, with palpable space in the auditorium. In particular the amplifier rendered the brass in an appropriately aggressive, startling and unsettling manner – although it avoided the white hot, over-bright glare that is an all too common trait of lesser solid-state amplifiers.
Verdict
This amplifier powerhouse warrants consideration not least for its superlative build and sophisticated engineering. With sympathetic partnering system components it will thrill and captivate.
Originally published in the 2013 Yearbook