T+A DAC 200/A 200 DAC/Preamp & Power Amp Page 2
Pairing the A 200 and the DAC 200 takes up little space, and, depending on your source hardware, getting them up and running should take little time. Only the neat, brushed metal FM200 remote is a potential speed bump, for while snug in the hand using it is far from intuitive. Buttons include the obvious (volume, settings) and the obscure. For example, what might two emoji-style faces – one happy, one sad – signify? Read the manual and you're none the wiser, although it does at least tell you how to change filter settings, select different modes for the DAC's front-panel meters, tweak balance and more. The bold, crisp display is also very informative.
Master Class
As a duo, T+A's A 200 and DAC 200 dovetail together as slickly in terms of performance as they do visually. Their strengths are complementary, the DAC hardware adding a feeling of impressive detail and tonal mastery to the power amp's purposeful, controlled demeanour, so the experience is one of listening to a system rather than two boxes. That said, I felt it was the DAC that was doing more of the heavy lifting, its ability to sweeten even plain vanilla CD/44.1kHz files being a notable trait. Overall, the voicing tends toward smooth in the upper registers while avoiding excessive warmth in the bass, and pin-sharp soundstaging is assured.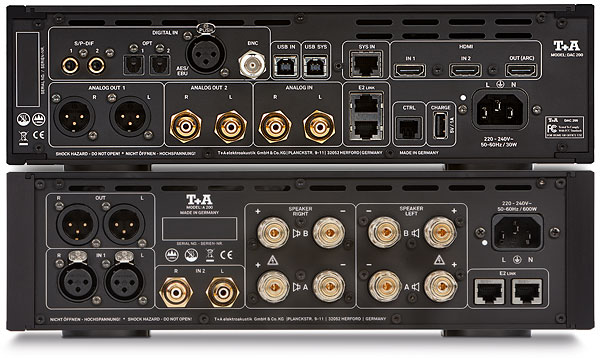 'Leaving Trunk', from Taj Mahal's self-titled debut album [Columbia], was delivered as a 44.1kHz/16-bit stream via Tidal from a USB-connected Apple MacBook. It's a track typical of the musician, being all foot-tapping blues rhythms and throaty vocal, and the T+A pair gave it the white-glove treatment.
There was a precise feel to its portrayal of instrumental textures – harmonica served with a cool blast of air, hi-hat work pleasingly distinct – but all were blended so well together that the overriding urge was just to sit back and enjoy. The bass on this song, while focused in the middle of the stereo image, felt a little shy, even though the likes of CSNY's 'Helpless' [CSNY 1974, Rhino Records; 96kHz/24-bit] shone a more favourable light on the system's low-end handling and the potency of the A 200. This may not be the most belligerent power amplifier I've come across, trading exuberance for poise, yet it still mined low-end details obligingly, and without overemphasis.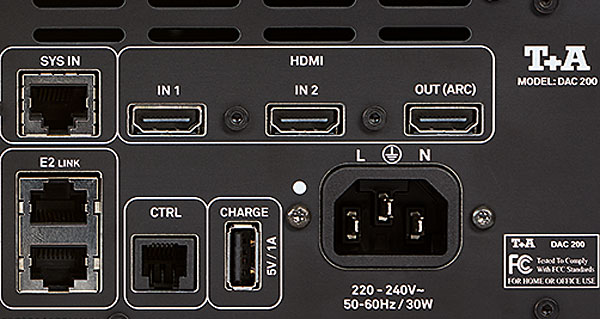 Filter Fiddling
Wrestling with the DAC 200's digital filter selection, I was surprised to discover this was one device where I arrived at a preference (expecting, as usual, to leave non-plussed). Both the FIR options, to my ears, sounded more balanced than T+A's in-house Bezier filters, with 'FIR 2 (FIR Short)' giving a marginally fuller feel to the '70s supergroup's live antics. In short, a brief sojourn into the DAC's options is recommended more than usual.
Even with this preferred sound signature coaxed by the slow roll-off FIR filter, the T+A pairing showed no inclination to give me a big, warm hug, however. Midband and upper-bass information was uncoloured, leading to a sound that I imagine some might find a little 'dry'. The benefit of this, though, was a feeling of accuracy from top to bottom, and a steely, lean low-end that worked wonders with the disco-infused backing to Blue Oyster Cult's 'Fire Of Unknown Origin' [eponymous, Columbia; 96kHz/24-bit].
Handling Handel
Bach's Chromatic Fantasia and Fugue… BWV 903, played with finger-blurring skill by pianist Christian Grøvlen [2L; DSD256 download], is a piece of undulating tempo and dynamic peaks and troughs, all conveyed by one instrument. The Series 200 models tackled it admirably, sounding airy, light and soft when needed, but still with an undercurrent of innate strength to give force to Grøvlen's key-work – it was easy to imagine the performance taking place in front of me as sustained notes decayed into a large acoustic.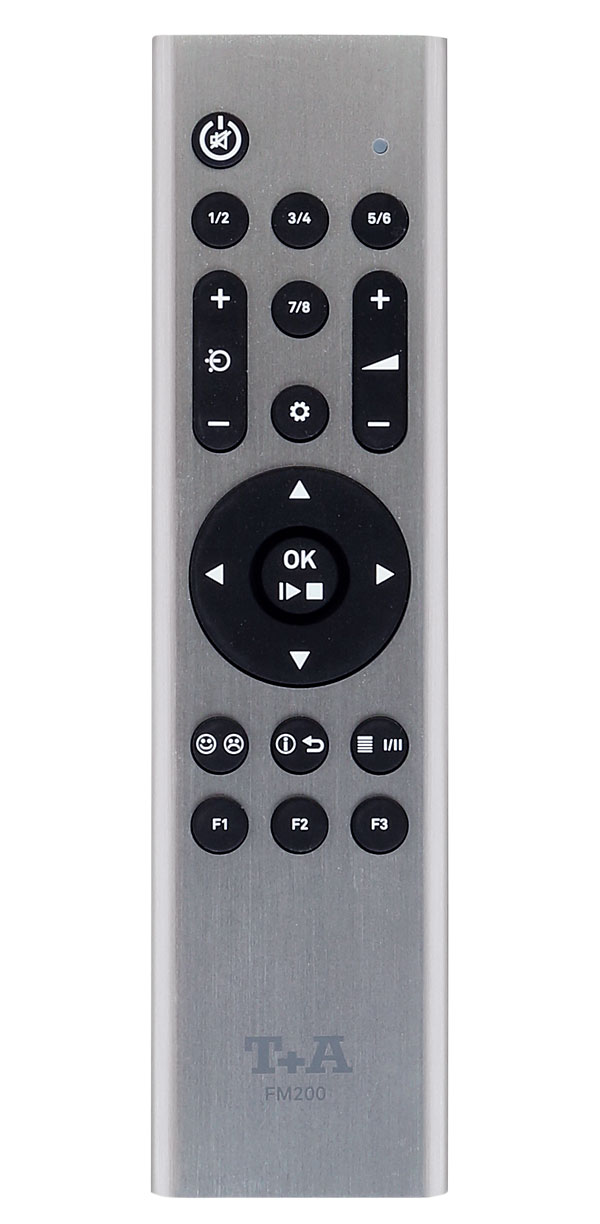 This effect was repeated, with a full orchestra, on the London Royal Philharmonic's performance of Handel's Water Music suite [HMV Concert Classics; 44.1kHz/16-bit download] as the DAC 200 deftly marshalled strings, timpani and brass, again showing a knack for delicacy of resolution and fluency.
Here the A 200 amp put in an unshowy, authoritative performance, demonstrating both power and civility while working comfortably at a high listening level hooked up to a pair of floorstanding speakers. Even though, I might add, its form factor screams 'bookshelf!'.
However, combined with the notched digital volume control of the DAC 200 giving a smooth progression from 'background at a dinner gathering' to 'let's get this party started' levels, this combined system isn't one that has to be driven hard to sound its best – T+A's sumptuously detailed, neutral sound plays equally well on the quiet.
Hi-Fi News Verdict
While avoiding any lame jokes about 'German engineering', I'm bound to say there's a wonderful sense of synergy – and not just in build and style – between these two T+A components. The A 200 is a mature-sounding power amp with excellent driving ability, and a perfect partner for the DAC 200's refined, insightful and light-footed approach. Yes, there's no networking, but the Series 200 has this covered elsewhere…