T+A Caruso R All-In-One Player/DAC/Amp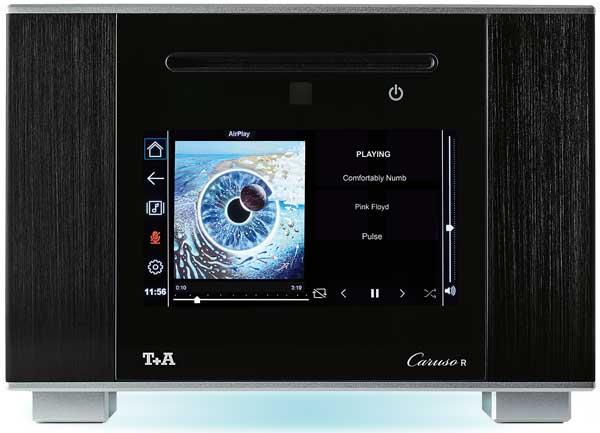 Having nailed the whole 'one box system with built-in speakers' category, T+A now shifts tack to a 'just add speakers' unit. It's on-trend, and with substance to match the style
Are we downsizing, simplifying, or just looking for more from less? Whatever the reasons, it seems the one-box system, to which one only needs add some speakers, is in the ascendant. There's no denying a movement is growing, with everything from 'more integrated' amps complete with onboard streaming through to complete systems such as the NAD M10/M33 [HFN Jun '19 & Aug '20], Naim's Uniti range [HFN Mar '11 & Nov '17] – which was in the vanguard of this trend back in 2009 – and the recently-announced Cambridge Audio Evo models [News, HFN Jun '21].
German brand T+A could be forgiven for sitting back and watching all this happening with some amusement. After all, it launched its first Caruso model, complete with onboard speakers, back in 2008, with the even more compact Cala lineup of streaming receivers arriving more recently.
For the £3000 Caruso R it has dropped the built-in drive units, and instead offers a choice of two external speaker systems. The £1300 R10 standmounts and £2500 S10 floorstanders are clearly styled to match the Caruso R, but this little one-box system, more compact in dimensions than the original 'complete' Caruso, also opens up the possibility of choosing one's own loudspeakers. And as PM's Lab Report reveals, the Caruso R's Class D amplification is more than capable of driving a wide range of third-party boxes.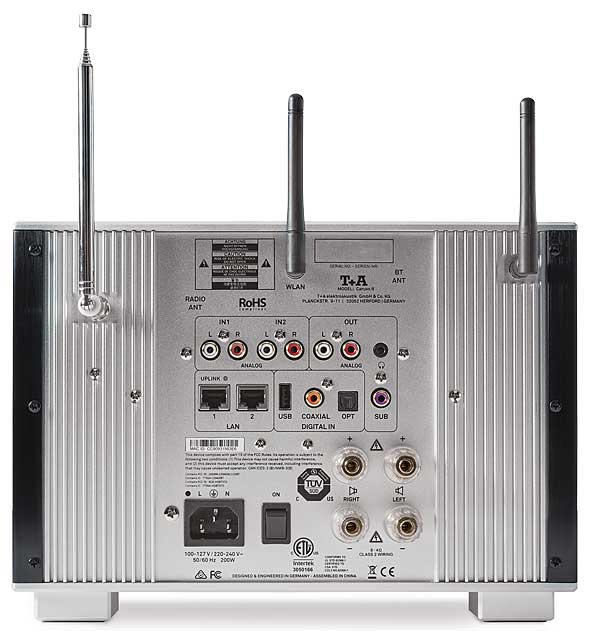 Wider Platform
However, there's more to this 'R' model than just stripping out the built-in speakers and replacing their grilles with gloss panels, made from black-lacquered aluminium. At its heart is an all-new streaming platform, developed in-house by the team in Herford, northern Germany, where the Caruso R is designed and engineered. This opens up a wider range of streaming music sources, now including Amazon Music HD and Spotify Connect as well as Tidal, Deezer and Qobuz, making this latest Caruso even more comprehensively equipped.
It may occupy the same 29cm-square footprint, and have the same user-selectable 'mood lighting' from the base panel, illuminating the space beneath the unit, but it's 6cm shorter than the near-cube original. The 7in display panel has been adapted to offer a landscape format, and this – along with the silver aluminium panels top and bottom – gives the Caruso R a more low-slung look than the original, slightly boxy model. The system still uses T+A's Navigator operating system, although this has been heavily modified to take account of the new facilities on offer here.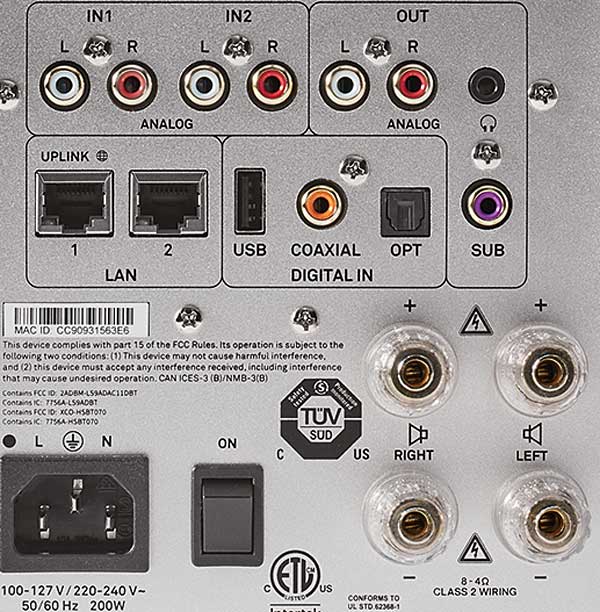 Well Sorted
It accommodates network and online streaming via both wired Ethernet and Wi-Fi, including Internet radio, includes a CD drive, onboard FM and DAB/DAB+ tuners, and both Bluetooth and AirPlay 2 capability. Consequently, the Caruso R comes with no fewer than three rear-panel antennae. There are little rubber stub types for Wi-Fi and Bluetooth, plus an extending telescopic radio aerial.
Wireless streaming is capped at 192kHz/ 24-bit (though downsampled internally to 48kHz) and the Caruso R also includes both an Ethernet port and a second 'uplink' socket, to which other network devices could be connected. Other inputs extend to single optical and coaxial digital ins, plus a USB-A for music storage devices, plus two line-ins (which are digitised for processing within the system), while there are outputs for a single pair of loudspeakers, a set of analogue outs, a subwoofer feed and a headphone socket. In fact, the only quibble with the connections here is the placement of the USB-A and headphone sockets. These would be so much more convenient – but perhaps less tidy – if located on the front of the unit rather than on the rear.
A conventional remote handset is provided with the Caruso R, in addition to the front-panel touchscreen, but to get the most from the system you'll really need the company's Caruso app, especially if you're going to make extensive use of the streaming facilities.