System Audio Legend 7.2 Loudspeaker

Not all audiophiles have massive listening rooms... System Audio comes to the rescue with an on-wall 'LCR' loudspeaker aimed at both AV and two-channel enthusiasts
If you're looking at System Audio's Legend 7.2 and thinking 'Why would I want to hang a loudspeaker on my wall?' then it's probably not the model for you. And that would be understandable. Many hi-fi enthusiasts have the space and flexibility to accommodate floorstanding or standmount speakers, and no need to pinch real estate from any surface other than their living room floor. For those, an on-wall speaker is a solution to a problem that doesn't exist.
However, in the world of home theatre, on-walls are often a necessity, because when a system can easily include seven models at the 'base-level' (ignoring any in-ceiling units for Dolby Atmos playback), saving space becomes paramount. Furthermore, regardless of how many speakers a buyer might require, a slender, discreet, wall-mounted one is more easily sold as a 'style solution' than conventional carpet-hogging floorstanding cabinets.
Therefore, with brands hoping to target as many potential customers as possible, offering on-wall products makes sense. For reasons I can only guess at, it also appears a particularly popular strategy in Scandinavia, with Danish company System Audio joined here by national rivals DALI, Jamo and M&K Sound (but not the more hi-fi devoted Dynaudio), plus XTZ (Sweden) and Arendal (Norway), to name a few.
Centre Stage
The Legend 7.2 is priced at £1050 each and is an 'LCR' model, intended to be used for the front left, front right and centre channels in a AV system, or as a stereo pair in an above entry-level hi-fi set-up. Because of this, its design allows it to be positioned either vertically or horizontally. Look around the rear and you'll find there are no fewer than six two-way keyhole fixing points, plus cut-out grooves to accept cables, for a flush fit finish, in four different directions. The speaker terminals are naturally inset too, although you'll need to use a bare-wire connection, or perhaps a spade end, for an authentic 'on-wall' installation – unless your interior designer has chased cables in-wall…
This positioning flexibility also informs the asymmetrical layout of the Legend 7.2's drivers. The tweeter is a 25mm silk dome, working off a neodymium magnet and sat within a DXT (Diffraction eXpansion Technology) acoustic lens that aims to improve off-axis response and reduce the effect of cabinet diffraction. This driver isn't located dead centre, but towards one edge of the baffle. When using the Legend 7.2 as a centre speaker, it would usually be mounted with the tweeter at the top, closer to ear height (or flipped over if the cabinet is being placed above a projector screen).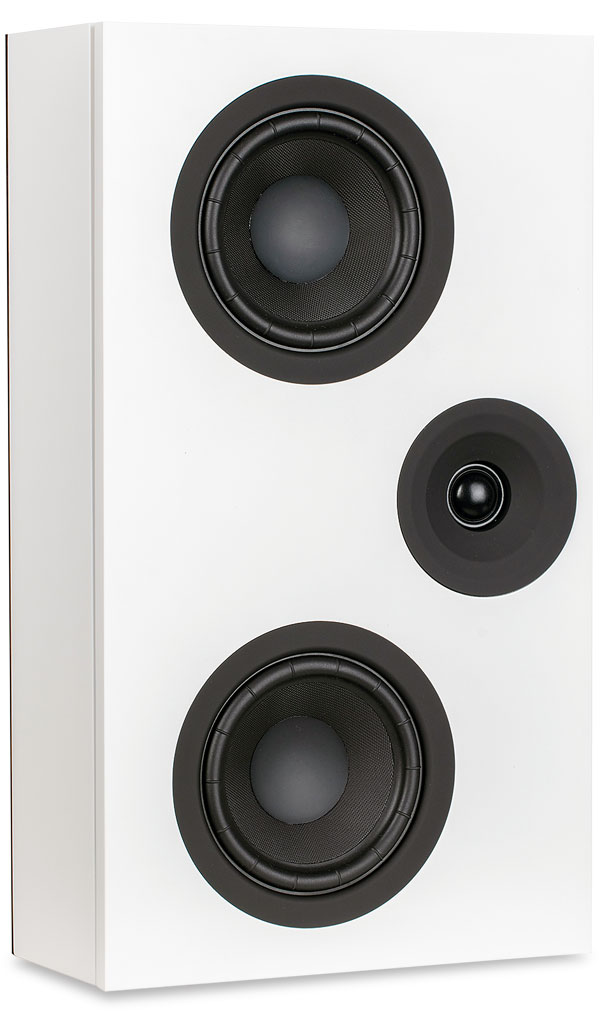 When used as a stereo pair, I would expect the majority of owners to position the Legend 7.2 vertically. Interestingly, thanks to the cabinet layout, this actually gives you the choice of having the tweeter 'in' from the speaker's pair of 130mm bass/mid units, or outside (recommended by System Audio to afford a wider stereo image).
The aforementioned bass/mids, like the tweeter, are the same as found elsewhere on the Legend series. Hewn from carbon fibre, they feature inverted dustcaps, resonance control rings within the driver surround, and are mounted in a cast aluminium chassis. Both handle the same frequency range, with a claimed low of 35Hz up to a crossover point of 2500Hz.
Now You See Me
Made from MDF and rather basic in its boxy finish, the Legend 7.2 doesn't have objet d'art aspirations. We're in 'form, meet function' territory. Finish options are System Audio's customary black or white, each version supplied with a colour-matched magnetic grille. Opt for the white models and keep the grilles on, and – in a room with white walls – you'll come as close to an invisible speaker as it's possible to get, despite the 154mm cabinet depth.
The Legend 7.2 is one of three on-wall offerings from System Audio – two others, from the Saxo series, are smaller and more affordable – and the only one with an upgrade path to active 'Silverback' status. In Silverback guise, at a cost of £650 per speaker, its passive crossover and speaker terminals are replaced by a module comprising three Class D amplifiers (rated at 225W in total), DSP crossover and DAC.