System Audio Legend 40.2 Silverback Loudspeaker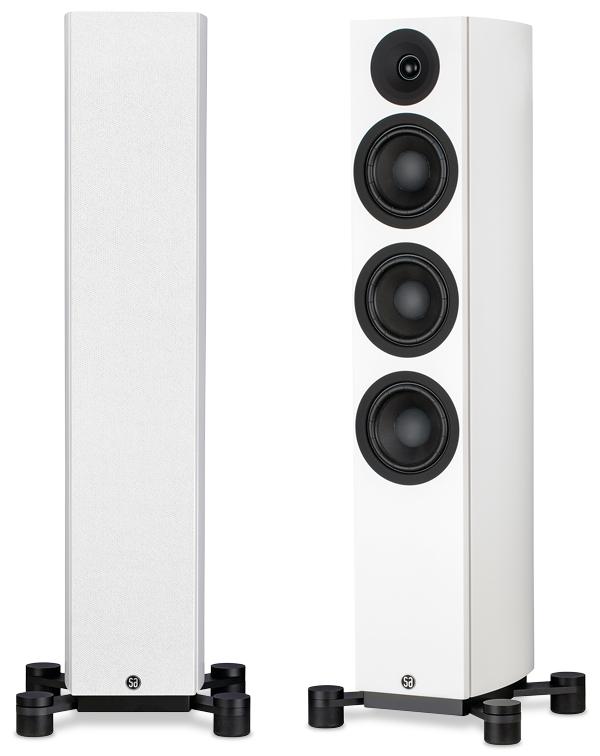 Most compact SA floorstander is not only offered in fully active 'Silverback' guise, but now supports 'RAM Tweaks'
System building and component matching is the backbone of hi-fi. Sure, it might seem a never-ending process, each change yielding new results and then more experimentation, but it's an enjoyable one. The Legend 40.2 Silverback tested here, an active three-way floorstander with digital crossover, Analog Devices DSP and integrated DAC, bypasses a lot of that journey – and if combined with the optional wireless Stereo Hub (£400 when purchased with the speakers, £700 separately), removes the need for any cabling except a mains lead. Yet Danish manufacturer System Audio (SA) then uses the Silverback's digital architecture to offer its own take on audiophile fine-tuning, via a newly-launched range of DSP upgrades it calls 'RAM Tweaks'.
The result is a £4500 loudspeaker offering a good deal of flexibility, and there's also the option of automated room EQ, plus manual adjustment, via the SA Cockpit app (currently in beta testing). The question, therefore, is whether such flexibility appeals to you. If the idea of USB-delivered DSP manipulation, smartphone apps and wireless streaming makes you sweaty, SA's passive Legend 40.2 (£2900), a cosmetic update on the Legend 40 [HFN Aug '20], will undoubtedly suit you better.
Danish Doppelganger
This Silverback model is more than just a stablemate of the Legend 40.2 – in many ways it's the exact same speaker, with an unchanged cabinet design and identical drivers but a 'shorted' port. Finish options for the 950mm-tall enclosure are satin black or satin white, both shipping with black magnetic grilles that cover almost the entire front baffle. Styling is modest even with the grilles removed – the only embellishment is the SA logo – and its slender 190x300mm (wd) further emphasises the Legend 40.2 Silverback's discreet nature. Accommodating these loudspeakers shouldn't prove tricky in any domestic listening space, even once the outrigger feet have been attached.

Meanwhile, the driver array comprises a 25mm woven silk tweeter with DXT (Diffraction eXpansion Technology) acoustic lens, and a trio of 135mm woven fibre units – one a bass/mid, the other two dedicated bass drivers. Powering these are a quartet of Texas Instruments' Class D amplifiers with a claimed output of 300W.
Channel Hopping
For those with bigger listening rooms and deeper wallets, there's the £7000 Legend 60.2 Silverback [HFN May '21], which boasts some 560W of active amplification, ups the woofer size to 150mm, and uses four of them. The range also has the £2400 standmount Legend 5.2 Silverback and the on-wall £1700 Legend 7.2 Silverback.
In addition to onboard amplification, the introduction of the Silverback module (the passive Legend 40.2 can be upgraded if desired) replaces binding posts with a USB service port and IEC mains socket, plus an XLR input for wired connection to a balanced preamplifier. Around these are a series of status LED lights that signify the channel position of the speaker when used with the wireless Stereo Hub. For a two-channel set-up, it's just a case of assigning one as right and one as left, but it also caters to multichannel installations (centre, surround back, etc), if the speaker is paired with the eight-channel Surround Hub.
System Audio's hubs use wireless WiSA technology to stream a 96kHz/24-bit signal direct to the Silverback speaker, and both models are well endowed in terms of source connectivity. USB-B, HDMI ARC, coaxial and optical (x3) digital, plus RCA and 3.5mm analogue, and Bluetooth, Chromecast, Spotify Connect and Apple AirPlay wireless hook-ups should be enough for anyone using these speakers.
In practice you'll utilise the hub to stream music direct from your home network or streaming service, and SA's RAM Tweaks to massage the sound. But the flexibility doesn't stop there. The company's app-based EQ facility, Room Service, which aims to smooth in-room response below 300Hz is now integrated into the comprehensive SA Cockpit app. This includes a three-preset manual parametric EQ adjustment with gain and Q value control across the full spectrum. It's a powerful tool, but with power also comes responsibility…