Storm Audio V55 Vertigo (£3490)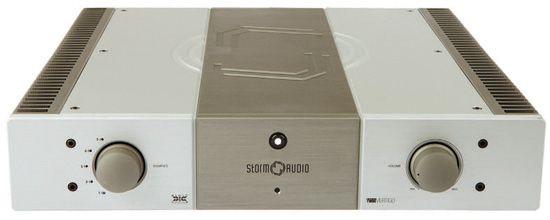 An innovative amplifier featuring sophisticated adjustable impedance matching.
From the outside at least, what we have here is an integrated amp seemingly conventional in most respects, though its dimensions are just 440x80x410mm (whd) meaning it takes up no more shelf space than would a small turntable.
Most reassuring, especially for those susceptible to techno-fear, is its uncluttered fascia, bearing the absolute minimum of mandatory controls: on/off via a central press button, a rotary control to select one of its four unbalanced line-level inputs or its single balanced input, and a volume control. In addition to socketry corresponding to those sources available at the front, the V55 adds a 12V trigger, decent multi-way binding posts, preamp in/ out accessed by removing linking pins, an earth terminal, a primary on/off rocker switch and a rotary control to operate its unique feature: StormFocus.
In short, StormFocus alleges greater matching between amplifier and speaker by matching the unit according to impedance, and offering control over the amplifier's output impedance. Please understand that the device does alter the sound, and we deliberately chose speakers with completely different nominal impedance ratings to see how it behaved.
Most blatantly, you can 'dial in' a sound in the manner of amplifiers with variable feedback, a choice of pentode or triode operation, Class A or Class AB options, etc. But there's a price to pay for any gains – bass or treble boost might be accompanied by noise or distortion, for example. We found ourselves preferring our music with StormFocus defeated and based our listening for the review on the V55 in that mode.
RAW POWER
The V55 Vertigo has grunt galore. It is not a reticent amp, and had no qualms about answering the call of Iggy Pop, via remastered Stooges classics. Admittedly, such recordings do not provide a palette for finesse, but they do, like the title proclaims, illustrate the majesty of raw power.
The relentless guitars and hectoring vocals of 'Search And Destroy' possessed the unbridled raunch of the systems that would have hosted them nearly 40 years ago, but without the clipping. What's more, the transparency of the V55's sound allowed the appreciation of details otherwise lost in the barrage of sound.
A polar opposite to The Stooges is Dolly Parton's slick, almost saccharine take of 'Put A Little Love In Your Heart'. It's big, bold, brassy, shouting of Vegas glitz, or Dollywood kitsch. Via the V55, it acquired a grandiose presence, glorious and rich and almost overpowering, but with DP's crystalline vocals embraced by a huge backing chorus. The Storm maintained the weight, the detail, the punch, and – above all – the gilded shimmer. One track, though, convinced us that the Storm must be taken seriously, as a newcomer with promise. Rare is a trio of the prestige of the aforementioned Miss Parton with Tammy Wynette and Loretta Lynn. 'Let Her Fly' could just as easily have been an Alison Krauss standard, but in the hands of this triumvirate it's an example of peerless three-part harmony.
If there's a problem with country warblers, it's that they can easily sound much like each other. Via the Storm, each voice possessed its own space and, yes, character, such that identifying each of the three was no more difficult than separating Hall from Oates, or Sam from Dave.
VERDICT
Despite StormFocus, the presence of which may detract from the unit's overall gravitas, I found the V55 not only competent but decidedly pleasurable. Its tonal nature is a shade warmer than I expected, in not quite suggesting valve-like behaviour, and it offered effortless power into speakers as varied as Wilson Sophia 3s, LS3/5As and Sonus faber Cremona Auditor Elipsas. And in red – it's offered in black too – it looks sensational.

Originally published in the Yearbook 2011