SPL Phonitor xe DAC/Headphone Amp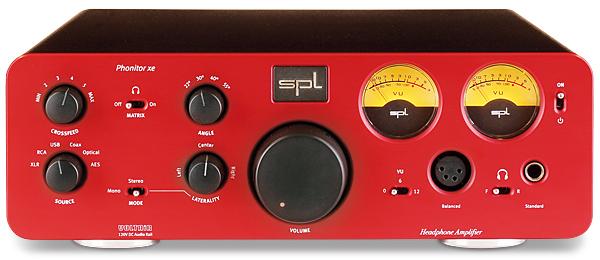 With deep roots in 'professional audio' and a novel discrete op-amp module as a key driving force, SPL is looking to bring a splash of colour to our audiophile universe
Well, it makes a change from the usual choice of silver or black… Yes, you can have the German-made SPL Phonitor xe USB DAC/headphone amp, which starts from £1899 depending on specification, in either of those colours if you want, but it's also available in the bright red anodised finish you see here. Not that it needs colour to catch the eye for the unusual battery of features makes it either intriguing or something of a head-scratcher: what do all those knobs and switches do? And then there's the pair of illuminated, retro-looking VU meters – this is clearly not your common or garden DAC/headphone amp.
Supplied fitted with the optional DAC768 module, which adds £600 to the basic price, the Phonitor xe is unmistakably a piece of studio equipment, which is hardly surprising given its manufacturer's roots. The SPL catalogue is comprehensive, including recording and mastering devices through to plug-ins and four variants of the Phonitor concept.
The latter range kicks-off with the £399 all-analogue Phonitor One, which the company describes as 'concisely featured', through to a pair of headphone-only amps including the flagship xe. Top of the pile is the Phonitor X, promoted as a 'ProFi Preamplifier Monitor Controller', which adds pre outs to the headphone amp to feed active loudspeakers.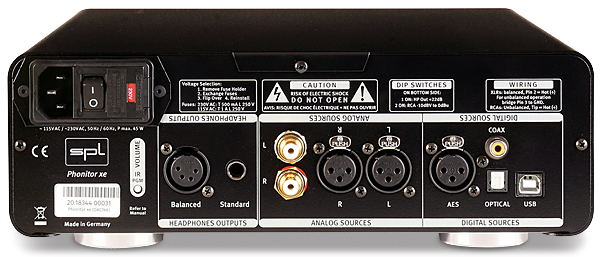 Built To Last
Then there's the Director MkII, a £3199 DAC/preamp, not to mention a £2299 stereo power amp, the Performer s800, rated at 285W/4ohm and bridgeable to 450W, and a decidedly hefty monoblock, the Performer m1000, boasting 750W/4ohm and 1000W/2ohm. It's yours for £3799, making it clear that SPL's pricing is more aimed at the studio buyer than the stratosphere of enthusiast hi-fi. And yes, you can even have that 25kg mono amp in red, black or silver, and with a range of matching/contrasting decorative inlays attached to the fascia using neodymium magnets. Just because something's built as no-nonsense studio hardware doesn't mean it can't be fun, too.
Made, like all of SPL's products, in North Rhine-Westphalia, near the Dutch border, the Phonitor xe carries that studio heritage through the quality of its design and build. Its panelwork is thick and solid feeling, and the controls have that 'machined from solid' feel – which is good, as they are!
Everything here seems built to last, withstanding the kind of abuse and use to which studio equipment is subjected, and so should shrug off a relatively pampered life in a home hi-fi system. Mind you, with that background comes the kind of complexity demanded in a pro environment: most of us, however hi-fi-savvy, would struggle to set up and use a multichannel mixing desk to its full capabilities, and so it seems with the Phonitor xe. Far from just taking an input at one end and driving a pair of headphones at the other, this colourful box offers the prospect of much tinkering and fiddling.
Mission Control
Of course, that assumes you can get your head around what all those controls actually do: after all, chances are you'll never have encountered anything like them before. Best then, perhaps, that we cover the conventional stuff first.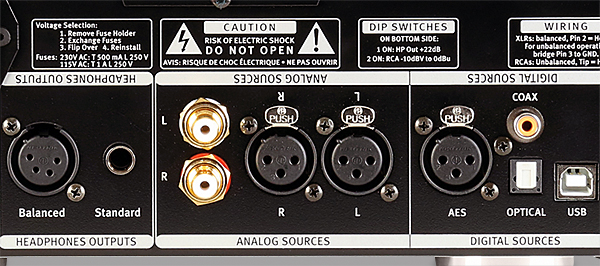 The Phonitor xe has inputs for both analogue and digital sources, the former on a choice of unbalanced RCAs and balanced XLRs, the latter on USB-B, coaxial and AES/EBU and Toslink optical. Headphone outputs, meanwhile, are on standard 6.35mm and balanced 4-pin XLR sockets, with both these connections duplicated on the amp's front and rear panels. A little 'F/R' slider switch between the front sockets directs the output fore or aft.
As is usual these days, the digital section – here based around AKM's 'Velvet Sound' AK4490EQ DAC – can handle content at up to 192kHz/24-bit via the conventional optical and electrical inputs, while the USB-B 'computer audio' input extends this up to 768kHz/32-bit and DSD256/11.2MHz. SPL offers driver downloads from its website for those using the Windows operating system, while Mac OS and iOS devices require no external driver. However, you will need the Apple camera adapter should you want to feed the Phonitor xe from your iPhone or iPad.
Input selection is via a simple rotary control, while a large volume knob, milled from aluminium, controls an Alps RK27 'Big Blue' potentiometer with a feel SPL describes as 'spoon in the honey'. If that's not mellifluous enough for you, you can control the volume using any infra-red handset, the unit learning the remote's commands rather than vice versa.