SPL Elector/Performer s1200 Pre/Power Amplifier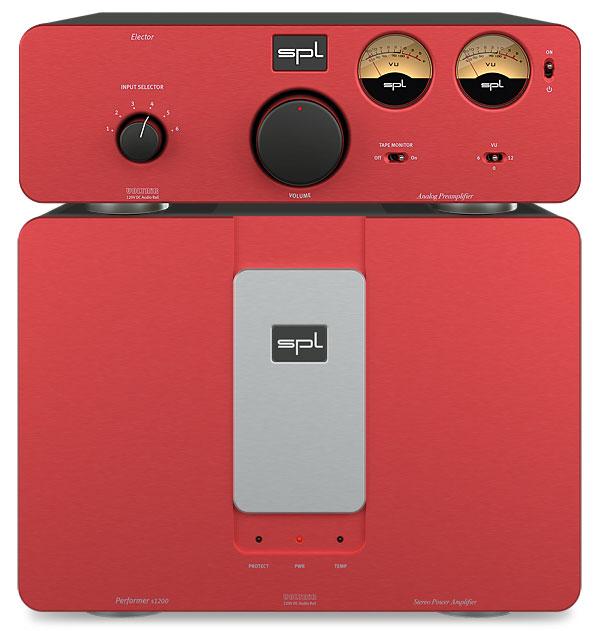 Germany's 'Sound Performance Laboratory' has launched its largest stereo power amp yet. We pair the s1200 with SPL's Elector preamp for a big-hearted, all-analogue system
Based some 40 minutes west of Düsseldorf, SPL sounds like an attractive prospect for those who like their music loud – though in this case the name has nothing to do with Sound Pressure Level, standing instead for 'Sound Performance Laboratory'. Mind you, the promise of room-shaking raises its head again with the new flagship power amplifier in the company's domestic – or 'Professional Fidelity' – range, which promises 'Mastering Grade Listening'. The new Performer s1200 (£6499) may only measure a smidge under 28cm wide and a little over 20cm tall, making it a tiddler in the pantheon of high-end stereo power amps, but it's still capable of a claimed 300W/8ohm, rising to 520W/4ohm. This should be more than enough for even the most demanding speakers and level-hungry listeners.
Making A Statement
This, then, is a very serious power amp in compact form, beaten in SPL's range only by the m1000 monoblocks, which will set you back £7900 a pair, but reward with even more power at their rated 750W/4ohm. Like all the Professional Fidelity models, the amps come in a choice of finishes: not just black or silver, but also a very vibrant red, all in extremely high-quality anodised heavyweight aluminium, allowing the equipment either to blend into your décor or make a real statement. As another nice touch, the power amp comes with three coloured decorative panels, which attach to the cut-out on the amp's fascia using neodymium magnets – so if you want red on black or black on silver or whatever, it's up to you.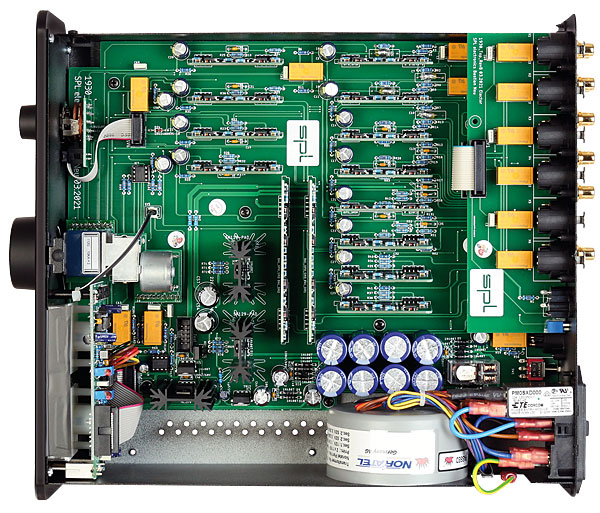 Personally, I'm tempted by our red review sample, especially when it also extends to the company's matching preamplifier, the £2399 Elector. The latter is an exceptionally simple-looking all-analogue device, its functional 'studio' look extending to an input selector and volume control, plus little flip-switches for tape monitoring and to adjust the sensitivity of its illuminated VU meters.
The preamp shares the dinky dimensions of the power amp, standing a mere 10cm tall, but despite this feels solid and substantial thanks to the company's superbly high build and finish quality. There's a firm sense of both pre and power amp having everything you need and no extras – well, arguably apart from those VU meters – and of all the features having been thoroughly well thought through.
Trigger Happy
The Elector has three sets of balanced XLR inputs and four RCA line-ins, with one set apiece of outputs. The amp's inputs are on both XLRs and RCAs, with a simple switch to select between them, and an input trim knob for each channel offering up to 5.5dB of signal attenuation in 0.5dB steps. There are also 12V trigger connections on both pre and power amps, allowing the former to switch the latter on and off remotely.
Coming up on its 40th anniversary in 2023, SPL's mantra is that 'experimenting and listening is more important to us than designing by the book'. This thinking is clear in the design of both preamp and power amp, which employ its proprietary '120V' VOLTAiR line and gain stages. Limited features are similarly focused, so the Elector preamp has a tape loop, comprising 'send' outputs and 'return' inputs, despite SPL admitting that not many people are using tape decks these days.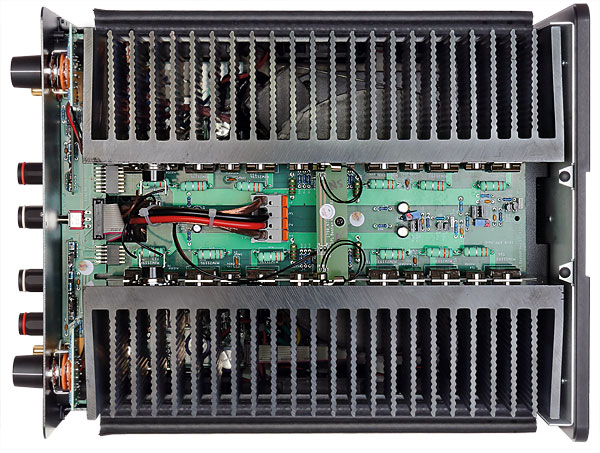 Still, if you need this facility, it's there, and with a twist… Knowing that modern preamps may overload the inputs of legacy recorders, SPL allows users to cut the output by 10dB, then boost the input signal on the 'return' by the same amount. It's a neat solution to a real-world problem.
Keeping It Cool
The same goes for its remote control implementation: the Elector can be governed by any infrared handset for volume up/down, thanks to its ability to learn the commands from your choice of handset. In 'learn mode' the Elector captures the first key you press as volume up, flashing the power LED to confirm, then repeats the process for volume down.
Similarly, the power amp has extensive protection against DC voltage and over-temperature, and possesses no fewer than six cooling fans, three venting to each side low down in the casework. However, as the integral heatsinking handles 90% of the thermal management, the whisper-quiet fans are rarely operational. But here's another very clever trick – these fans also run at full speed for a short while on start-up to remove dust from themselves and surrounding components. Yes, the self-cleaning amplifier has arrived!
Simply Does It
There are a number of delights here, not least that red finish. More to the point is the sense of simplicity and directness running from the controls to the sound of the combination, which has a wonderful fluidity and immediacy, whatever you choose to play. That compact power amp has the muscle to drive and control a huge range of speakers – as PM notes, it comfortably exceeds its claimed output figures – while the simplicity of the preamp, and the open, airiness of both components, which I suspect is a trait of that high-voltage operation, make them remarkably revealing.