The Specials Specials Sidebar: Alternate Format Discography
Sidebar: Alternate Format Discography
Original Lp
Specials was released in Oct '79 on 2 Tone Records via Chrysalis in the UK [CDL TT 5001]. The front cover featured a 2 Tone Records logo while the record labels carried the chequerboard and Walt Jabsco b/w artwork. The Japanese version came out with similar labels to the UK release, with translated lyrics on the inner sleeve along with Walt Jabsco saying, in a crudely drawn speech bubble, 'Hey Rudies, Don't Watch That! Watch This! We Are Specials' [2 Tone/Chrysalis CDL TT5001, WWS-81288].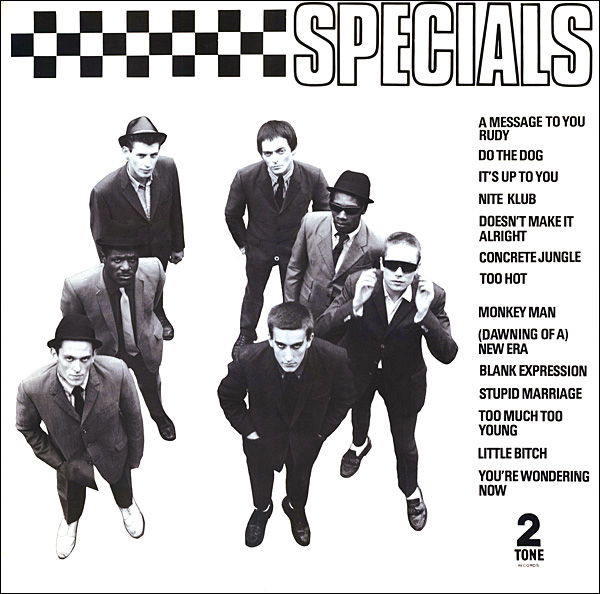 In every other territory the LP was released on Chrysalis itself with the company's butterfly logo on the front cover and blue and white record label. Two Chrysalis German and Netherlands releases [6307 687/202 685-320] had no logo on the cover.
Notable early rarities include a UK version with two Side 2 labels and from Australia, a release on red vinyl [L37121, CDL TT 5001]. There was also a test pressing in clear glitter vinyl [L 37121], while as part of a series of 1980 reissues in the US and Canada [CHR 1265] the LP appeared with the original front and back cover photos reversed. A budget version came out in the UK in 1984 on Fame, a subsidiary of Music For Pleasure [FA 41 31161].
Cassette And 8-Track
There was a great deal of variation in the covers of the original batch of cassettes. The first were released on 2 Tone in 1979 and came in a half black/half white shell with the Walt Jabsco cartoon and chequerboard design on the cassette labels and the band on the front cover [ZCDL TT 5001]. Some 1979 copies had the Walt Jabsco cartoon on the front cover [ZCDL T5001].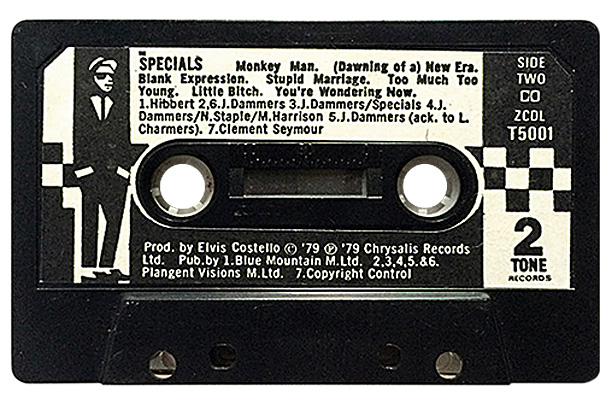 The Australian and New Zealand cassettes came out on Chrysalis with the LP cover photo and either a black or green border, and with plain white labels on the cassette shell. The 1980 US cassette featured the original back cover photograph as the front, with a sky blue panel and a blue spine.
A budget priced cassette was released in the UK in 1984 on Fame [FA 4131164], while the last UK cassette release (1989) had the original LP photo artwork with no borders or panels and a transparent cassette shell [Chrysalis/2 Tone ZCDL T5001, 3212654]. An 8-track cartridge came out in Canada in 1980 with a cream shell and a blue grey label featuring the original back cover photo [Chrysalis 8CH-501265].
First CD Release
Specials was released in the US in 1984, again featuring the original back cover as the front and with a black back cover with tracklisting.
The next CD was manufactured in New Zealand and released in that country and in Australia in 1988 on Festival Records/Chrysalis [D19171]. The first UK version came in 1989 on Chrysalis [CCD 5001] with the original front cover photograph and an insert with track listing and writing credits.
A special edition for the 25th anniversary of Chrysalis records (1994) was presented in a royal blue longbox with grey panels with the cover photo and tracklisting. A 30-page booklet gave the history of Chrysalis Records [CD25CR02].
Remastered CD
The first remastered CD appeared in Japan in 1996 [Chrysalis, TOCP-3232]. The remastering by UK engineer Noel Summerville formed the basis of the 2002 UK and Europe CD release, an enhanced CD with promo videos of 'Gangsters' and 'Too Much Too Young'. It was released on 2 Tone [7243 5 37697 0 3].
The Japanese version came out on Toshiba EMI/2 Tone with an obi strip [TOCP-66041, 7243 53769703] while 2010 saw a version in a facsimile card sleeve with booklet insert [TOCP-95067].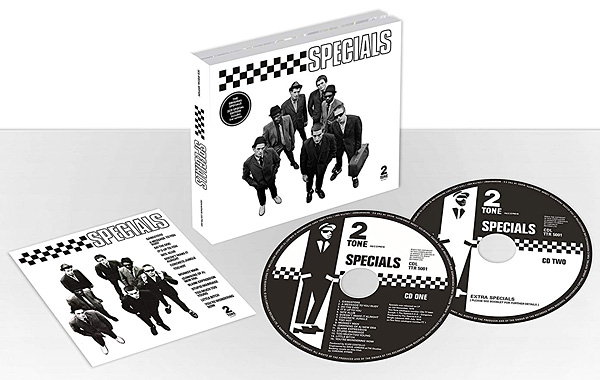 The most recent mastering was in 2015 by Tim Debney at Fluid Mastering. This 2CD reissue [see bottom left] has the LP original and a second disc of rarities: the live Too Much Too Young EP from 1980, which includes 'Guns Of Navarone' and 'Skinhead Symphony', a medley of ska classics 'Long Shot Kick The Bucket' [sic], 'Liquidator' and 'Skinhead Moon Stomp' and an 11-song set from BBC In Concert recorded in Dec '79 at the Paris Theatre London.
Audiophile And Later Vinyl
A 180g LP edition was released in 1999 on 2 Tone via the Millennium Vinyl Collection in the original packaging [499 4701]. This was followed in 2008 by a US 180g LP [Chrysalis 5099924365017] in the Capitol Vaults series [see top].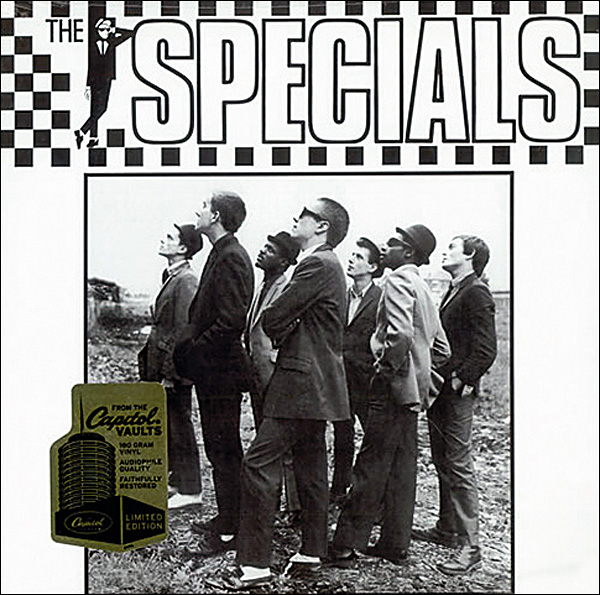 A 2011 UK LP came also with a CD of the album as a two-part set available only through Art Vinyl and John Lewis [2 Tone/Chrysalis AVLP8]. And a limited Edition LP based on the 2015 remastering was pressed on white vinyl and on standard vinyl in the US and Europe in 2017 [both CDLTTX5001, 825646336050].