SME Model 12 MK2 Turntable Page 2
There's an unflappable sense of solidity to the Model 12 MK2's performance as nothing seems to faze it or make it sound the slightest bit wobbly or uncertain. The impeccable engineering in its construction translates to an even-handedness, both in a technical sense across the audio band, and a musical sense as it tackles every style and genre. Some turntables excel in a specific area, meaning you keep reaching for a particular category of music to hear them at their best. This one, on the other hand, takes everything in its stride.
Setting The Stage
In describing the precision of the Model 12 MK2's performance, it's just too easy to reach for the 'book of superlatives', nevertheless it has qualities, a hallmark sound, that marks it out as distinctly 'SME'. To my ears, no other deck or arm manufacturer has quite managed to blend confidence and detail together with such a sense of consummate musical ease. As I've said previously, I've always felt that more detail just means more music, and the Model 12 MK2 illustrates this point.
With Wayne Marshall's recent The Willis Organ Of St. Mary's Episcopal Cathedral, Edinburgh [Base2Music 10LP] on the platter, this turntable had me all but purring with pleasure. The bass presence of this recording is magnificent and it powered through my listening room with real drive, while the sense of space and depth set up by the deck was astonishing, as was its dynamic range.
Marshall's higher, quieter organ notes seemed to be floating up in the air, rising behind and between my loudspeakers from an eerily quiet background. As things picked up in both pace and level, however, I could easily pick out the different location of the big organ pipes, as well as the sound bouncing off the cathedral walls. The Model 12 MK2 placed me in the centre of the action – if you took me to the venue itself, I'm pretty sure I could tell you the row, if not the seat, I had been 'sitting' in my listening room!
This degree of openness and detail made everything sound crisp, clear and lifelike. The deck cut though the crackles on my old 45rpm copy of Charlie Dore's 'Pilot Of The Airwaves' [Island Records WIP 6526] to pull an unexpected level of detail out of the grooves. Dore's vocals were proudly centre stage and the music around him bounded cheerily along, just as it should.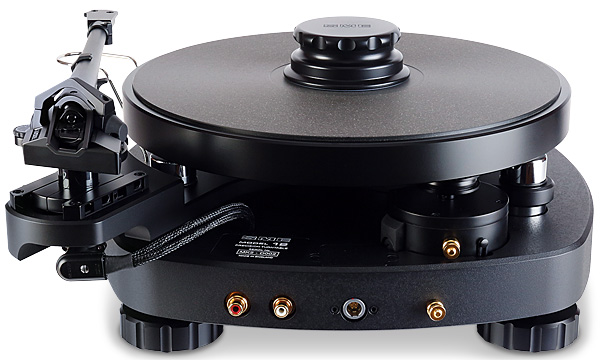 Altogether Now
Across the mid and treble, the Model 12 MK2 captured musical subtleties, whether vocal or instrumental, in a typical – for SME – effortless manner. Backing effects were precisely judged, being kept on the edges of the performance but always easy to discern, and the main action was always brought well clear.
Playing the atmospheric electronica of 'Fratolish Hiang Perpeshki' from Gwenno's Y Dydd Olaf album [Heavenly Recordings HVNLP118], the vocals seemed to be coming from mid-air just in front of me, the bassline from the floor under my speakers and the backing synths from halfway up the speakers and just behind them. I've yet to hear a vinyl player at this level dissect this track so effectively in sonic terms but keep the playing so masterfully together. The performance was still very much a 'whole', but enjoying a more spacious aspect than I am used to.
As for the Model 12 MK2's low-end delivery, it is deep and precise with a fine sense of pace and timing, but also carrying a pleasing hint of of rounded softness that is really quite endearing. That is not to say that the deck is ever fluffy or wallowy – far from it. This low-end warmth is very definitely a character, rather than a distracting flaw.
Flying Colours
The title track from Joker's The Vision LP [4AD CAD3131] instantly dispelled any potential worries of a flagging low end. The synth bassline on this track is deep and snappy, so a deck with less-than-perfect timing will soon find itself struggling. The Model 12 MK2 stormed through the test with flying colours. Each note started and stopped with aplomb, and there was an excellent feeling of impact and tunefulness.
Yes, SME's Model 60 punches harder and tighter, but then so it should – it's five times the price. On its own terms, the Model 12 MK2 also still never lets you forget you're listening to an analogue format, and makes the best of this at all times.
Hi-Fi News Verdict
The 'trickle-down' upgrades to the SME Model 12A turntable have taken this deck a step closer towards its big brother, the Model 60. The Model 12 MK2 is a gloriously secure and solid-sounding deck with a bass warmth that underpins a deeply insightful performance. All of this combines to give a sound that is truly captivating, and wrapped up in a compact, stylish and exquisitely engineered package.