Simaudio MOON 280D MiND 2 Networked-Attached DAC

If it isn't broken, don't fix it... but Simaudio's MOON 280D outboard DAC is certainly enhanced by the addition of the updated MiND 2 streaming module and app
There are two ways to make a network music player. One is to take a streaming platform and integrate a DAC to provide analogue outputs, while the other is to start with a DAC and then build in the network playback capability. The two approaches have their strengths and weaknesses. Typically, the network player with DAC will be just what it says: a full-featured machine, usually complete with a display, but with limited connectivity for external digital sources. The DAC with streaming, meanwhile, will commonly have more digital ins, but sometimes less network audio capability.
Canadian company Simaudio has managed to tread the narrow path between these extremes with its £2950 MOON 280D MiND 2, which is available in black, silver, or silver with a black fascia. That tightrope act is made possible by the integration of its second-generation in-house MiND – Moon Intelligent Network Device – network audio platform. The 280D sits above the company's entry-level MiND 2 network player which sells for £2100 and offers only digital outputs. So the unit we have here is akin to the MiND 2 player with the addition of an £850 integrated DAC, as part of a range going all the way up to the company's £13,500 MOON 780D v2 [HFN Sep '20].

Take The Tablet
The new MiND 2 platform is now common to all the company's streaming devices, bringing with it a range of additional functionality. It's now compatible with both Apple AirPlay 2 and Bluetooth with aptX, while Spotify Connect, Tidal Masters, Deezer Hi-Fi, HighResAudio and Qobuz Sublime+ have also been added – all of course subject to the user having the appropriate subscriptions. In addition, the 280D MiND 2 has onboard MQA decoding, is also Roon-ready, and can combine with other MOON devices around the home to offer synchronised multiroom playback.

If there's a downside to the 'DAC with streaming' approach, it's that while a conventional remote is supplied, it's not going to get you very far when it comes to using the 280D MiND 2 as anything other than a conventional 'dumb' DAC. The absence of a display means it's impossible to navigate the streaming capability, so the answer is an app, named MiND Controller.
For those who baulk at the need to spend a few hundred pounds on a tablet to 'drive' the MOON DAC – which, by the way, is much more pleasurable an experience than via the largest of smartphone screens – the answer is twofold. First, you'll face the same obstacle with every network-capable product on the market, and second, if you really want to do it on the cheap, you can pick up an Android tablet for well under £100 from that retailer named after a South American river.
Fiddle Free
The network input, available on both Wi-Fi and Ethernet, brings the total number of digital inputs to eight. There are two coaxial, two optical, an AES/EBU input, Bluetooth, and an asynchronous USB port, so a computer can be connected directly. Meanwhile, playback at up to 384kHz/32-bit, DXD and DSD256 is handled natively from the USB and network inputs.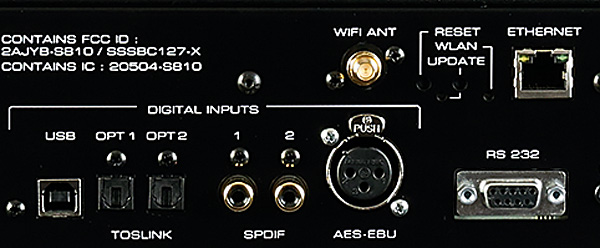 A slight operational quirk on set-up is that the 280D MiND 2 will look for a wired network connection on initial start-up and, if none is found, default to Wi-Fi, for which the usual stub antenna is provided. That happened when I first plugged the unit in, and the only way to then force the wired connection was to power the unit off, then power it up again with the Ethernet plug inserted – that'll teach me to cut corners in my haste to get things singing!
That aside, there's not much to discover here. There's a centre standby button, and three to the left that handle input selection and Bluetooth pairing, with red LEDs alongside to indicate the source chosen, and eleven(!) LEDs to the right to indicate the incoming PCM/DSD sample rates. The latter information is also displayed, in greater detail, via the MiND Controller app.