Revolver turntable Page 2
A decent quality acrylic dustcover was also supplied, and the deck was offered in a choice of two quintessentially '80s colours – grey or red. Black and wood finishes were also made available at various points during the deck's time in production.
One advantage the Revolver had over its Rega rival was that it was a true separate motor-unit design. The Planar 3 was built for, and supplied with, Rega tonearms, and that was your lot. The Revolver, on the other hand, could be had with a wide variety of tonearms, the customer deciding which one and the dealer fitting it.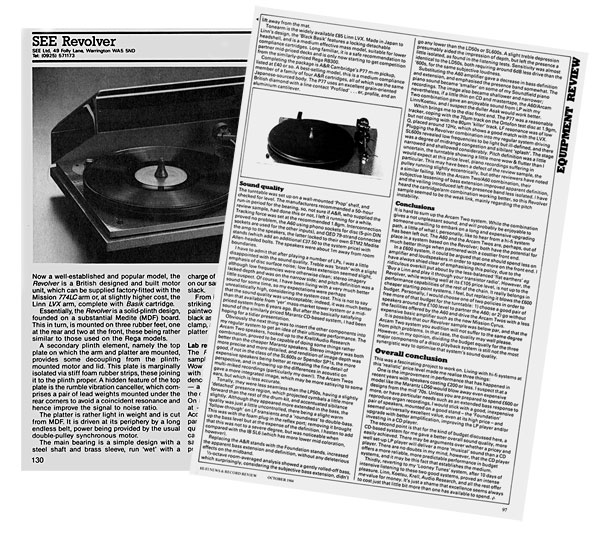 Armboards were readily available for most pick-up arms; the deck featured in this review sports an ADC LMF-1, while the Linn Basik LV-X was another favourite. The Mission 774LC was also a popular choice, and mid-way through the '80s the SEE Corporation offered the Revolver with its own branded, Jelco-sourced tonearm.
David Listens
The Revolver sounds warm, sweet and gentle by today's standards, but also a tad loose with a slightly cloudy midband, soft bass and smooth treble. Dynamically, it's a little flat too, but is still able to communicate the basics of the music very well indeed, and makes for an engaging and enjoyable listen. In some ways it has quite a 'nostalgic' sound, especially when you compare it to modern affordable turntables, such as the latest Rega 3.
That's not to damn this deck with faint praise. Anyone who came to the Revolver from a Dual CS505, for example, would find it to be a great leap forward. It's that bit punchier-sounding and boasts a considerably wider stereo image, regardless of which tonearm you choose to furnish it with. There's far less sense of speed instability too. The CS505 is no slouch in this area when you consider its affordable price, but compare it to the Revolver and you realise how compromised it is.
Many will be able to imagine the sound of the Revolver, it being a basic belt-drive turntable from a long-gone era. Cue up the sort of track that this deck would have been playing in its heyday – Simply Red's 'Money's Too Tight To Mention' [Picture Book; Elektra EKT 27] – and you're met with a presentation that's really rather euphonic by today's standards. Even with an Audio-Technica AT-95E cartridge fitted to our review sample – an MM that's not exactly sumptuous sounding – things sound soft and silky whatever you care to play. There's a good deal of refinement to be enjoyed, with none of the harshness that a cheaper turntable often brings, despite a slightly sepia-tinged tone. Compared to a forward-sounding '80s CD player, you can imagine how stark the contrast was…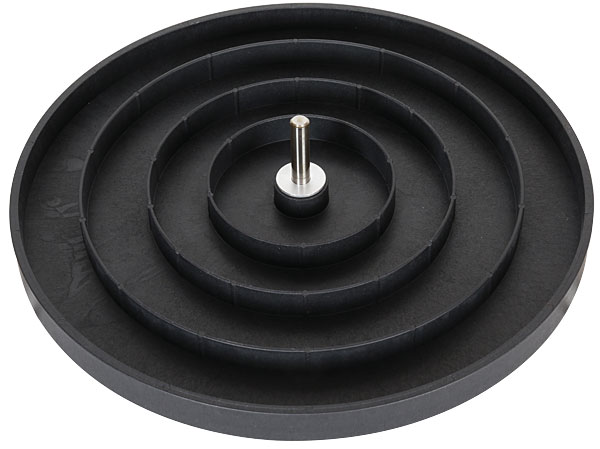 Winning Way
By modern standards, it's the softness in the bass that's perhaps most conspicuous. The low-end not only lacks weight, but doesn't have the definition needed to really push the Simply Red song along. The bass guitar sounds rather rounded, which in itself is not an unpleasant effect, it's just that it's not particularly accurate.
Move up to the midband, and things are certainly smooth, but they don't sound particularly forceful or crisp either. Mick Hucknell's lead vocal line is rather vague in the way it is presented, both in terms of detail and stereo imaging, his voice hovering around the centre of the mix, but seldom punching out to fully embrace the listener. Compared to the way the song sounds on any modern turntable, a sense of hazy romanticism prevails.
Switch to pure electronic music in the form of Kraftwerk's 'Techno Pop' [Electric Café; EMI 1C 064 24 0644 1] and the way the deck compresses dynamics is soon revealed. True, the ADC LMF-1 tonearm used here was never famous for excelling in this respect, but against even a mid '80s Rega Planar 3, you're aware that the Revolver is not delivering the full 'thwack' of the percussion. Then there's the fact that the searing metallic synthesiser stings aren't carried with their full luminosity. In short, the contrasts within the music – tonally, dynamically and spatially – are reduced. Nevertheless the very smooth, all-of-a-piece sound that results isn't unpleasant at all.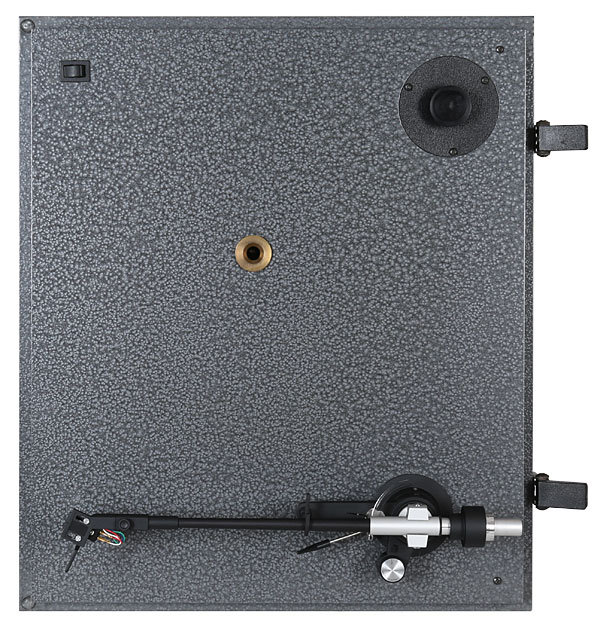 In fact, the Revolver can sound more compelling than many a mid-priced CD player of the period. Not only is it able to conjure up a pleasingly wide soundstage with impressive depth, its ability to ensure that the music simply flows along is notable. And never does it deconstruct recordings into their component parts in a manner that is overly analytical. Rather, you can be sure that your LPs will satisfy time and again. Yes, this '80s-era turntable sounds very much a period piece, but does so in a winning way.
Buying Secondhand
The SEE Corporation was formed by Colin and Wyn Higham in 1979 and made the Revolver until 1990. After various changes of ownership, Graeme Holland of Audion took over the reins in 2012. The turntable remained much the same over the years, with differences in finish being the only notable changes. There was black ash, then red and grey paint became options, then Rosewood.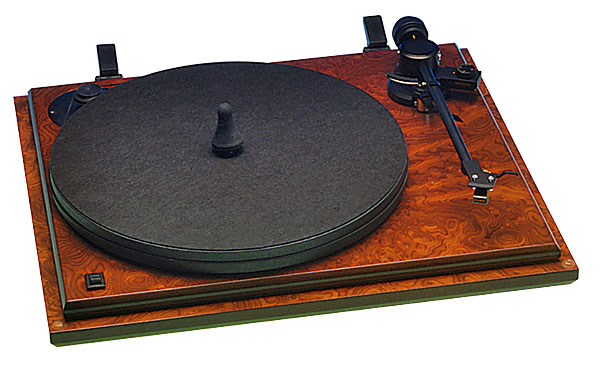 Later still, came a 'budget' version of the Revolver called the Rebel. Fast forward to 2019 and you can buy the current Rebel 2, with Rega RB202 tonearm and Audio-Technica AT-95E MM, for £995 from Revolver Audio. Graeme says he sells thousands of replacement drive belts for the Revolver every year.
Which to choose depends on the finish you want and of course your budget. Suffice to say that with a little patience you can find a very decent used example of the original Revolver for under £200 – which is a lot of music for your money.
Hi-Fi News Verdict
It may not be dramatic to look at or exciting to use, but for many the Revolver will prove a highly enjoyable way to play records. In its halcyon days of the '80s, it was often considered to be just a stepping stone to something far grander – yet it has proved to be a decent deck in its own right. More than a mere historical curio, as vinyl comes back into the lives of many music lovers, the Revolver has fresh appeal.