Q Acoustics Concept 50 Loudspeaker Page 2
'Delicious Things', from Wolf Alice's Blue Weekend [Dirty Hit DH01061], began with a punchy drum roll but quickly grew in size as the band's operatic pop soundscape took hold. The Concept 50s made it sound large and tall, and brought enough separation to the elements of guitar, bass, drums and synths without the track losing its shimmering, homogenous feel. Yet when the first verse arrived, Ellie Roswell's vocal, seemingly recorded as close to a mic as it's possible to get, sounded dramatically focused and articulate.
With such well-recorded music these speakers are in their element, and with Emily Barker & The Red Clay Halo's country-tinged ballad 'Bright Phoebus' [Despite The Snow, Linn AKD 456D; 96kHz/24-bit] they showed a talent for bringing varied instrumentation to life. In this case, while accepting an absence of that light and airy quality some speakers deliver, I was impressed by the gentle bite of a bow on a violin string, followed by sustained notes with a slightly rough texture, all before the thinner prominence of Barker's harmonica.
Hot Stuff
To the 'well-recorded' pile you can just about add Billy F Gibbons' Hardware album [Concord Records, 96kHz/24-bit], 37mins of Tex-Mex rock 'n' roll that tumbled from these speakers with irresistible energy. Gibbons' guitar riffs had a snarling, meaty presence, distorted but not caustic, and the rhythm section sounded ready to perform an arena gig, not simply cut some tracks in a studio in the desert.
It was with this album, and the songs 'S-G-L-M-B-B-R' and 'My Lucky Card' in particular, that I appreciated how much these speakers like to dig deep. Q Acoustics' belief that its damped cabinet construction and resonance tuning brings tangible musical rewards rang true – basslines and kick drums drove these tracks forward, sounding big and forceful. It was rock-solid, if you'll pardon the pun – and digging out Chris Rea's 'Daytona' [The Road To Hell; WEA 2292-46285-2], a piece I've belatedly realised has an awesome bass sound, proved it wasn't a one-off. The performance here was mellifluous yet still massive.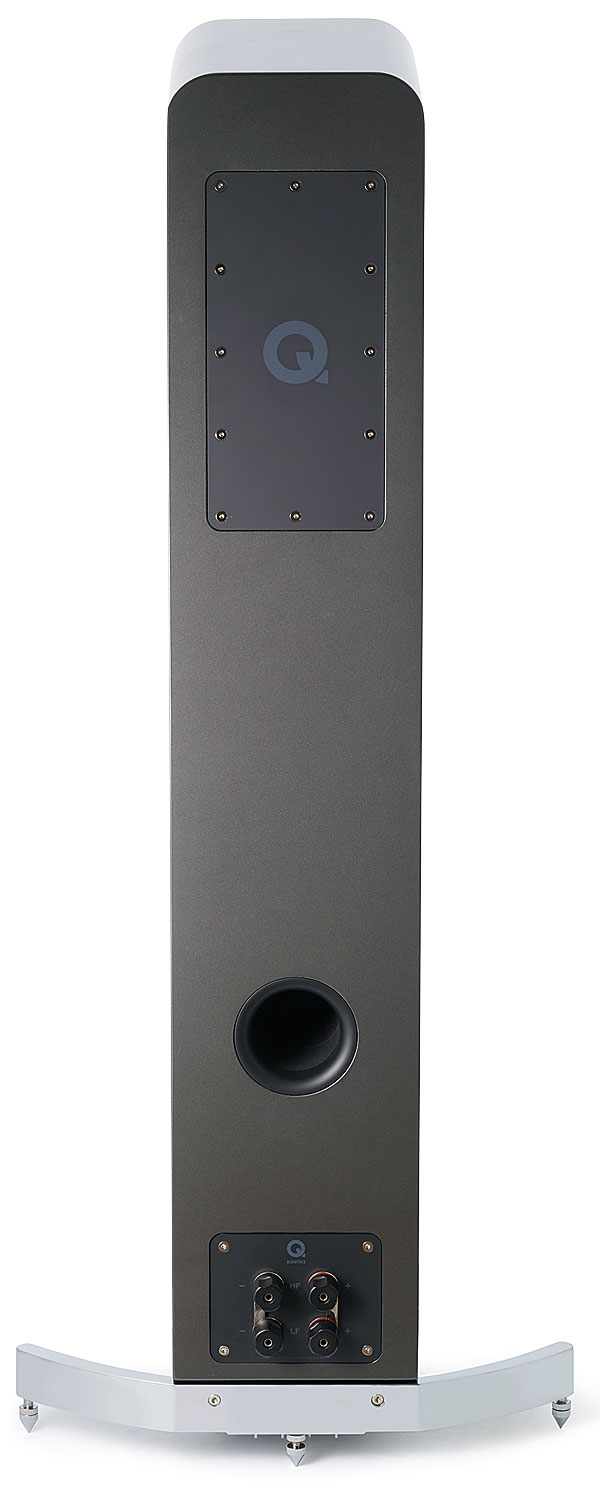 However, although thrilled by the Concept 50's ability to deliver bass and drums with weight and power, it did at times feel like it had become too much the star of the show, notably on Don McLean's folk-rock standard American Pie [Capitol Records; 192kHz/24-bit]. In this instance, using the supplied foam plugs for the speaker's rear ports resulted in a better overall balance in my room, letting me focus more on the singer's sublime vocals.
In A Spin
On the same album's 'Vincent', shorn of the need to batter me about the head with low-end details, the speakers put on a show of wonderful fluidity and refinement, holding McLean in a stereo image that was peppered with delicate acoustic guitar and a faint marimba.
Alongside the sense of fun that comes from the Concept 50's heft, and the listen-for-hours quality of its well-rounded treble, there's a level of detail that's still revealing of mix quality but doesn't put your lo-fi faves entirely off-limits. Even with the volume dial given a spin, Amon Amarth's 'Guardians Of Asgaard' [Twilight Of The Thundergod; Metal Blade Records 3984-14693-2], with its guttural 'singing' and crunchy guitars, had me head-banging rather than headscratching. This loudspeaker has the all-round sonic appeal to match its startlingly smart looks!
Hi-Fi News Verdict
Add new drivers and a gorgeous refreshed aesthetic to a tried-and-trusted cabinet design – then lower the price to the £2000 sweet spot – and you get the Concept 50. This easily-driven floorstander offers a grand sense of scale and weight, plenty of bass energy, and a smooth approach to the top-end that caters to all musical flavours. The only surprise is that it's taken Q Acoustics this long to fill that gap…