Pro-Ject Debut PRO S Turntable Package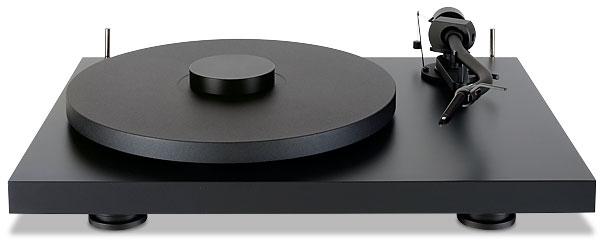 The longest serving, and arguably most diverse of Pro-Ject's turntable ranges is the Debut, launched in 2000. Now there's a new model, with an equally new S-shaped arm
Launching new turntable models as regular as clockwork is part-and-parcel of Pro-Ject's business model, but say what you will: its approach of incrementally improving and tweaking proven designs has certainly not done the Austria-based manufacturer any harm. Lacking accurate market numbers, it's hard to say conclusively, but there seems little doubt the company founded by Heinz Lichtenegger in 1991 is surely the largest turntable manufacturer on the planet, both for the in-house Pro-Ject brand and as an OEM supplier for third parties.
Joining the ranks of its popular midrange Debut family is the belt-driven Debut PRO S, launched this autumn. You might think this is a special edition of the EISA Award-winning Debut PRO [HFN Sep '21] presented last year to celebrate the company's thirtieth anniversary, as Pro-Ject has a tradition of offering upgrades and 'superpacks' for existing products. But the PRO S is neither an 'SE' model nor an outright replacement for the existing PRO. Instead, we're talking about a very similar turntable with one – well, actually more than one, but we'll get to that – crucial difference, as indicated by the addition of an 'S' at the end of its name.
Concorde Take-Off
This is a Debut fitted with a 10in (254mm effective length) S-shaped tonearm, offering an alternative to the straight arms bundled with all other models in the range. In fact, Pro-Ject currently only implements S-shaped tonearms on a few of its products, notably the flagship Signature 10 and 12. As you would expect, the factory-fitted cartridge isn't the Pick-IT PRO of the Debut PRO but a custom-built version of Ortofon's iconic Concorde moving-magnet. It's not a new cartridge, though, as Pro-Ject has been offering it separately for a while now.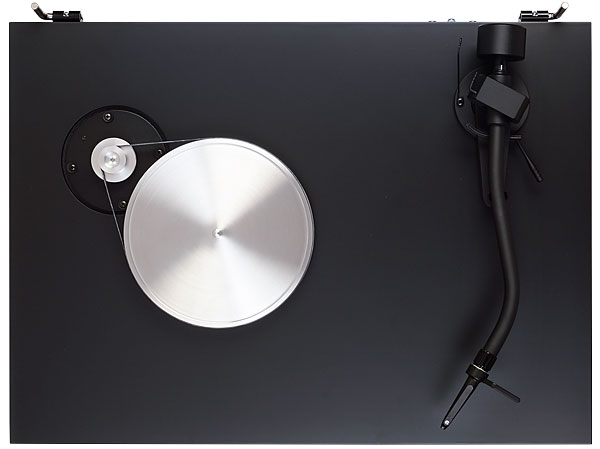 Both Debut PRO models will continue to exist side by side, offering music lovers wishing to step up from the Debut EVO two very distinct choices. Yes, a lot of elements are the same, such as the motor assembly, main platter and feet, but you won't quickly find a competing brand offering a dual midrange flagship like this. Priced at £799, the Debut PRO S is more expensive than the regular PRO model (£699), making the choice one that won't purely be based on taste. The price hike is not only caused by the changeover to another tonearm, but also some other upgrades handed to this new model.
Paint It Black
Probably the most impactful difference is replacing the standard sub-platter used on most Debut models with a heavier aluminium disc. With a Debut PRO and the Debut PRO S deck next to each other, it's also immediately obvious that the newcomer has a wider MDF chassis.
The plinth also retains the MDF material and the clean layout of motor and rear/underside RCA connections. There are no changes to the sleek matte black finish either – and because the turntable's feet, tonearm, and elements such as the bearing block and counterweight are dressed in the same way as the plinth, and there are no logos in sight (except on the dust cover), the Debut PRO S has a brooding, modern look to it, reminiscent of the matte skins much beloved by some drivers of German performance cars. On top of that Pro-Ject bundles a Record Puck E with this model, which is usually a £25 aftermarket accessory. And, yes, this natty little record weight is also finished in matte black.
Wondering about another colour option, such as the rather nice green or yellow available for the Debut EVO? Don't bother: black is the only option available for the new Debut PRO S model.
Upgrade Paths
Setting up the Debut PRO S is a doddle. After a few million disc spinners sold, Pro-Ject has its documentation and setup instructions down to a tee. Tonearm and cartridge are factory-fitted, and normally speaking no user adjustments to azimuth or VTA are required. Of course, if you're looking ahead to future upgrades, those adjustments are possible.
It's during the limited assembly required that you'll encounter the hefty aluminium sub-platter, which is placed first so you can loop the flat belt around the pulley. As is often the case with Pro-Ject turntables, there's also a second, round belt included which can be swapped in to spin 78rpm discs. Presumably most people will be playing 45 or 33.3rpm vinyl, and changing between these two speeds is achieved via a three-way switch on the bottom of the deck. This is easily reachable, so operating the speed control is no problem, and makes the already sleek plinth look cleaner still by the lack of visible buttons. The main platter, developed from the PRO, is a machined aluminium disc with a resonance-damping ring of TPE looped around the inside.
Setup flexibility is what you'd expect from a turntable positioned well above first base. Height-adjustable damped feet allow you to quickly level the deck, and the new S-shaped tonearm, with SME-compatible connector, makes it easy to upgrade to a new cartridge and headshell, which is a key reason to opt for this particular PRO S model.