Pro-Ject Audio Systems X1 Turntable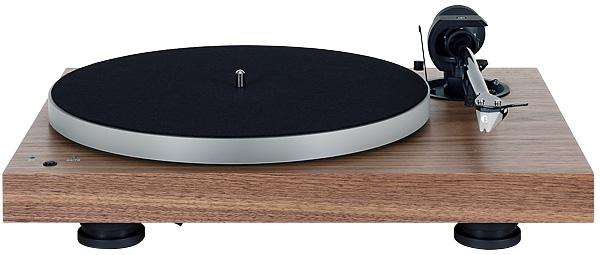 With a nod to the past, plus the benefit of some 28 years' experience of design and manufacturing, Pro-Ject launches its most refined sub-£1000 turntable package yet
With that familiar sparkle in his eye, Pro-Ject's Heinz Lichtenegger unveiled a brand new CD player at the recent EISA Convention in Antwerp. What does this have to do with this new X1 turntable, you might ask? Well, he proudly explained that what he's now doing with CD spinners is precisely what he did with record players back in the early 1990s.
The X1's forebear – the Pro-Ject 1 – was a genius move on Heinz's part. He realised that all the major record player manufacturers were abandoning the market because the sales volumes were no longer there. Being smaller and more nimble, his company didn't need to sell vast quantities of decks to turn a profit, so he duly launched a highly affordable product that was not only simple but decent sounding.
The Pro-Ject 1 – which sold for £200 in 1991 complete with a pre-fitted Ortofon 510 MM cartridge – has now been reborn as the £699 X1 you see here. If you ever come across an original 1 then you will see the family resemblance, but that's not to say that there aren't some significant differences between the two models.
Less Is More
Now, as then, the formula is a basic belt-drive, manual turntable designed in a way that makes it both easy to use and cost effective to make – in other words, less is more. The deck comes pre-fitted with Pro-Ject's new 'Pick-it S2' MM cartridge, so there's no need for fiddly alignment before you use the deck for the first time. This is voiced by Heinz and manufactured by Ortofon, and he's right when he says that it's far superior to the pick-up fitted to the original. You can also buy the turntable without the Pick-it S2 for £100 less.
The X1 wins no prizes for styling. The similarly-priced £649 Rega Planar 3 with its Elys 2 MM cartridge, is prettier to my eyes. Still, you can't say the X1 doesn't appear purposeful, and there are clear signs costs haven't been cut in the way they were in the Pro-Ject 1. Importantly, here the plinth is made from MDF rather than the particleboard of yore, which Heinz says confers sonic benefits. The idea being that MDF is denser and therefore traps less air, giving a tauter bass. This plinth is also well finished, with a choice of the walnut wood veneer you see here, or black or white gloss with eight layers of paint and hand-polishing.

The platter used is more substantial than the oldie, too, and is machined from acrylic, weighing in at a decent 1.5kg. Pro-Ject also supplies a thin felt mat with the deck, but its use is not mandatory and the choice is left up to you. Meanwhile, the motor is aspirated by an electronically controlled power supply with a DC/AC generator – this new synthesised PSU conferring very real benefits.
Need For Speed
The motor drives an aluminium pulley that connects to the inner platter via a choice of round-section or square-section rubber belts. Again, it is for the user to choose which one. Meanwhile, a push-button speed control offers the choice of three speeds compared to the original's two – no-one would have given 78s a second thought in the early '90s, but now they're garnering a niche of their own. The whole base assembly sits on decently made isolation feet, and a fairly sturdy dustcover is supplied.
The tonearm is certainly of better quality than one might expect at this price and boasts a one-piece armtube of carbon and aluminium sandwich construction. It measures 8.6in long and features the company's TPE-damped counterweight, but is arguably most impressive for its sheer adjustability. There's both azimuth and VTA calibration – unusual for a deck at this price – with a thin white line running along the side of the armtube to assist with the latter. The bearing, meanwhile, is an 'ultra-low friction' 4-pin Cardan-style design. Finally, the deck is completed with the company's shielded 'Connect it E' interconnects with gold-plated RCA terminations.
To get the X1 up and running you need to remove all the deck's bits from the box, place the base on a level surface and start to build it up. That means fitting the belt, then the platter, then attaching the power lead and tonearm RCA cables and ground. Lastly you need to fit the counterweight, balance the tonearm, fit the 'thread and weight' bias adjuster, and then you're ready to go. Absolute beginners might find this procedure a faff but the X1 is still simpler to set up than many decks.
Higher Ground
Anyone who heard the original Pro-Ject 1 would have come away thinking it wasn't a bad deck for the money. Although corners had been cut, the sound certainly wasn't disappointing, being crisp and enjoyable in many ways. Yet the new X1 needs fewer excuses, because it's a whole tier higher in the great scheme of vinyl things.