Primare R35 Phono Preamplifier

Primare's 'Prisma push' may have focused resources into network-enabling its amplifiers and CD players, but its new flagship phono pre proves its love of vinyl has not waned
Even the most ardent vinyl enthusiasts will admit that they can get bamboozled by the whole process of cartridge loading and gain matching. Some MMs and MCs can be quite particular about the load resistance and capacitance that they 'see', just as most phono stages will have a 'sweet spot' gain setting that varies from pick-up to pick-up. So there's a great deal to be said for a flexible phono stage that offers numerous adjustments. On the other hand I can appreciate the popularity of designs where the complexity extends to nothing more than an MM/MC switch!
The new phono preamps offered by Sweden's Primare look to be both flexible without being daunting – the £900 R15 model has 18 gain and loading steps across its MM and MC inputs, while the £1350 R35 model here has no fewer than 29. This is a vast increase on its predecessor, the R32 [HFN Jan '12], which only offered seven impedance settings and three gain options. Clearly, although Primare is making waves with its Prisma network player technology [HFN Dec '19], it is still taking the LP very seriously, which is good to see.
Toggle Behaviour
As a result, the R35 should be able to wrestle the optimum performance from any cartridge you care to use, even some of the oddball designs with absurdly low outputs or peculiar loading requirements.
The R35 is presented in a beautifully styled and finished enclosure weighing in at an impressive 9.5kg and available in titanium or black. The front panel is blank apart from the Primare logo, the centre of which doubles as an on/standby switch and also contains an operation LED. The unit reverts to standby after 20 minutes of no input signal being detected, but this function can be defeated if required.

At the rear, the unit has unbalanced inputs and outputs on RCAs, plus a set of balanced XLR outputs. A row of toggle switches selects MC or MC operation, a subsonic filter and the gain of the preamp circuitry. Three switch positions give the options of +36, +40 and +44dB through the unbalanced outputs, plus +42, +46 and +50dB from the balanced XLRs, for MM. The corresponding figures for MC are +62, +66 and +70dB (unbalanced) and +68, +72 and +76dB (balanced), all of which are pretty accurate in practice.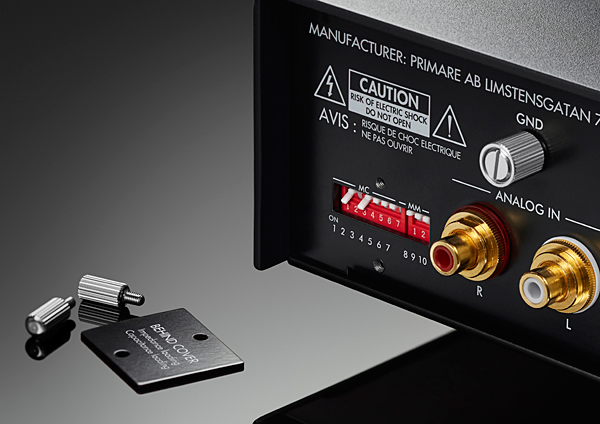 If you are wondering where the input loading is adjusted then look behind the screwed-on blanking panels beside each input socket. Removing the thumbscrews reveals the adjustments as a row of tiny DIP switches. I have a loathing for these infernal devices as they are a fiddly to use and, when mounted on the rear of a unit as per the R35, completely defeat the object of being able to turn down the volume, make a quick adjustment, turn back up and listen. They are also only labelled with switch numbers, so you need the manual to hand when making changes. The R35 would be more user-friendly if the old R32's rotary controls had been retained, but moved to the front panel along with a handy muting switch.
Impedance Values
The two rows of ten switches are split between MM and MC sections. The numbers 1 to 6 adjust MC impedance, with 21 settings over the 10ohm-47kohm range, while number 7 sets the MC load capacitance to 100pF or 1nF. Switch 8 sets the MM impedance to 47kohm or 2.5kohm and 9/10 select capacitance values of 100, 200, 300 or 400pF. These are generally well chosen values, although I cannot ever recall encountering an MM cartridge that requires 2.5kohm loading. This might suit a high-output MC if none of the closely-spaced MC impedance options and/or higher gain of the MC input are suitable.
The R35 comes with a 3.5mm jack lead that can be used to connect it to other Primare equipment for external power on/off triggering. Also in the box was something called an 'AC Polarity Pen' that Primare recommends you use on your choice of IEC mains input cable to confirm which lead is Live. This is a popular accessory in some European markets, and particularly among German audiophiles. Anyway, Primare suggests reversing the leads if it shows the polarity is wrong, as it says that this can 'make a significant difference to the sound'.
Real Wallop
Eager to audition the R35 in my resident system of Michell GyroDec SE/SME 309 turntable, plus Naim Supernait 2 amplifier [HFN Nov '13] and PMC Twenty5.24 loudspeakers [HFN May '17], I selected from among my cartridges the Ortofon 2M Black MM [HFN Mar '11], plus Clearaudio MC Essence [HFN Aug '17] and Denon DL-103 [HFN Jul '09] MCs.