Primare I15 Prisma networked amplifier Page 2
Sophistication is the I15 Prisma's greatest asset – for while some rivals at this price deliver a steely sound at higher volumes, it proves to be really rather more relaxed. Take Simple Minds' 'Chelsea Girl' [
Life In A Day
; Virgin VMCD 6] via the coaxial digital input by way of example. This is a relatively early song from when this Glaswegian band had only just left its punk roots behind. The recording is a little bright – strident even – and the cranked-up electric organ takes no prisoners. Yet the I15 Prisma served up a civilised rendition that didn't go anywhere near hardness or stridency. Indeed, you might say it lost just a little of the song's natural edge. But it was a subtle sensation and the right way to go considering that this affordable amplifier may end up driving less couth loudspeakers than perhaps it deserves.
Sonorous Sound
There's also a very slight opacity to the midband, which doesn't quite drill deep down enough. This made for a subtly airbrushed sound to the frenetic guitar pop of The Bodines' 'Therese' [Played; Magnet (2) BODL 2001] via CD for example. It's a great song that has something of a rough and ready production, yet it came across as just a touch too refined. Of course, 'refined' will be a vote winner when 'rough and ready' is not appreciated…
Moving to smoother recordings, and the amplifier's innate quality really begins to emerge. For example, Yellow Magic Orchestra's 'Technopolis' [Solid State Survivor; Alfa 32XA-139] is four minutes of late '70s analogue electronica, and exceedingly well recorded for its day. The I15 Prisma set up a busy soundstage, packed with musical detail, so those classic keyboards felt tangible, bristling with harmonics that contributed to a fittingly sonorous sound from bottom to top.
Bass was surprisingly fulsome, if not particularly muscular, so if in absolute terms there was some lack of grip, especially at higher volumes, I still appreciated the warm and sumptuous feel. At high listening levels, you could sense things were lightening up a little, as the little I15 struggled to catch its breath, but still it showed grace under pressure.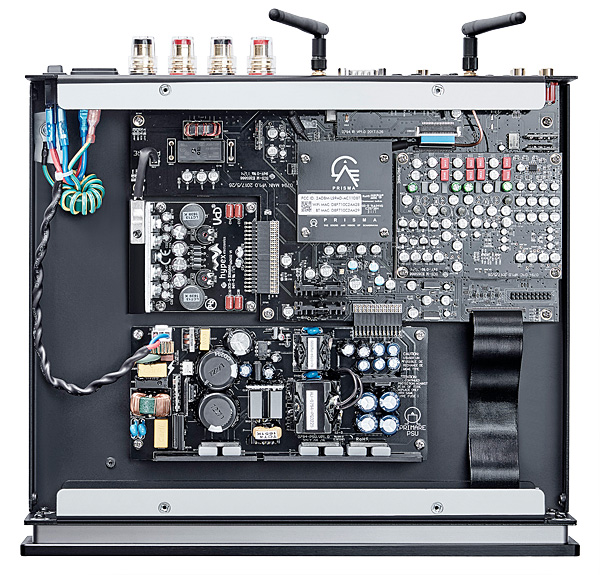 John Coltrane's 'In A Sentimental Mood' [Both Directions At Once: The Lost Album; Impulse B0028228-02] – a CD rip streamed from my NAS drive – proved a sumptuous, silky pleasure. The song works thanks to the interplay between Coltrane's plaintive saxophone work and the spiky, at times unsyncopated, piano part. The shuffling drums behind add a third challenge, too. The I15 Prisma coped well, neatly capturing the purity of the lead instrument – a gutsy and occasionally raw sound. It strung the piano and drum work together well, albeit in a little too workmanlike a fashion, but still doing a sterling job of keeping this tough track together.

Tenderness Intact
Its ability to reveal a deep and wide soundstage was also impressive for such a compact integrated. Kate Bush's 'Snowflake' [50 Words For Snow; Fish People FPCD007 96kHz/24-bit download] showed just how well it deals with spectacular modern hi-res productions, throwing out large amounts of detail while keeping the song's tenderness intact. What really impressed was both the width of the recorded acoustic and how well it hung back in the room. All that air and space allowed Kate's eerie, icy vocals to loom large in the listening room and work to great effect.
The same was largely true via the analogue input. I relished listening to my new 12in vinyl pressing of Manix's 'Hold Dis' [Hypnosis; Reinforced Records RIVET LP23] via a Trichord Dino phono stage. The I15 gave a brisk and well-ordered presentation that was easily informative enough to dig into and enjoy. Music was effortlessly projected from the loudspeakers, and images were placed precisely within the mix, with a decent degree of front-to-back depth, too.
In absolute terms however, the analogue input didn't have that last degree of power and passion as did the digital inputs. The presentation now seemed a little more opaque and processed in feel, showing that the digital and network connections are clearly the stars of the show.
Bluetooth also proved surprisingly enjoyable, making a fine fist of ABBA's jaunty 'Take A Chance On Me' [The Album; Polydor 533 980-2], courtesy of an AAC file played via my Apple iPad. Although not the last word in hi-fi, the music's innate charm nevertheless shone through, the track sounding peppy and jolly, just as it should.
Indeed whatever the source, the I15 Prisma sounds tidier and cleaner than many of its more minimalist audiophile rivals, proving that it's possible to combine flexibility with an enjoyable and pleasing listen, whatever your musical tastes.
Hi-Fi News Verdict
Such is the elegant industrial design of this compact, network-capable integrated amp that its versatility might, on very brief examination, be missed. For alongside its fine sound there's extensive functionality including Roon and Chromecast. Decidedly not a minimalist product, the Primare I15 Prisma is a lovely listen that packs a wealth of technology into a small box, and does so with great élan.