The Police: Outlandos d'Amour Alternate Format Discography
Alternate Format Discography
Original LP
The original LP was released in a single sleeve in 1978 on A&M in the UK [AMLH 68502]. (All the following releases are on A&M unless otherwise stated.) A blue vinyl LP also appeared that year with the same catalogue number.
Across the Pond the LP came with slightly amended cover artwork, minus the white line road markings and with the group's name written variously in yellow, red and green lettering, rather than the standard blue lettering of the UK release [SP-4753].
Initial American pressings featured the collage design that appeared on the UK back cover, but with later pressings the back cover was black with tracklisting and credits set at an angle.
This version of the artwork, with the band's name in red, has been the most commonly used worldwide across all formats. One of the few licensed versions was co-released in the former Yugoslavia by A&M and the state-owned label PGP RTB in 1985 [2223104; SP-4753]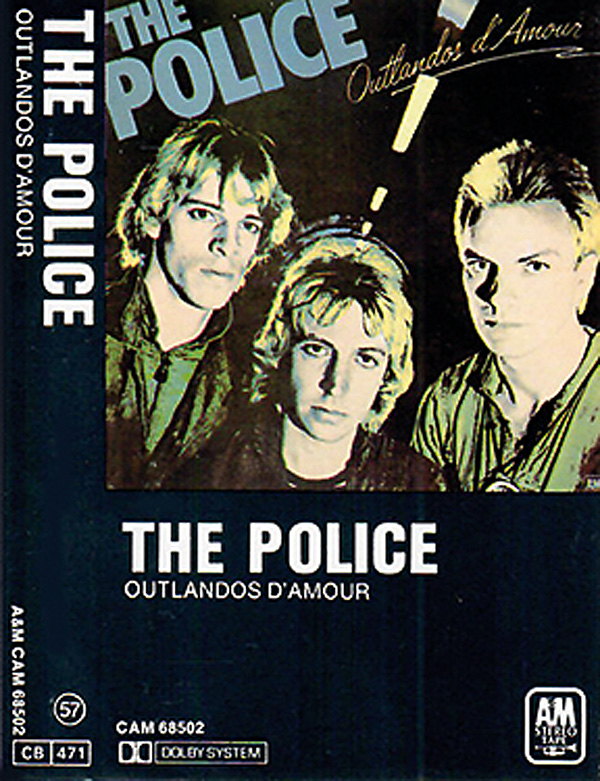 Cassette and 8-Track
The first 8-track cartridge was a club edition released in Canada in 1978 [8T-4753] which came in a khaki coloured shell. The US 8-track followed in 1979 in an olive shell, and with the same catalogue number.
In the UK the cassette came in black shells with red paper labels in 1978 [above left] with a facsimile of the UK LP artwork on the cover [CAM 68502]. The US cassette had cream printed shells with the amended artwork of the US LP with red lettering.
First CD
The Compact Disc version of Outlandos d'Amour was a very early example of the format. It was released in the US in 1983 on A&M's premium Audio Master Plus series [pictured below right; CD-4753], which also featured half-speed mastered LPs pressed on an audiophile compound manufactured by Vitec, and on cassettes made with BASF chrome dioxide tape.
Following on in that series were a 1984 European CD manufactured in West Germany [394 753-2] and a Japanese release in 1986 [D32Y3022]. Another European CD came out in 1991 [CDMID 126; 394 753-2], which included a black-and-white photo insert. All of these releases had red lettering and the 'tracklisting' back cover. The CD was remastered in 1995 by engineer Dave Collins for US release [75021 3311 2].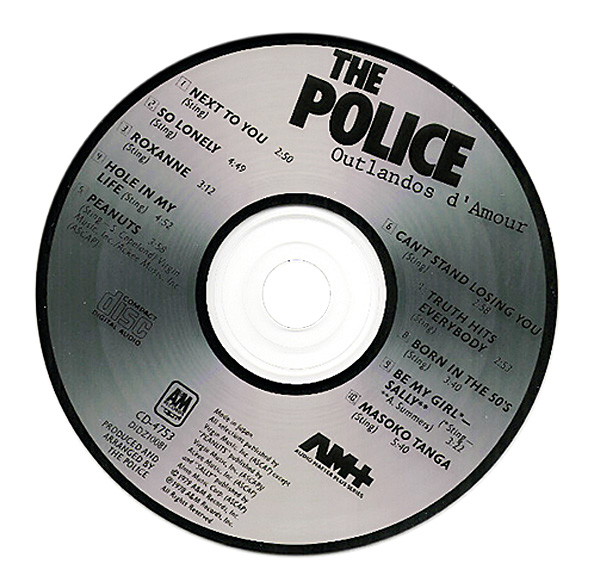 Enhanced CD
In 2003 a series of 'Enhanced' CDs remastered by Bob Ludwig, was released in several territories, and included the video to 'Roxanne'. It came with a black and white insert based on the original UK 'collage' back cover, with a disclaimer saying that 'although every effort had been made to ensure that the product would not damage the purchaser's computer, the Sonic Arts Development Team could not accept responsibility in this respect'. The number for the European release was 493 652-2.
Anniversary SACD
Outlandos d'Amour was also released that year as a 25th anniversary SACD [069 493 602-2] remastered by Tony 'Tone' Bridge. It was released in Europe as a hybrid SACD in both jewel case and digipak based on the Bob Ludwig remaster [493 706-2]. Meanwhile, the Japanese edition came in a digipak with a black, white and red obi strip [UIGY-7027].
Unusually for an album of its status, Outlandos d'Amour has not been released with demos, outtakes or extra tracks. When manager Miles Copeland landed a deal with A&M, several of the band's punkier songs were wiped, but versions of 'Wanna Know', which had featured in early live sets is known to exist on ¼in master together with other unreleased outtakes, including an extended version of 'Roxanne'. But it seems unlikely now that these will see the light of day.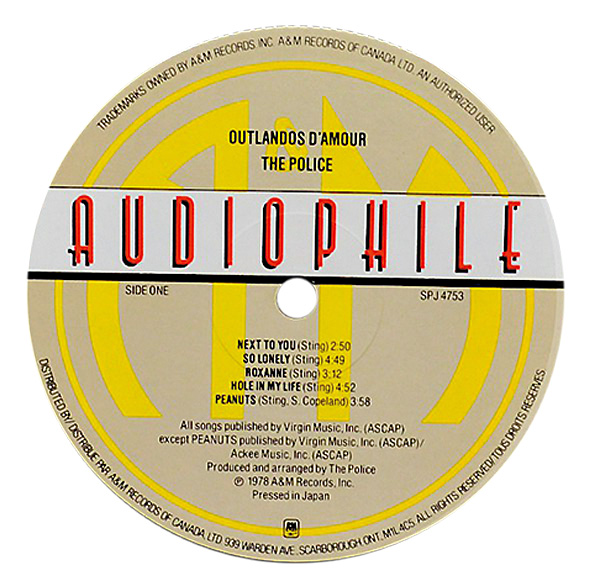 Audiophile LPs
In 1979 a half-speed mastered vinyl LP in A&M's Audiophile Series was released in Canada [SPJ 4753] which had a gold border around the front cover and special labels. A limited edition audiophile pressing was made in 1999 on A&M in conjunction with Vivante Productions [SP-3311; VPLP 003].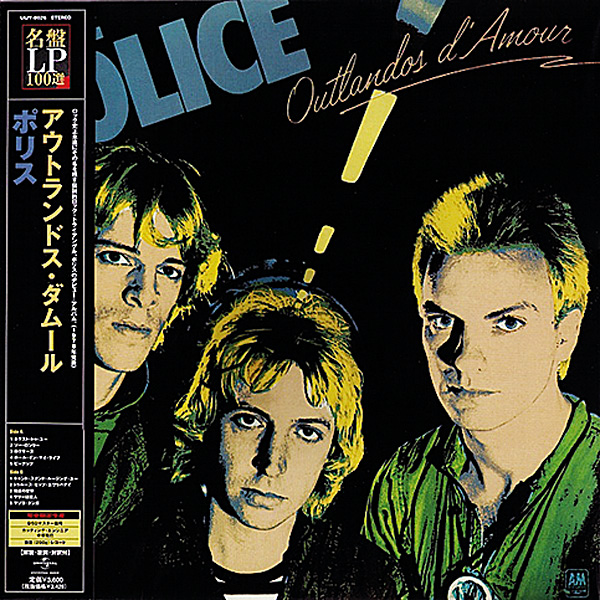 In 2007 A&M and Universal released a 200g reissue in Japan in the '100 Selected LP Masterpieces' series with the original UK artwork on both the front and back covers [UIJY-9026]. Lyrics were printed in English and Japanese on the inner bag. Then in 2009 A&M's Back To Black series produced a 180g LP also with the original UK artwork restored [0082839475310].
The most recent audiophile LP was a US release. This version, from 2018, was mastered at half speed at Abbey Road Studios and was also pressed on180g vinyl [676325-1].