Perlisten Audio R7t Loudspeaker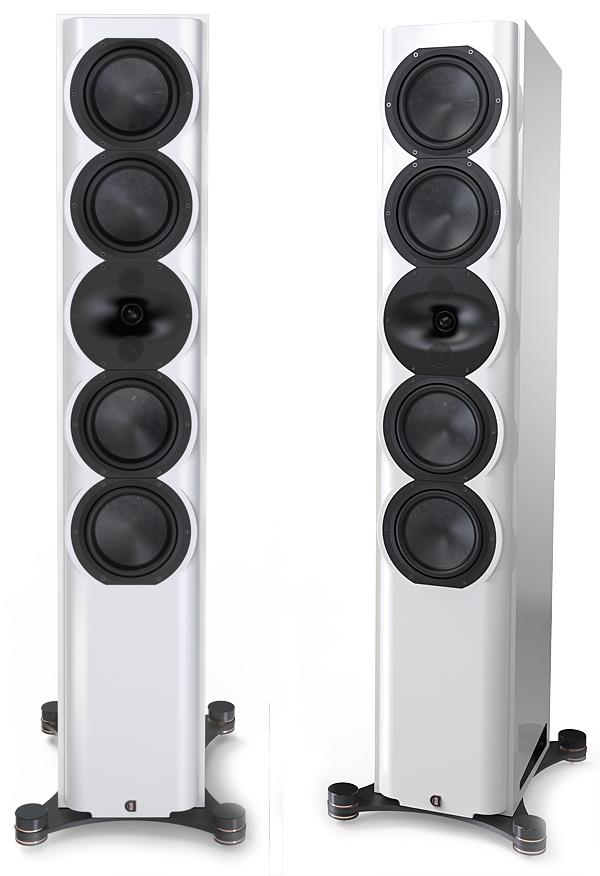 No mere trickledown, the R7t floorstander inherits a full flood of technology from its flagship stablemate
Shoppers are always on the hunt for a bargain, so anything labelled 'half-price' attracts attention. Okay, that usually applies more to supermarket biscuits than floorstanding loudspeakers, but with Perlisten's R7t selling for £8100 – pretty much half that of the American company's flagship S7t [HFN Apr '22], while looking strikingly similar – it immediately appears a potential bargain. On the other hand, there must be changes behind the scenes for the price tag to have dropped so much, so the question becomes, will it sound only 'half as good'?
For areas where this model concedes ground on its £16,000 stablemate, the most obvious is the tweeter in the middle of its central DPC (Directivity Pattern Control) array. Beryllium on the pricier model, here it's a far more conventional silk dome, as are the two diminutive midrange domes above and below it – instead of the thin-ply carbon diaphragm (TPCD) drivers of the S7t. This speaker's four 165mm bass/mid units are also cut from a different cloth, using a hybrid pulp material rather than the TPCD cones of the S series.
Baby Dynamite
Perlisten hasn't thrown the baby out with the beryllium bathwater, however. The R7t's DPC array is once again a custom-designed, computer-modelled invention, with shape and contours designed to limit vertical dispersion (and thus reduce image-muddying first reflections from floor and ceiling) while increasing horizontal output. And, again, working toward this is a complex crossover network that has midrange units and tweeter sharing some duties, as do the 'inner' and 'outer' bass/mid drivers.
The R7t is touted by Perlisten as its 'second-best two-channel system' and it headlines a step-down series also comprising bookshelf, 'monitor', surround and centre speaker models. Interestingly, there's also another floorstander in the lineup, whereas the S series features just the one. The £6300 R5t features just two pulp cone bass/mid drivers for a more typical three-way configuration and is not quite as imposing as the 1.2m R7t.
High Flyer
At that height, this speaker is going to get noticed wherever you put it. It's not too domineering a presence, however, by virtue of the cabinet being a modest 23cm wide while the curved sides of Perlisten's front baffle bring a degree of elegance to what is otherwise quite a ready-for-business demeanour. Colour options are currently only standard black or white, both with high-quality gloss finishes that will appreciate a cloth wipe every now and then.

The company's specifications for the R7t include a healthy 90dB sensitivity and a potentially less healthy 4ohm nominal impedance. These aren't far removed from those of the S7t, illustrating a speaker designed to the same parameters, including THX Dominus certification. And once again, low-frequency response is rated twice, for bass reflex or sealed 'acoustic suspension'.
One minor difference between the brand's two seven-driver floorstanders concerns their internal Helmholtz resonators. Just as on the S7t, these 'fire' downwards into a side-vented chamber at the bottom of the cabinet. However, while the flagship model hid the two ports' openings behind a screwed-in access cover, here it's only the speaker's (heavyweight) bass plate that needs to be removed if you want to short the resonators with Perlisten's supplied foam inserts. Do be aware, however, that while the process is quicker, it's still a chore as it requires each 45kg speaker to be flipped over.
Also, you might not even bother: the speakers arrive in bass-reflex configuration and Perlisten explains the sealed option is primarily intended for when the R7ts will be used in a system with a subwoofer, or positioned in a void behind an acoustically transparent projector screen (where the less material-wobbling airflow, the better).
With regard to the R7t's heavy metal bases, these mimic the approach of the S7t, angling the cabinet back by a couple of degrees with outrigger feet plus spikes ensuring a stable footing. Also supplied are five circular grilles that snap into place magnetically over each driver's footprint.
Better By Half
If you're a potential Perlisten customer aching to own the S7ts but unable to stretch your budget that far, fear not. The R7t is a brilliant runner's up prize and shows my earlier 'half as good' comment to be the flippant nonsense it was. These floorstanders share much of their flagship brethren's star qualities – including dynamic ability, low-end control and cavernous soundstaging – and in the area where they most notably 'suffer' in comparison, high-end detailing and clarity, their performance is superb for the money.