Pegaso Audio P50A Integrated Amplifier Page 2
Led Zeppelin's up-tempo 'Misty Mountain Hop' [Led Zeppelin IV; Atlantic 7567-82638-2], fed by the balanced outs of an Oppo UDP-205 disc player [
HFN
Jul '17], found the P50A quickly getting into the groove, bringing heft and drive to John Bonham's thumping drum track. In fact, this amp's penchant for hard-hitting percussion was a recurring motif – Joe Satriani's 'A Phase I'm Going Through' [Shockwave Supernova; 96kHz/24-bit FLAC], sounded similarly explosive as kick and snare drums surged forward through a wall of crashing cymbals.
Sweet Dreams
While this forthright delivery was noteworthy, and proof if needed that a modestly-specified 'Class A' valve amp can still wake the neighbours (albeit with my reasonably sensitive B&W 705 S2 standmount loudspeakers), I was more taken aback by the P50A's presentation of instrumental timbres. Listening to Miles Davis's 'Miles Runs The Voodoo Down' [Bitches Brew; 44.1kHz/16-bit FLAC], was like getting a tour of a music shop.
The mix here is as wide and detailed as they come, aided by twin pianos and drum sets, and the Pegaso P50A plotted every part with commendable precision and conveyed the physicality of each instrument, be it the throaty bass clarinet that dances into the soundstage from far right, or the twangy tone of the electric guitar set nearer the centre. Davis's trumpet solo burst into life with an almost startling leading edge.
Like a kid in a sweet shop, I chose some more wonderfully recorded jazz. The staccato instrumental 'I'm Not So Sure' by the Roy Hargrove Quintet [Earfood; EmArcy 0602517641815] reminded me just how enjoyable a straightforward, and, dare I say it, old-fashioned, listening experience can be: CD player, stereo integrated amp and nothing else to worry about.
Sax Appeal
It was this track that really showed off everything the P50A could do. It began with a rich, low-octave piano riff, joined by rapid-fire, clear-sounding syncopated percussion and textured double-bass. Enter Hargrove's trumpet, which ducked and dived with a glorious lip-buzzing timbre, before the reedier rasps of Justin Robinson's alto saxophone challenged from across the room. By the time this five-minute track came to its conclusion, I discovered I was playing air saxophone. There's a first time for everything, apparently.
The P50A isn't just good for 1970s rock, and trumpet virtuosos, however. It seemed equally happy with the modern, computerised sound washes of Orbital's 'Out There Somewhere (Part 2)' [In Sides; Internal 828 763-2], or the summery laid-back shuffle of Wilco's 'I'm The Man Who Loves You' [Yankee Hotel Foxtrot; 96kHz/24-bit FLAC], revelling in the latter's warm, fuzzy guitar part.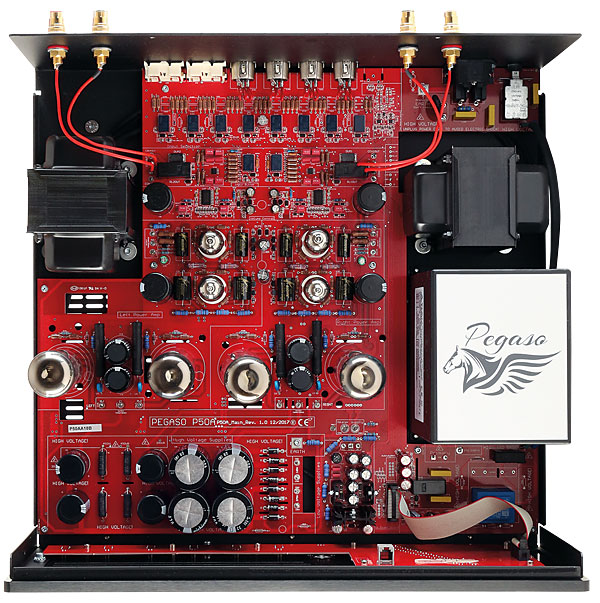 But I'm certain that if I was to own a P50A, I'd often find myself seeking out the best recorded music I had, because it deserves it. Aretha Franklin's vocal on 'Respect' [I Never Loved A Man The Way I Love You; 44.1kHz/16-bit FLAC] sounded as uplifting as ever, but the thin nature of the recording (I know, I'm a philistine) came to the fore.
I'll end on that bass. Perhaps it's a case of recency bias, but with suitable tracks I don't think I've ever heard my B&Ws so competent, so fluid and so musical in the low range, outside of Pass Labs' more expensive INT-25 [HFN Dec '20], another Class A amp, but solid-state. It turned the unfussy three-note bass line of Chris Rea's 'Daytona' [The Road To Hell; Tidal Master] into something to luxuriate in, while at the other end of the audio band, the delicate percussion rang through with spine-tingling clarity.
Hi-Fi News Verdict
It's big, it's heavy and won't do your green credentials any good, but Pegaso's P50A is a superb debut from the spin-off Italian brand. This hot, feature-stripped amplifier delivers the analogue-only thrills that tube-lovers demand with a confident grasp of tone and texture, while punching out rhythms with panache. It'll be interesting to see what the company's valve-focused philosophy serves up as a sequel.